Square Joel le Tac formally Place Constantin Pecqueur in Paris

This square in Paris is located in the Montmartre area and has changed its name in the past to what it is known today as the Square Joel Le Tac, and you will also discover a stone monument within the square as well.


A bit of history

In the ancient area of Montmartre by a formal decree on the 23rd May 1863, the square was first named the Place de l'Abbreuvoir, however, another decree was issued on 2nd August 1899 to change the name of this square in Paris.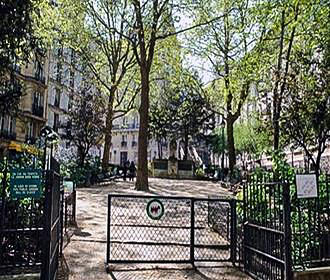 The name chosen was Place Constantin Pecqueur in honour of the economist and social theorist, Constantin Pecqueur, who died in 1887.

Then in 1936, after a committee had been set up to honour the memory of an artist that settled in the Montmartre area called Theophile Alexandre Steinlen, that lead to a stone monument being produced by the sculptor Pierre Vannier, which was then erected within the Place Constantin Pecqueur, where Steinlen used to like to sit prior to his death.

But in 1942 when Paris was under occupation the bas reliefs were melted down and they were only reconstructed and put back in place in 1962.
However, the history of this square in Paris does not stop there, as the name has been recently been changed again in honour of a French resistance fighter and politician called Joel Le Tac.


About Square Joel Le Tac

Formerly the Place Constantin Pecqueur the Square Joel Le Tac was inaugurated by the French Presidant Bertrand Delanoe, and although redesigned it still retains original features and has lots of different varieties of plants, trees and hedges such as yew and flowering apple trees.

And within the square you can still admire the stone monument to Steinlen, which also has a fountain, plus you can admire the copies of the original bronze bas-releifs that were put back in place on the base of this relatively large stone monument in Paris that is topped with two figures.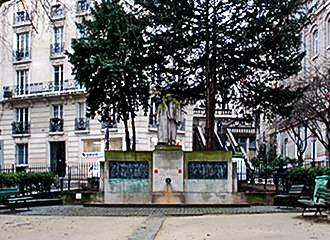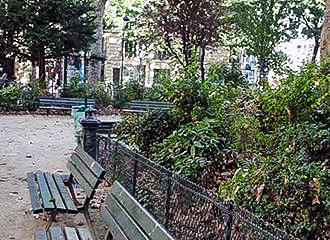 Visiting Square Joel Le Tac

You will find the Square Joel Le Tac located in the Montmartre area within the 18th Arrondissement close to numerous different tourist attractions in Paris and it is open 24 hours a day every day of the year, however, we would like to point out that there is only limited accessibility to the disabled.

Now when it comes to public transport in Paris, the nearest Metro station is the Lamarck Caulaincourt stop via line 12, or alternatively you could utilise the Montmartrobus to reach this square.