HD photographs of equestrian statue of Joan of Arc at Place des Pyramides in Paris- Page 355
This time we were within the 1st Arrondissement of Paris at a square called the Place des Pyramides, when we took these high definition photos showing an equestrian statue of Joan of Arc, which was produced by Emmanuel Fremiet.


[ Map of Paris Statues ]
<<
Previous
346
347
348
349
350
351
352
353
354
355
356
357
358
359
360
Next
>>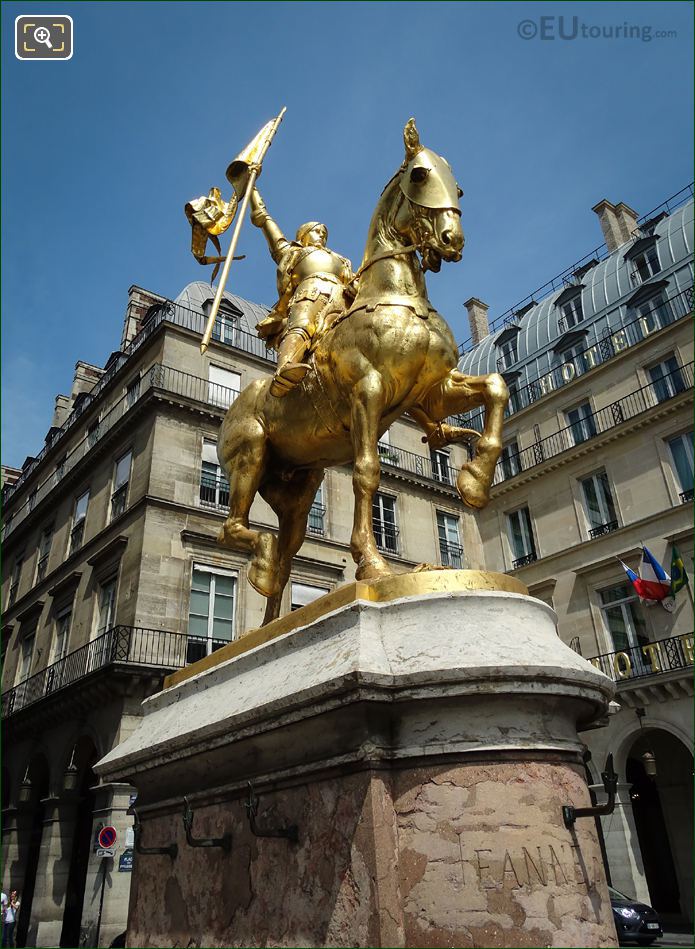 In this first HD photo you can see the gilded bronze statue of Jeanne d'Arc, which translates in English to Joan of Arc, and this was originally commissioned by Napoleon III following the military defeat of France in the 1870 Franco-Prussian War, in the hopes that it would help to re-establish French confidence.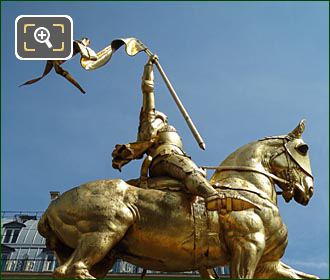 So it was the renowned French sculptor Emmanuel Fremiet who was chosen to produce the gilded bronze statue of Joan of Arc mounted on her horse and holding the flag up high as she was charging into battle, and this was inaugurated in 1874 at the Place des Pyramides in Paris, which is meant to be close to where she was wounded in a battle.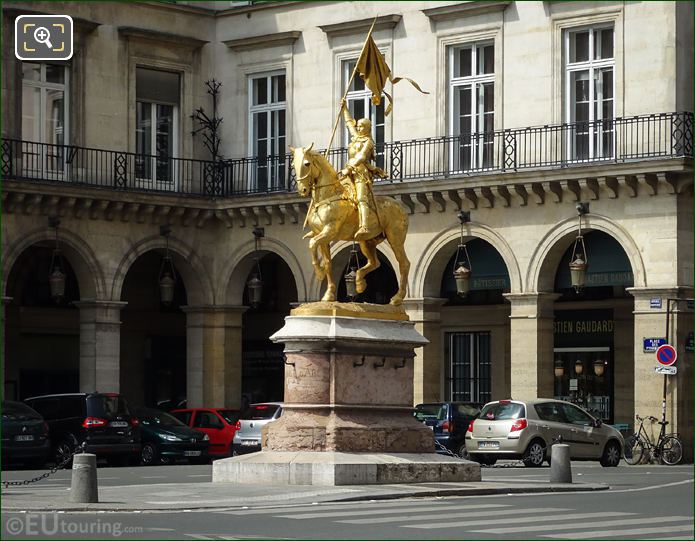 Now Emmanuel Fremiet was born in December 1824 and becoming a French sculptor, he became well known for his sculptures of wild animals, yet he also produced many significant statues and monuments for Napoleon III, also excelling at equestrian statues, with this one of Joan of Arc being his most famous.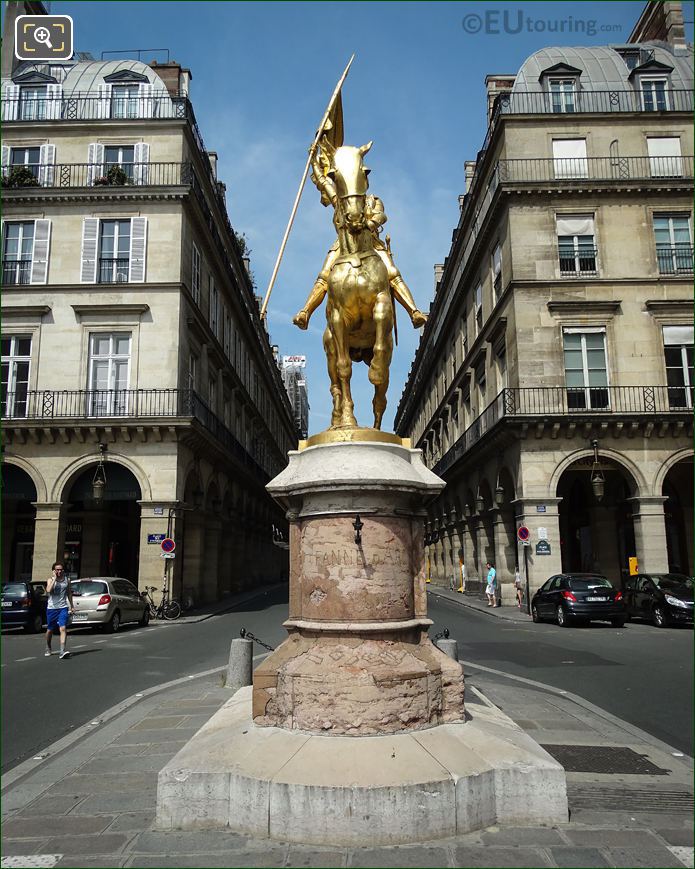 Yet Emmanuel Fremiet was not happy with the outcome of the original equestrian statue and having already been asked to produce a copy for the city of Nancy, when the square where this is located was undergoing repairs, the statue of Jeanne d'Arc was taken to his workshop for adjustments.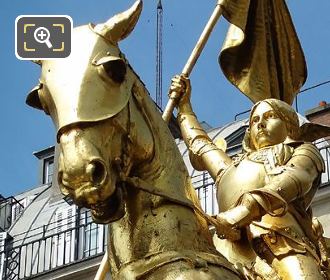 And according to Fremiet the original was apparently melted down and recast by the Thiebaut Freres Foundry in Paris with a slightly smaller horse, a taller Joan of Arc and some other minor changes such as removing the rear harness and a slightly thinner neck of the horse, although there has been speculation that the original is actually in Philadelphia after the USA city requested a copy.




So the statue of Jeanne d'Arc, or Joan of Arc, actually dates from 1889 when it was put back in position on the pedestal that was designed by the architect Paul Abadie, and there were originally railings going around it designed by Gabriel Davioud, although these are no longer there, yet it was classed as an historical monument in Paris on 31st March 1992.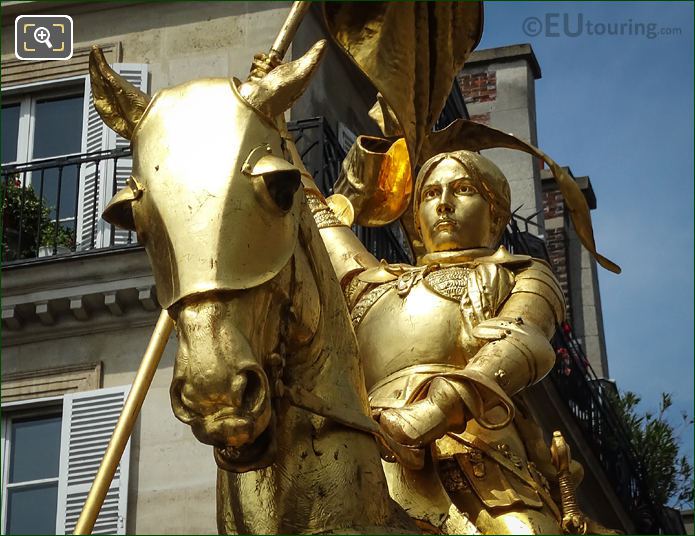 And here you can see a close up HD photo showing the horses head and top half of the gilded equestrian statue of Joan of Arc, which provides a good view of the detail that went into producing this monument, and Emmanuel Fremiet apparently chose a young girl from the village of Domremy where Jeanne d'Arc came from as the model.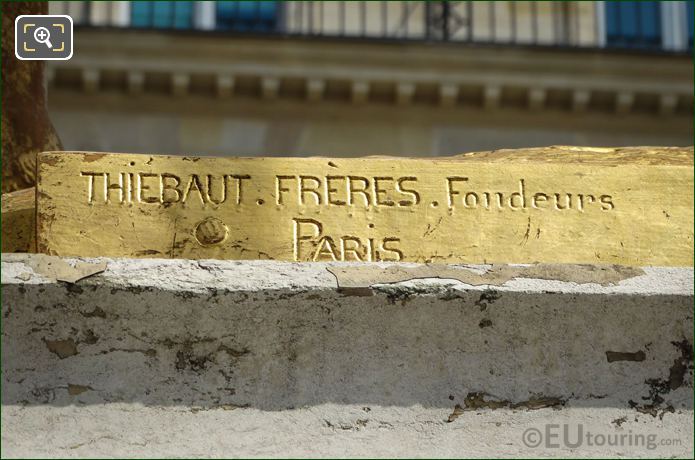 But as we also mentioned earlier, the gilded bronze statue of Jeanne d'Arc at the Place des Pyramides was cast by the Thiebaut Freres Foundry based in Paris, as you can see from this close up photograph showing the etching on the side and base of the statue just above the pedestal.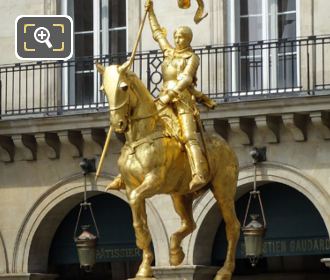 Now most people have heard of Joan of Arc, even through school history, and she is considered a heroine of France who was canonised as a Saint, and originally born in 1412 she has been recognised through France and Roman Catholic history for hundreds of years.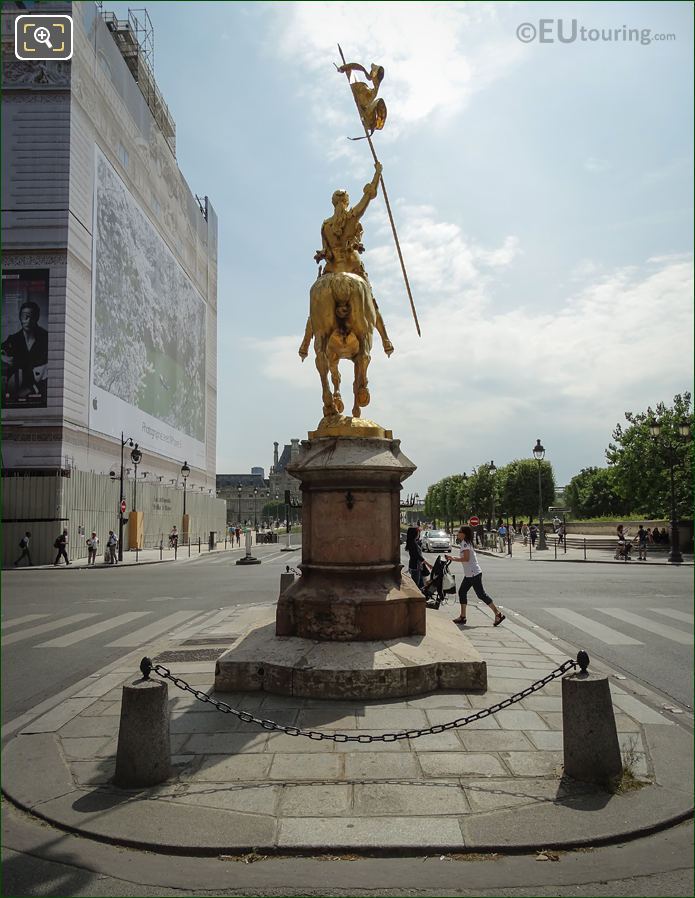 So, Joan of Arc, or in French, Jeanne d'Arc, was a devout Roman Catholic and deeply religious, and according to different history writings she claimed that she had visions of Archangel Michael, Saint Margaret and Saint Catherine and she believed that God chose her to lead France to victory in the Hundred Years War against England.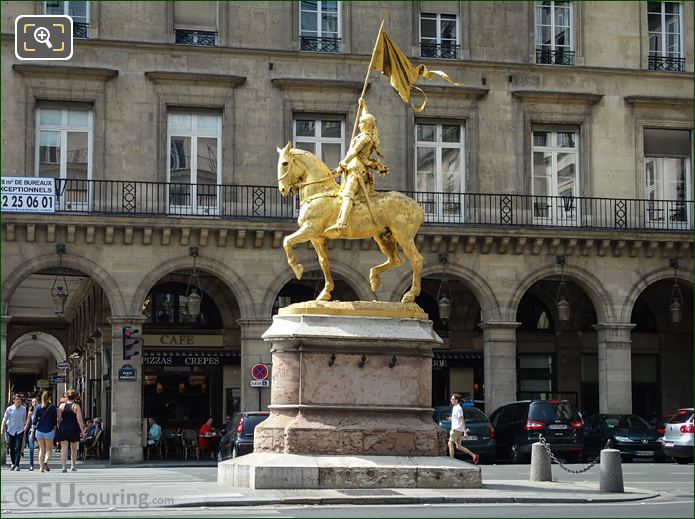 And even though she did not have a military background, somehow she managed to convince Prince Charles of Valois to let her lead the French army into battle at the young age of 18, and managing to declare victory over the English at Orleans, she ended up with a nickname of Maid of Orleans.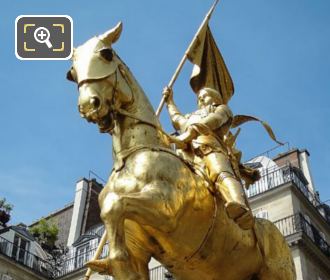 It was then after a succession of victories with Joan of Arc that Charles VII was crowned King of France at Reims, however, in May 1430 Jeanne d'Arc was captured at Compiegne and handed over to the English and was put on trial for witchcraft and treason.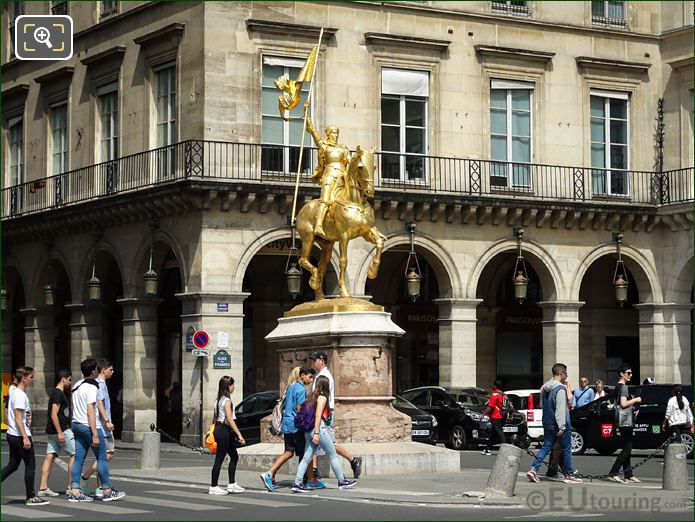 Unfortunately, Joan of Arc was found guilty and burned at the stake on 30th May 1431, and it was not until around 25 years later that Pope Callixtus III studied the trial and declared her innocent and a martyr, but it was centuries later that Napoleon Bonaparte made her a national symbol of France, back in 1803.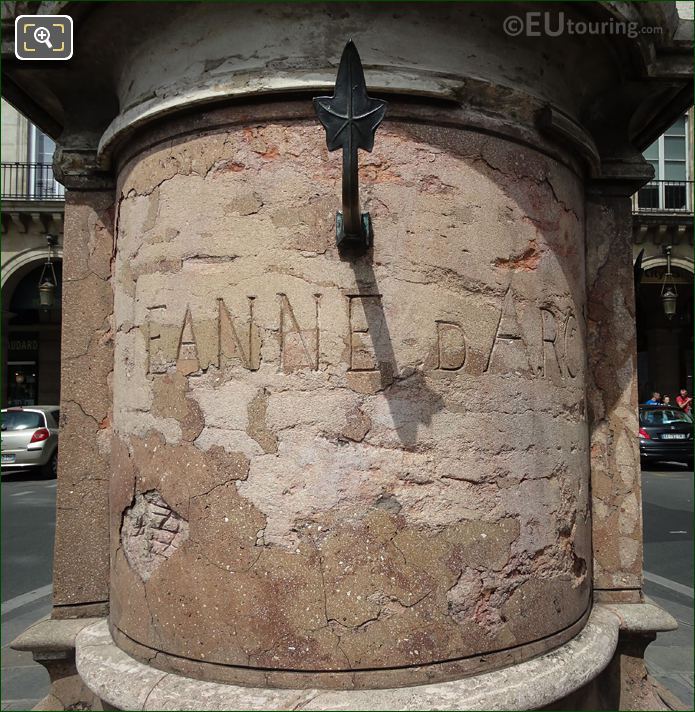 However, Joan of Arc, or the French spelling Jeanne d'Arc as you can see written on the pedestal in this close up HD photo, was not actually Beatified until 1909, which was by Pope Pius X at the Notre Dame de Paris Cathedral.

Then in 1920, she was canonised by Pope Benedict XV at the Saint Peters Basilica in Rome, being classed as one of the great Saints in history.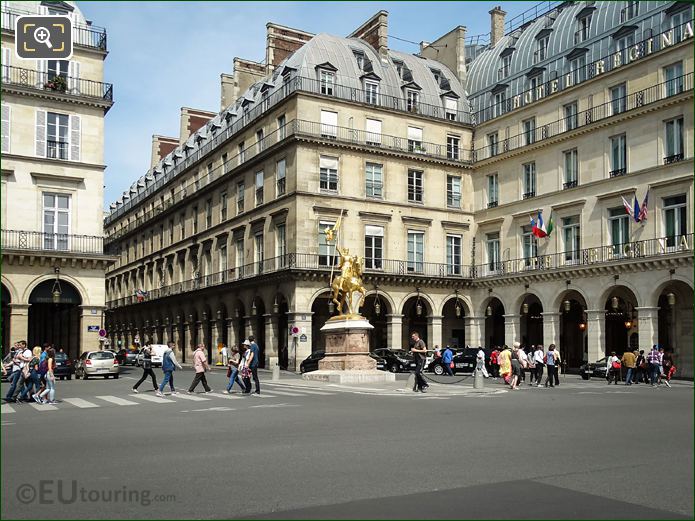 And in this last image you can see the gilded bronze equestrian statue of Joan of Arc in the square called the Place des Pyramides , which is where a ceremony takes place each year on May Day, and this has become a popular tourist attraction in Paris right by the famous Louvre Museum and the Rue de Rivoli.




Related information


- Place des Pyramides


If you would like to use any of these photos for non commercial use we only ask that you please do include recognition to ourselves "eutouring.com", but if you are not sure with regards to usage, please contact us.






Copyright © www.eutouring.com All Rights Reserved