HD photographs of Frederic Le Play statue in Luxembourg Gardens - Page 341

This time, while we were walking around the beautiful gardens of the Jardin du Luxembourg located in the 6th Arrondissement of Paris, we took these high definition photos of a statue, which is a monument dedicated to Frederic Le Play, produced by Andre Joseph Allar.


Paris Statues
- << Previous 341 342 343 344 345 346 347 348 349 350 Next >>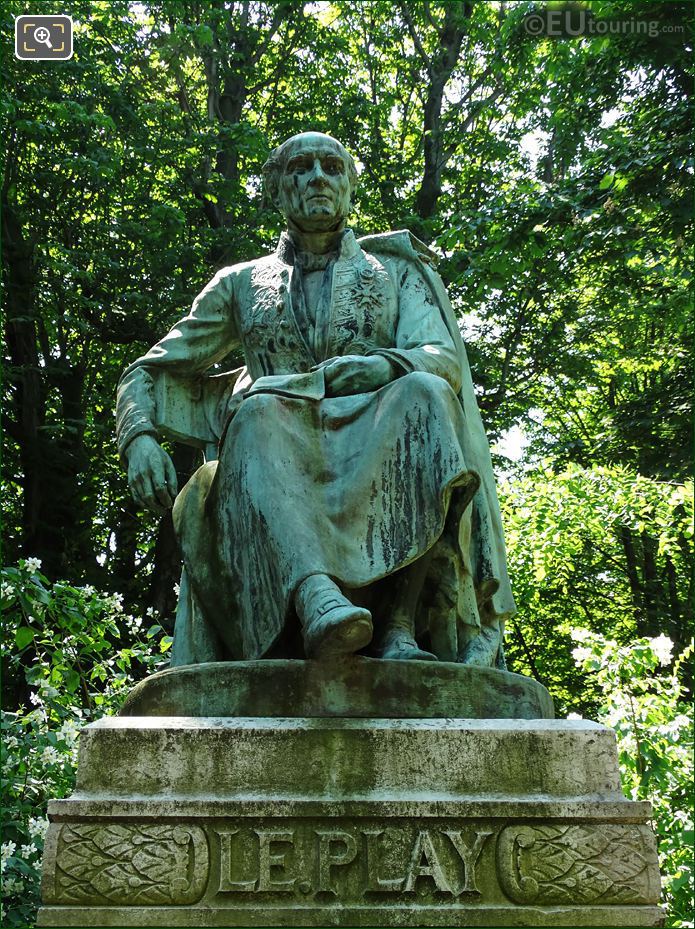 This first HD photo shows the bronze statue of Pierre Guillaume Frederic Le Play who was born in Calvados on 11th April 1806 and he became an engineer, a sociologist and economist, who was held in very high esteem by Napoleon III, appointing him with different positions such as Counsellor of State, Senator of the Empire, and a Grand Officer of the Legion of Honour.
So, as we mentioned above, this statue is made of bronze and it was sculpted by Andre Joseph Allar, who was born in Toulon in the Alpes Cote d'Azur region in August 1845, and during his prolific career this artist produced numerous different statues, sculptures and monuments that can be seen around France, especially in Paris and his home region, which is where he also passed away in the April of 1926.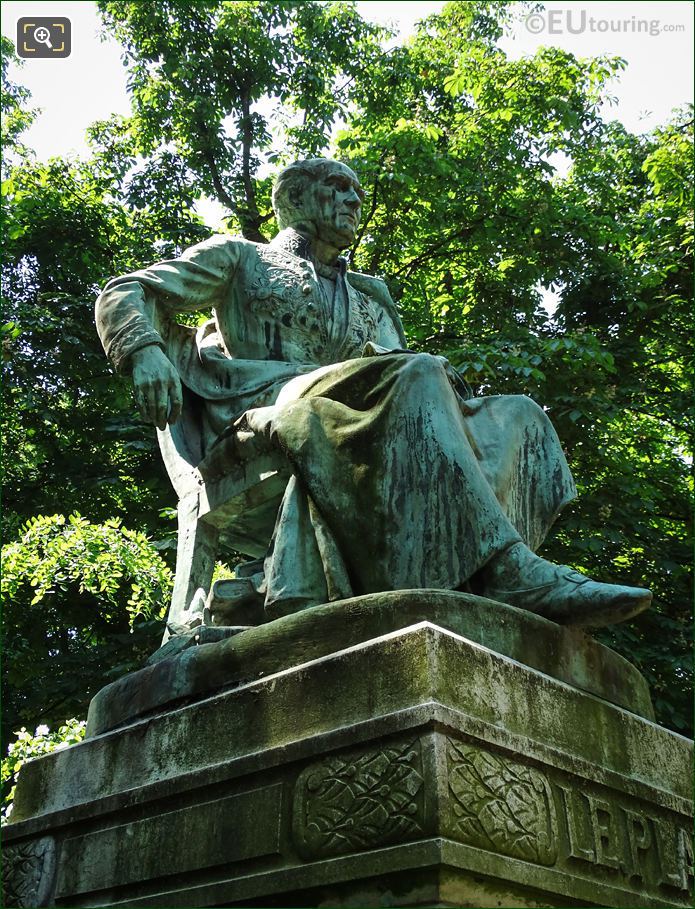 And this statue was first erected within the Jardin du Luxembourg back in 1906 to mark the centenary of the birth of Frederic Le Play, although through a law passed in October 1941 for the over hall of different statues in Paris, it was subsequently removed, and only found again at an ironmongers in 1945.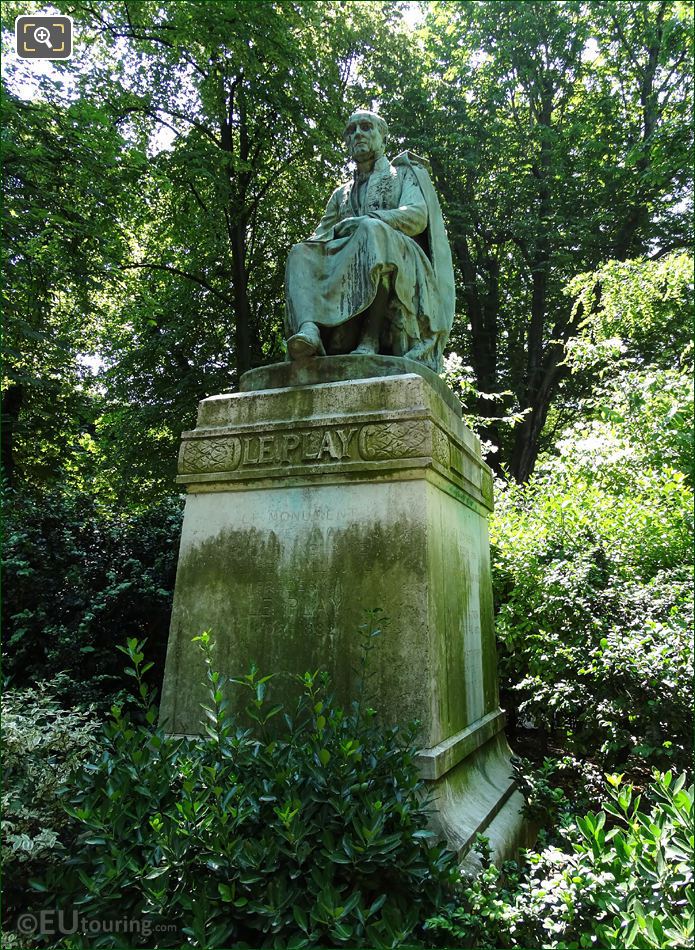 Fortunately, the bronze statue of Frederic Le Play was saved from destruction even during the Nazi occupation of Paris during World War II when numerous monuments were melted down, and after it had been found, the monument was fully restored and put back in place within the Luxembourg Gardens on top of the large marble pedestal in 1947.
Here you can see a close up showing part of the pedestal with an inscription, and although it is quite hard to make out, this translates in English to; This monument was erected in honour of Pierre Guillaume Frederic Le Play, and then underneath are his years of birth and death, being 1806 to 1882.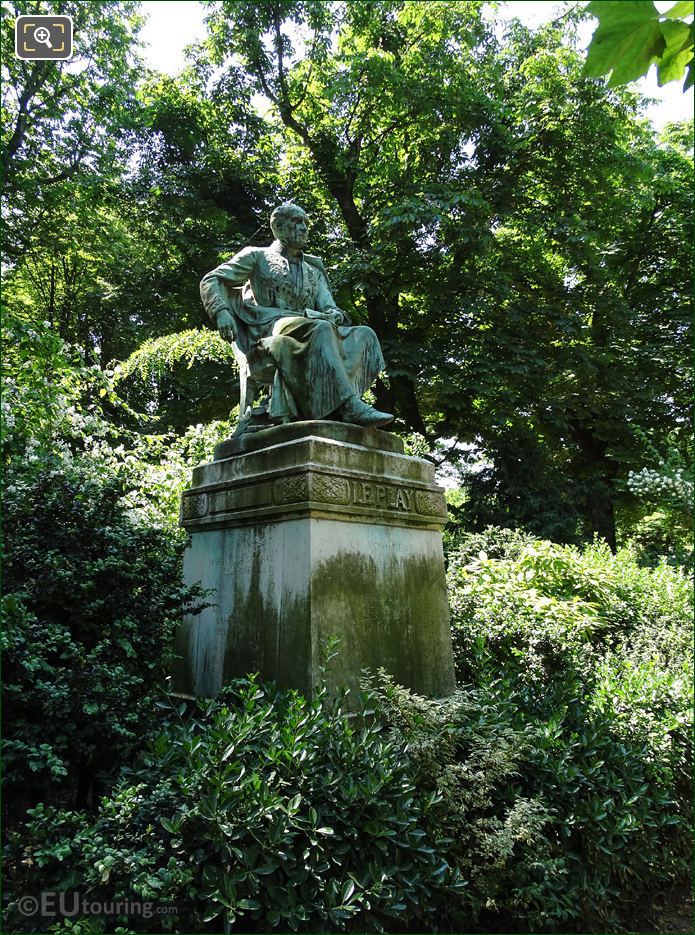 In this HD photo you can see the statue of Frederic Le Play surrounded by numerous different species of trees and bushes, and if the bronze statue was not placed on top of such a tall marble pedestal, it would be very easily missed, but you will find it located in the southern part of the Jardin du Luxembourg.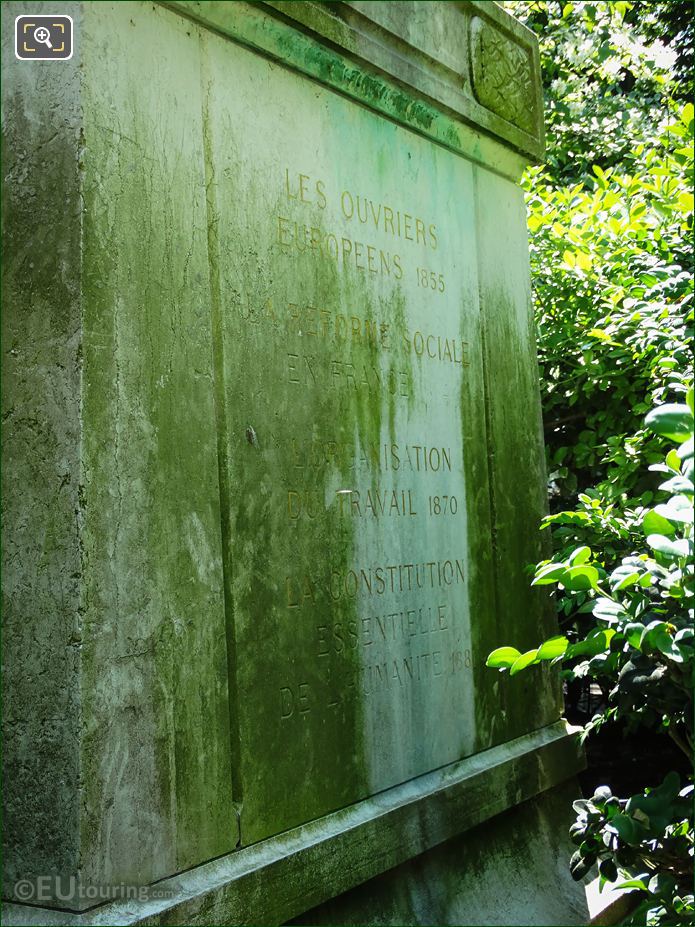 Now as you can see in the picture above, this monumental statue is surrounded by trees and bushes, which meant that we could not get any clear photos directly showing this side with another inscription, but it does mention Les Ouvriers Europeens, which is a series of 36 monographs that Frederic Le Play produced after his studies on the budgets of typical families selected from a wide range of industries.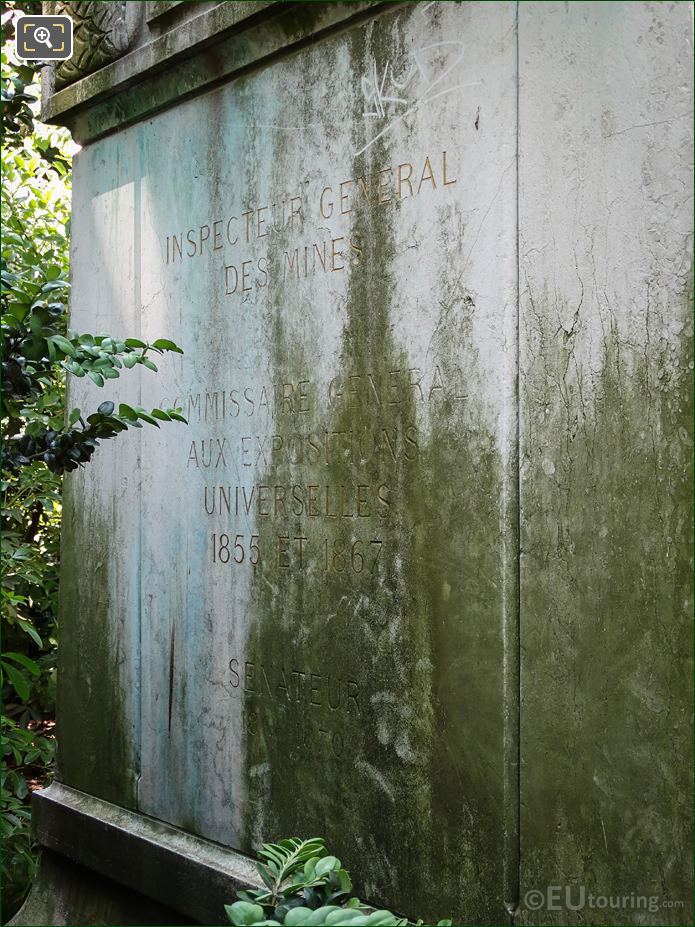 Yet in this last photograph you can see the opposite side of the marble pedestal with another inscription, and at the top it details that Pierre Guillaume Frederic Le Play was the Inspector General of the Mines, plus it mentions the fact that he was the author of a famous survey on European workers produced in 1855.

And having studied the social and economic conditions of working class families in numerous European countries prior to passing away on 5th April 1882, Le Play is considered one of the forerunners of French sociology that have influenced numerous people since.

Paris Statues - << Previous 341 342 343 344 345 346 347 348 349 350 Next >>


If you would like to use any of these photos for non commercial use we only ask that you please do include recognition to ourselves "eutouring.com", but if you are not sure with regards to usage, please contact us.