Place Edmond-Rostand in Paris

This square in Paris was first laid out in the 1860s, but was renamed after a French writer and poet and located next to the Luxembourg gardens with a view to The Pantheon, there is a fountain in the middle of what is essentially a roundabout, which is called the Fontaine du Bassin Soufflot.


About Place Edmond-Rostand

This area where you can now discover the Place Edmond-Rostand was originally part of the old Rue de Medicis and it was back in 1862 during the reign of Napoleon III that it was redeveloped when the Boulevard Saint-Michel was being created.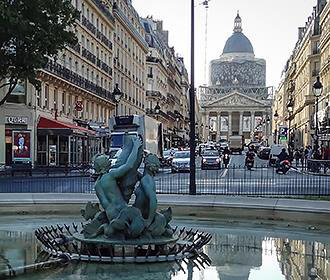 And it was shortly after this that a basin, or pool, was added by the French architect Gabriel Davioud who worked alongside Baron Haussmann as the chief architect for public places and gardens in Paris.

Now one of the features that you can see today is a bronze statue fountain in the middle, which is called the Fontaine du Bassin Soufflot, that was produced by the French sculptor Georges Adolphe Crauk, who is also known as Gustave Crauk, and it was designed to represent a nymph and a triton.

Yet there is some very conflicting information as to when this statue was installed within the basin with some saying it was 1864, but there was a plaster model of this exhibited at the Exposition Universelle in 1878, and other sources say that the bronze work was not installed until 1884, which to us seems a more logical date.
Also, there are no specific places that mention what this square in Paris was originally called, although, it was in 1924 that it was renamed the Place Edmond-Rostand after the French writer, dramatist and poet born in Marseille in 1868, and passed away in Paris in 1918, who is most well known for his play called Cyrano de Bergerac.


Visiting Place Edmond-Rostand in Paris

You will find the Place Edmond-Rostand located in the 6th Arrondissement at the junction of Boulevard Saint-Michel, the Rue de Medicis and the Rue Soufflot, which as mentioned earlier provides a view to The Pantheon, yet it is also right next to the Jardin du Luxembourg.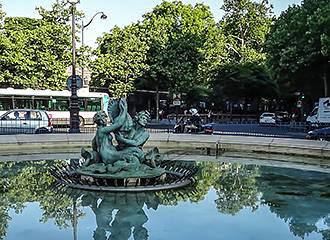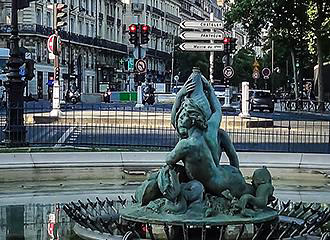 And when it comes to getting here via public transport in Paris, the nearest RER train station is the Luxembourg stop serving line B, however, the closest Metro stations are a little further away and include the Cluny - La Sorbonne stop or the Cardinal Lemoine stop both serving line 10.

Alternatively, on the opposite side of Luxembourg Gardens you have the Notre Dame des Champs stop serving line 12, yet the bus lines 21, 27, 38 and 85 will get you close by.