Musee d'Histoire de la Medecine Museum in Paris

This Paris Museum of the History of Medicine is located in a University of the Academy of Surgery with the oldest collection of items relating to medicine in Europe along with rare medical and surgical bags, physiology tools etc.


About the Musee d'Histoire de la Medecine museum in Paris

Originally started in the 18th century by Dean Lafaye with a collection of surgical instruments, the former Medical School, which was founded in 1803 during the reign of Napoleon Bonaparte was situated in the building of the Academy of Surgery, which is where the Paris Descartes University has been located since 1971.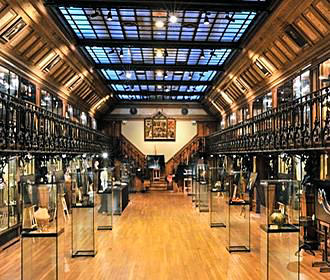 Getting back to the very beginning, Dean Lafaye wanted to open a museum dedicated to medical teaching and the history of medicine, which were then unknown to medical students, however at the time this did not happen.

Yet a museum was created, all be it many years later, within rooms constructed in 1905 in the Medical School of Paris, and of course they included the original collection of surgical instruments. The unusual collection was further enhanced a few years later by the addition of a considerable amount of pieces related to operations along with art works.

Since that time, bar an interruption of two years when this museum in Paris was closed due to a fire that meant major restoration had to be conducted, you will be able to discover the history of medicine through a large variety of different instruments, documents and models.

In fact, the Musee d'Histoire de la Medecine is not only the oldest museum of its kind in Europe, but is also recognised throughout the world for its rich and vast collections of unique items with over 200 physiology instruments, items relating to gynaecology, surgery, ophthalmologists and even homeopathy, which was very popular in the 19th century.
You can also discover a pharmacy box complete with the original bottles from the 17th century, a writing desk from the 18th century with names of surgeons carved into it, instruments that were used to perform the autopsy of Napoleon Bonaparte when he died at St Helena, a disinfection oven, even Egyptian instruments, plus numerous paintings and art works.

There are also many different documents, engravings, lithographs, photographs, portraits and medals, along with an old endoscope, 18th century ophthalmic instruments, an old amputation saw from the 17th century and many other unique items on display, often with an unusual story to tell.

So while you are on holiday in Paris, if you are at all interested in the history of medicine or want to discover more about how things used to be, then this is a truly amazing museum, although the use of many objects could well make a person cringe at the thought, but it is a fascinating experience.


Visiting the Musee d'Histoire de la Medecine museum in Paris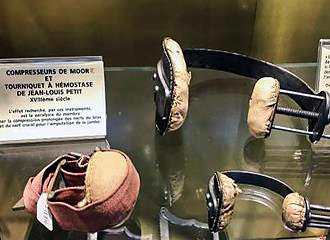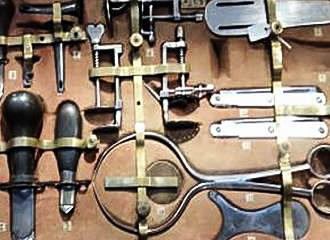 The Musee d'Histoire de la Medecine is open on a Monday to Wednesday and on a Friday to Saturday from 2pm through to 5:30pm, however, it is always closed on a Thursday and on a Sunday.

The Museum of the History of Medicine is also closed on all national French holidays, plus there is an annual closing from approximately the 21st December through to 2nd January each year.

There is a nominal charge of only €3.50 or a reduced cost of €2.50 for students as of 2018 and no appointment is necessary for individual tourists, however, if you do wish to have a guided tour, these are available for a maximum of between 20 and 25 people per group, yet a prior appointment must be arranged in advance.

Situated on the second floor of the Paris Descartes University, it is located within the 6th Arrondissement of Paris in between the River Seine and the Jardin du Luxembourg gardens in Paris, which is also home to the Musee du Luxembourg.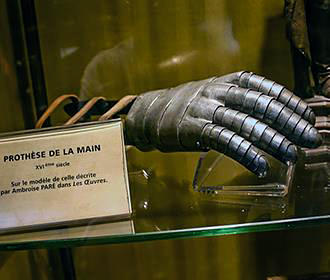 So when it comes to reaching this unique and unusual museum in Paris via public transport, you will find that the nearest Metro station is the Odeon stop close to the historical brasserie called Le Procope, which serves lines 4 and 10, or in the opposite direction you have the Cluny - La Sorbonne stop serving line 10, which is by the Musee de Cluny.

Whereas the nearest RER train station is the Saint Michel - Notre Dame stop located right by the River Seine and close to the Fontaine Saint-Michel, which serves the RER B and C lines, yet this is also a Metro station serving line 4.

Alternatively, the bus lines 21, 27, 38, 58, 63, 85, 86, 87 and 96 along with the Noctilien Night Bus Service via lines N12, N13, N14, N21 and N122 will also get you within walking distance of the Musee d'Histoire de la Medecine and many other tourist attractions located in this area of Paris.
Address and contact details
Musee d'Histoire de la Medecine, 12 Rue de l'Ecole de Medecine, 75006, Paris, Ile de France, France

Tel: +33 (0) 1 76 53 16 93
Fax: +33 (0) 1 76 53 18 92


Transport options
Paris Metro lines 4, 10
Bus lines 21, 27
Bus line 38
Bus line 58
Bus line 63
Bus lines 85, 86, 87
Bus line 96
Night bus lines N12, N13, N14
Night bus line N21
Night bus line N122
RER Train lines B, C
Attractions close by
Refectoire des Cordeliers
Maison d'Auguste Comte
Place Henri Mondor
Le Procope restaurant
Thermes de Cluny
Musee de Cluny
Square Paul Painleve
Cafe Latin
Fontaine Saint-Michel
Jardin du Luxembourg
Place de Furstenberg
Pont Saint Michel
Salvador Dali Sundial
Le Square de la Place Dauphine
La Conciergerie
Equestrian Statue of King Henri IV
Pont Neuf
Square du Vert Galant
Notre Dame de Paris Cathedral
The Pantheon