Place Henri Mondor square in Paris

The Place Henri Mondor was named after a French surgeon who practised at a nearby medical facility, yet there is also a statue in the square of Danton who was a revolutionary during the French Revolution.


About Place Henri Mondor

The Place Henri Mondor was only inaugurated with this name in 1968, and this square in Paris was dedicated to the French surgeon of the same name who was also a historian of medicine and French literature. And in fact a disease called Modors disease was also named after him, as it was through his research that this disease was first discovered.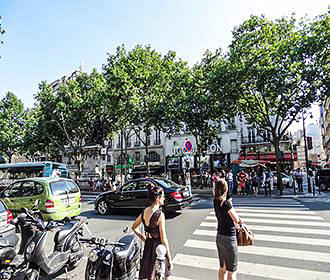 However, you can also find a statue within this square in Paris

It was back in 1889 that a statue sculpted by Auguste Paris, which is a bronze statue of Georges Jacques Danton, who was a revolutionary during the French Revolution and the first President of the Committee of Public Safety in the city.

This particular statue in Paris was inaugurated in 1891 according to one of the tourist information plaques where it states that this bronze statue is the official tribute to the City for the centenary of the Revolution and occupies the exact location where his apartment once stood.

In fact, the houses were torn down during the development and reorganisation of Paris during the time of Baron Haussmann a few years earlier, but this is a reminder of times gone by,, and you will now find the Place Henri Mondor square and the statue of Dantin positioned close to the Metro station entrance of the Odeon stop.
Visiting Place Henri Mondor in Paris

You will find the Place Henri Mondor and the statue of Danton located in the Saint Germain des Pres area in the 6th Arrondissement of Paris close to numerous other tourist attractions.

And the nearest Metro station is the Odeon stop via lines 4 and 10, also you can use the RER lines B or C, along with bus numbers 58, 58, 63, 70, 86 or 87, all of which will stop close.