Le Procope restaurant in Paris

The first literary cafe in the world and the oldest cafe in Paris that is now the famous Procope restaurant, which is still running and at the same location, it has a prestigious setting that is visited by thousands each year and has seen many famous people.


A bit of history

Procope was first founded back in 1686 when Francesco Procopio dei Coltelli, who was originally from Palermo, Sicily, decided to open up a coffee house on the Rue des Fosses Saint-Germain, which is where this restaurant in Paris is still located.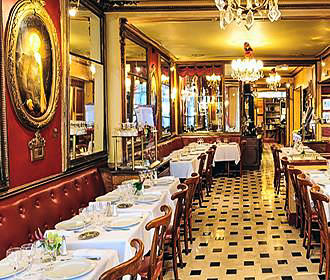 However, the name of the road has since changed its name to the Rue de l'Ancienne Comedie, which was named after the Ancienne Comedie Francaise, and it was because of the proximity of the Comedie Francaise along with the quality of drinks and sorbets served, that proved the success of Procope.

It became a meeting place for fine wits and intellectuals and hence the first literary cafe in the world was born, and over the course of centuries everyone who already had a name or was hoping to within the arena of writers, artists and politics has frequented Procope.

Some of the famous names you may well recognise that used to frequent this historical cafe include Voltaire, Jean-Jacques Rousseau, Victor Hugo who wrote the Hunchback of Notre Dame and Honore Balzac.
Procope is also recognised as the place where Denis Diderot and Jean le Rond d'Alembert co-founded and produced the encyclopaedia in the 18th century, and where Benjamin Franklin, who is known as a founding father of America and for writing the Declaration of Independence.

During the French Revolution it was here at this cafe that Maximilien de Robespierre, Georges Danton and Jean-Paul Marat used to meet and Napoleon Bonaparte I left his hat at Procope as a pledge to pay his debts when he was a Lieutenant.

And, over the more recent years it has still been frequented by artists, writers, politicians, professionals and celebrities, yet has also become a place that tourists flock to in order to experience this bit of history in Paris where you can still see the table that Voltaire sat at, or the wallpaper dating from 1830.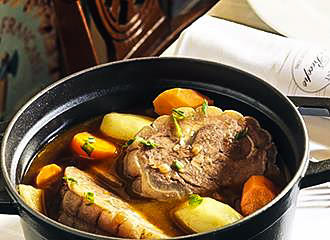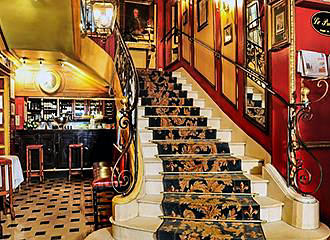 About the Procope restaurant in Paris

Today you can discover a sumptuous and elegant decor with period furnishings, paintings, chandeliers and many different items of memorabilia from days gone by like the cocked hat of Napoleon provided to pay for his debts, extracts from letters, decrees and many other historical objects.

And when it comes to the wallpaper dating from 1830, even this is a part of French history that originally bore the motto Liberte, Egalite, which was then changed after the Constitution was amended to the famous Liberte, Egalite, Fraternite.

And whether you are with friends or family, you can enjoy a meal in the idyllic surroundings of the comfortable dining area, or on the terrace when the weather is being kind and it is suitable even for children, plus there is still that cosy, warm and welcoming atmosphere even in the lounge areas.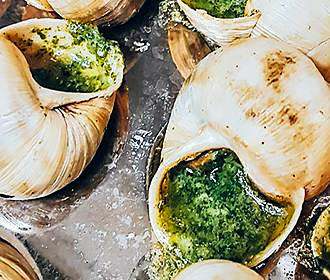 The cuisine at Procope

Providing very traditional and refined French cuisine with an Italian twist to some dishes that pay tribute to its original founder like the glazed mousse in Amaretto and caramel, you can experience delights such as the traditional casserole style simmered calfs head in a veal and tarragon juice produced as it was when Procope first opened.

Other dishes to tempt you could be a traditional Coq au Vin that takes three days to prepare, shellfish seafood platters, Normandy grilled rib steak with black pepper, salmon tartare, smoked mackerel with dill, pate en croute, French duck magret with orange or trout meuniere and almonds to name a few.

There is also a special three course meal deal called the Philosophers Menu, with a choice of starter, main course and dessert for a cost of €36 as of 2013, plus there are daily specials and a very wide selection of different dishes available on the a la carte option, including French delicacies such as snails and oysters.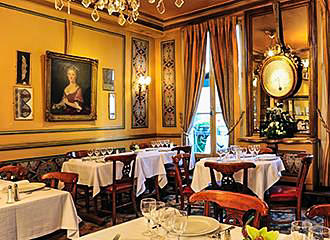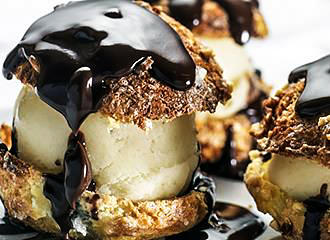 Yet there is a Sunday brunch served, afternoon tea is possible and there is also a dedicated childrens menu for those aged under 12.


Access to Procope

You will be pleased to know that this cafe in Paris is open every day of the week all year round from 11.30am through to midnight, however, on a Thursday, Friday and Saturday they do not close until 1am.

Also you will find that a guide to the history of the worlds oldest cafe Procope is available in both French and English for €5 and the languages spoken here are French, English and Spanish.

And located in the 6th Arrondissement of Paris, you will be able to discover many other tourist attractions located nearby like the Musee Eugene Delacroix museum, the Odeon Theatre and the River Seine a little further in another direction, yet the nearest Metro station is called the Odeon stop.