Cafe Latin French bistro

The Cafe Latin is a traditional French bistro within the 6th Arrondissement of Paris serving lunch and dinner daily, along with a selection of wines from each region of France, plus they have a DJ on a Friday and Saturday night.


About the Cafe Latin

The Cafe Latin is actually linked to two separate hotels in Paris, the 4 star Hotel Villa d'Estrees and the 3 star Hotel Residence des Arts, and offers classic bistro style dishes with specials of the day, and menu deals.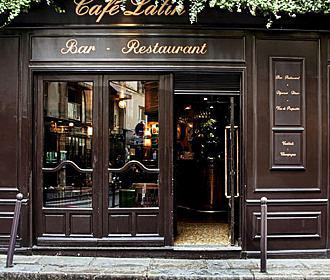 With traditional wooden tables dark leather bench seats and padded wooden chairs through to ole posters and signs on the walls that are coloured in an old fashioned yellowish colour, and blackboards with hand written specials, this is a very traditional type of restaurant in Paris.

You will find that the Cafe Latin provides continuous service every day with the kitchen being open from midday to midnight seven days a week, where you could enjoy their recommended classics of Homemade duck Fois Gras and Prime rib beef and house cut French fries with parsley and butter sauce.


Cuisine at the Cafe Latin Bistro

For those of you who just want a light snack there are cheese and charcuterie platters available plus there are salads like Grilled vegetable: peppers, mozzarella, artichokes, mushrooms, zucchini or Lightly toasted goat cheese, basque region ham, salad, tomatoes and another with Chicken, avocado, salad, red onions, tomatoes, olives, basil.
There are also a variety of different burgers including one with bacon and another with blue cheese, yet each day there is something different as the daily special for an approximate cost of €17, which could be Sausage and mashed potato on a Tuesday, Skate with Black butter sauce on a Wednesday and Fish on a bed of sauerkraut with a white wine butter sauce on Thursday, for instance.

The Cafe Latin also offers an a la carte menu with starters being approximately €8 and could be traditional French cuisine classics like six Bourgogne snails or French onion soup, along with others such as Homemade duck terrine or Warm goat cheese with walnuts and honey on country bread over salad.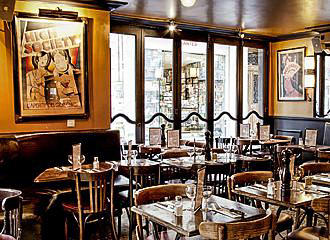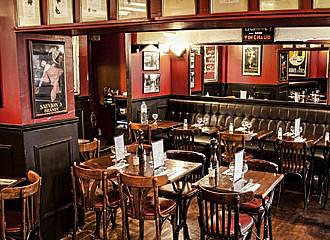 Main dishes are an average cost of about €16 and could be Raw salmon tartare with olive oil, onions, shallots, capers, mustard, Rib-eye steak with pepper sauce and homemade French fries, a Vegetarian curry or Chicken curry both served with basmati rice, Duck confit with shallots confit and sauteed potatoes or Mussels and house cut French fries to name a few choices.

Then there are desserts such as Creme brulee, Tiramisu, Upside down apple pie, Soft whipped fresh cheese similar to yogurt with raspberry sauce or Chocolate ice cream with whipped cream and chocolate.

Yet you could opt for a starter and main course or a main course and dessert for approximately €23 or a three course meal for approximately €30 and of course everything can be accompanied by a drink of your choice, plus there is also a children menu option with a main course and dessert for a discounted price as well.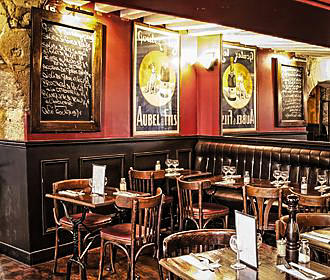 Although you could just pop in for a drink without eating, and between the hours of 3pm and 7pm daily the Cafe Latin have Happy Hour specials with cocktails and pints being provided at a reduced cost compared to any other time, and as we mentioned earlier, there is a DJ on a Friday and Saturday evening for a lively end to your day before going back to your hotel in Paris.


Access to the Cafe Latin

The Cafe Latin bistro is open every day from 11:30am through to midnight, but on a Friday and Saturday it does not close until 2am in the morning, and as we mentioned earlier, the kitchen is open from midday for meals and snacks with continuous service.

Happy hour on selected drinks such as pints and cocktails is available daily between 3pm and 7pm and they also highlight a Wine of the month from a different region of France.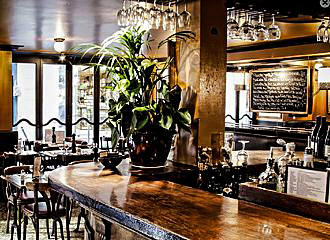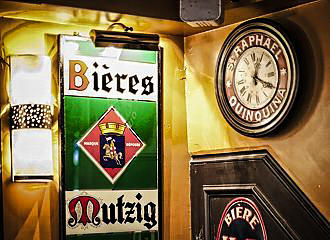 Now when it comes to getting to Cafe Latin, you will find it located within the 6th Arrondissement close to the River Seine and many popular tourist attractions in Paris, which is linked to the 3 Star Hotel Residence des Arts and positioned just up the road on the opposite side from the 4 Star Hotel Villa d'Estrees that this restaurant is also linked with.

You will find that the nearest Metro station is the Saint-Michel - Notre-Dame stop serving line 4, however, this is also an RER train station serving the RER B line and the RER C line.

Alternatively, in the opposite direction you have the Metro station called the Odeon stop serving line 3 and line 10, plus the bus Lines 21, 27, 38, 87 and 96 along with the Noctilien Night Bus Service via Lines N12, N13, N14, N21 and N122 will also get you within walking distance of this restaurant in Paris.