La Pinte Bar in Paris

La Pinte translates to The Pint and is a small bar in Paris that gets very busy, especially when they are showing sporting events on the large screens or during their Happy Hour, plus they also play music for a convivial atmosphere amongst friends. CLOSED


About La Pinte Bar

La Pinte is a small bar in Paris with a traditional feel and by going down the spiral staircase to the basement you will find a quaint area, or cellar, with its stone walls, which is a great area to spend an evening with friends.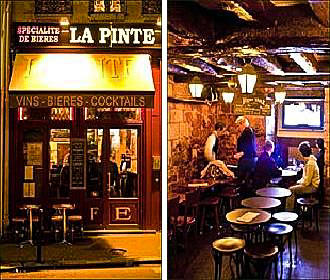 This bar translates to The Pint in English, and as you can probably imagine, they do provide a wide variety of different beers, however, there is also a fantastic wine list, numerous champagnes, cocktails, aperitifs and digestifs on offer as well, which is why it is a popular place for locals as well as tourists.

And for those of you who are sports fanatics, where you never wish to miss a major game even while you are on holiday in Paris, then you will not be disappointed if you spend an afternoon or evening at La Pinte. This is because you will find that there are two large screens where all the major sporting events are covered, whether it be football, rugby, tennis, etc.
You will also find that they provide a range of cheeses and charcuterie products from the Auvergne region of France that you can enjoy alongside your drink of choice. However, if you fancy something a bit more substantial, then you could always go to the Cafe des Beaux Arts, which this bar in Paris is linked with, as the brasserie style cafe provides a wide range of snacks along with an a la carte menu.


Visiting La Pinte

You will find La Pinte located in the Saint Germain des Pres area of Paris in the 6th Arrondissement close to numerous different tourist attractions, and situated on the left bank of the River Seine, the nearest Metro station is called the Odeon stop via lines 4 and 10.

And when it comes to enjoying The Pint bar, you will find that it is open from 4pm right through to 2am on a Sunday to Saturday, although, like lots of restaurants and bars in Paris, they close one day a week, and in this instance it is a Monday.

As for the Happy Hour at La Pinte, this actually runs for four hours each day from 4pm through to 8pm, where even the wines by the glass are at a discounted rate, which makes this an even more popular place for meeting up with friends or colleagues.