Cafe des Beaux Arts in Paris

Located right by the River Seine and close to the Institut de France this cafe in Paris is open 7 days a week for breakfast, snacks, lunch and right through to the evening for three course meals with traditional French cuisine.


About Cafe des Beaux Arts

The Cafe des Beaux Arts is named this due to its location right by the School of Fine Arts, and has a typical Parisian brasserie style decor of wood and deep reds, that is great place to meet up with friends in a warm and inviting atmosphere.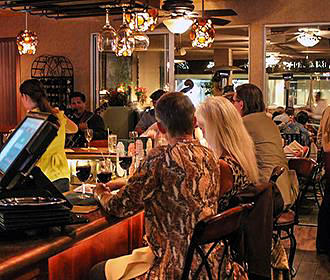 Also due to its location close to the traditional Bouquinestes, or booksellers, it is quite fitting that literary evenings or lectures are organised each year with special guest speakers, but even if you do not wish to attend one of these unique events, this cafe in Paris is open for breakfast right through to late evening with continuous service for locals and tourists alike.

However, if you would rather visit one of the bars in Paris, then this cafe also runs a place called Le Pinte, which translates to The Pint where they show sporting events on two large screens, have music nights and supply numerous different beers, wines and cocktails for a fun evening out.


Cuisine at the Cafe des Beaux Arts
Known as a continental breakfast, which is what is normally available at most hotels in Paris, they serve you with a coffee, chocolate or tea, fresh fruit juice, a slice of bread and a croissant or home-made cake for €9.50 as of 2014.

There are also snacks available such as sandwiches and omelettes, or even fried eggs and bacon starting from €6.50. But you could also opt for a Club sandwich with salad and chips, or salads such as with Smoked salmon, herring, shrimps, toast, potatoes and fresh cream, another with Warm potatoes, preserved gizzards, smoked duck breast fillet and Foie Gras or another with Tomatoes, warm goats cheese on toasts with herbs that start from €15.

The Cafe des Beaux Arts also has an a la carte menu with starters such as vegetable or French onion soup, hard boiled eggs with mayonnaise, duck Foie Gras with grilled toasts or snails from €6 as of 2014.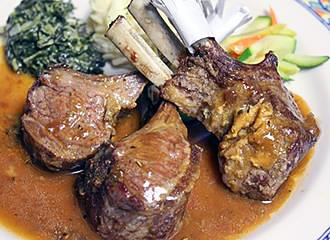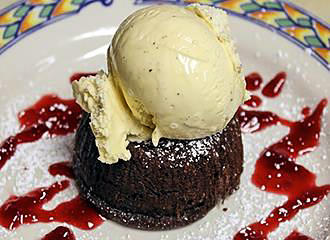 Main courses start from around €16 and could be delights such as Preserved duck with parsley potatoes, Grilled salmon steak with tagliatelle, Sirloin steak, mashed potatoes with fresh tomme cheese and garlic and a bearnaise sauce, Duck breast fillet with sauteed potatoes, Tagliatelle with salmon or Spaghetti bolognaise.

And then there are the very tempting desserts including tiramisu, creme brulee or apple tart and ice cream. Plus one of the traditional French delicacies of cuisine are known as Crepes, and the Cafe des Beaux Arts provides a great variety of these such as with chocolate, lemon, honey or even Grand Marnier.


Visiting Cafe des Beaux Arts in Paris

You will find the Cafe des Beaux Arts located in the 6th Arrondissement right by the River Seine looking over towards the Musee du Louvre and it is open from 8am through to 11pm seven days a week with continuous service and no booking necessary.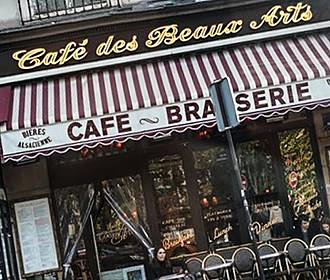 And when it comes to public transport in Paris, the nearest Metro stations are either the Pont Neuf stop via line 7, the Saint-Germain-des-Pres stop via line 4 or the Mabillon stop via line 10.