HD photographs of the Blanche of Castile statue in Jardin du Luxembourg - Page 427

We were back within the Jardin du Luxembourg admiring some of the many statues located within these gardens in the 6th Arrondissement of Paris, and took these high definition photos showing the statue of Blanche of Castile, sculpted by Augustin Dumont.


Paris Statues
- << Previous 421 422 423 424 425 426 427 428 429 430 Next >>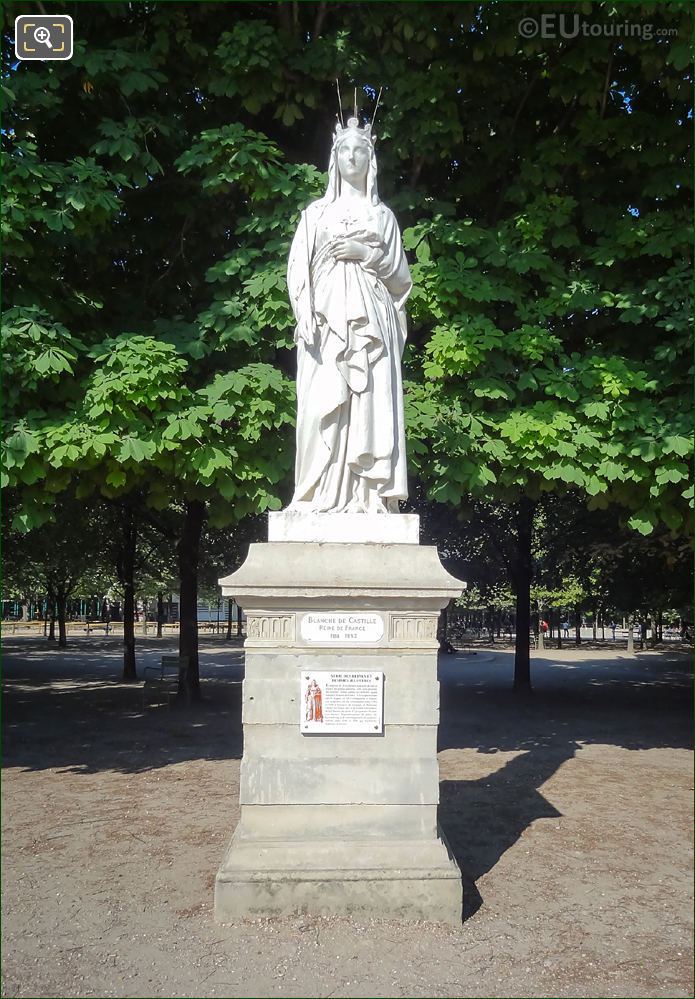 This first HD photo shows the marble statue depicting Blanche de Castille, which is how it is spelt in French, rather than Castile the English way, and measuring a height of 2.35 metres, this stands on a stone base on the western terrace of the Luxembourg Gardens, which is to the left as you are looking towards the Palais du Luxembourg.
This particular Queen of France was chosen by King Louis Philippe I, and was commissioned to the artist Augustin Alexandre Dumont for the sum of 12,000 French Francs through a ministerial order dated 19th September 1843, and according to the French Senate, it was finally completed on 28th July 1848, yet the statue is actually dated 1850.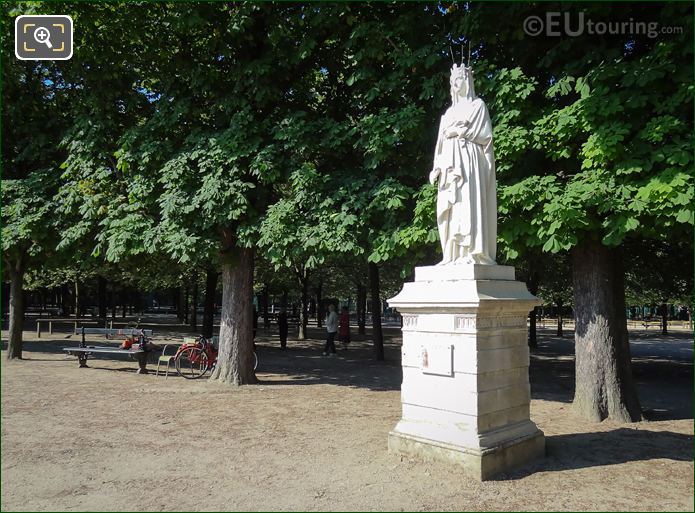 Now the artist Augustin Dumont was born in the August of 1801 and came from a long line of famous French sculptors, such as his Great Grandfather being Pierre Dumont. So inevitably he followed in their footsteps entering the Ecole des Beaux Arts in Paris in 1818, and after winning the Prix de Rome he furthered his studies at the French Academy in Rome before returning to France in 1830.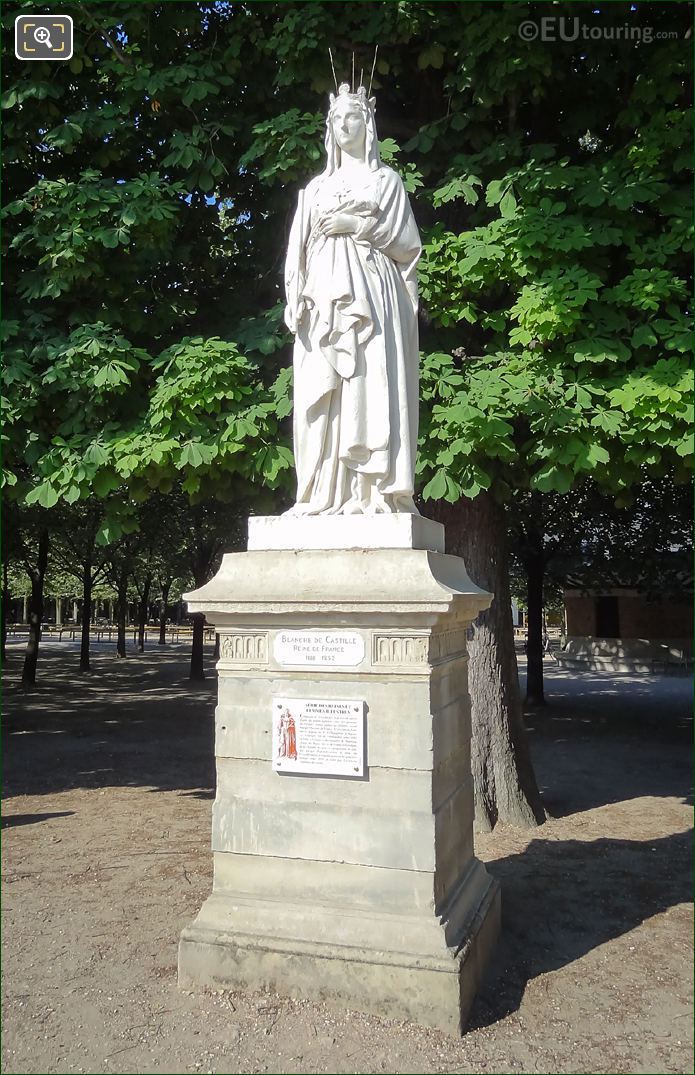 From then on Augustin Alexandre Dumont received numerous commissions including this statue of Blanche de Castille, Reine de France, and even became a teacher at the School of Fine Arts in Paris, yet he had to stop working altogether by 1875 due to health problems, but did not pass away until the January of 1884.
Now this close up shows a plaque, which has been positioned on the base of the statue below the name plaque, which explains more about why these statues are here, and when translated into English, this reads;

Series of Queens and Illustrious Women

Composed of 20 sculptures on either side of the large lawns, this series presents women - queens, saints or celebrities - who mark the history of France.

With the exception of a work acquired in 1874 (Margaret of Anjou), these sculptures were commissioned between 1843 and 1846 through the initiative of the ministry of the interior in charge of Fine Arts and the Grand referendum of the Chamber of peers.

This program was a result of the expansion work of the Luxembourg Palace and redevelopment of the flowerbeds realized between 1836 and 1841 by the architect Alphonse de Gisors.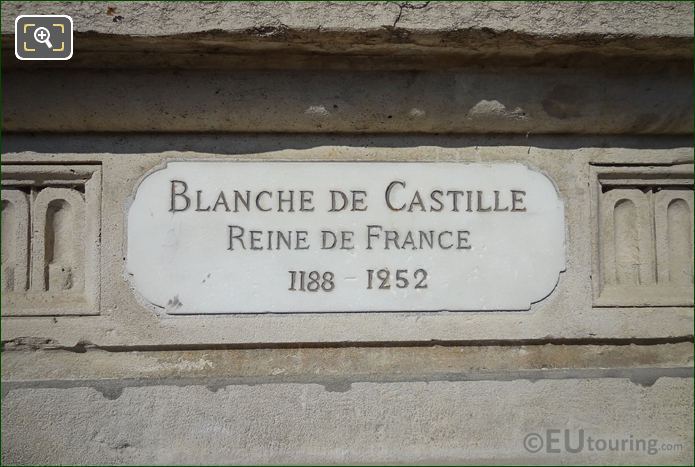 Yet this next HD photo shows a close up of the plaque located at the top of the pedestal where the statue of Blanche de Castille sits, and as you can see, she was born in 1188, but within Spain in Palencia as the daughter of Alfonso VIII, the King of Castile, and hence her title.

And it was her grandmother Eleanor of Aquitaine that felt Blanche, called Blanca in Spanish, would be perfect to become a Queen Consort of France, and so it was arranged that she would marry the future King Louis VIII of France, which she did so at aged twelve, although the marriage was not consummated straight away due to their ages.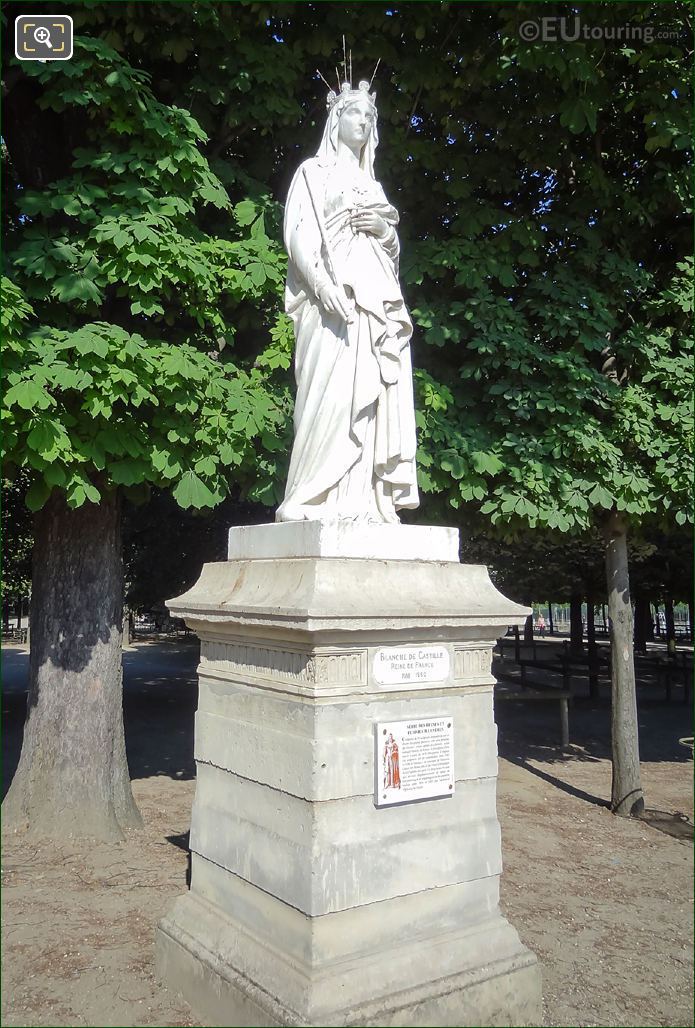 Unfortunately King Louis VIII died when his children were young, but Blanche of Castile became regent for their son, who was crowned King Louis IX, and later became known as Saint Louis, the only King of France ever to be canonised.

Yet Blanche was a force to be reckoned with, even leading her own army, plus she was also responsible for the Treaty of Paris, and even her only surviving daughter, Isabelle, was also canonised as a saint, which shows the dedication she had to her children, their education and upbringing.

Paris Statues - << Previous 421 422 423 424 425 426 427 428 429 430 Next >>


If you would like to use any of these photos for non commercial use we only ask that you please do include recognition to ourselves "eutouring.com", but if you are not sure with regards to usage, please contact us.