HD photographs of Marie de Medicis, Queen of France statue in Jardin du Luxembourg - Page 463

We were again within the free public gardens called the Jardin du Luxembourg, which are located in the 6th Arrondissement of Paris, when we took these high definition photos showing the statue of Marie de Medicis, Queen of France, sculpted by Louis Denis Caillouette.


Paris Statues
- << Previous 461 462 463 464 465 466 467 468 469 470 Next >>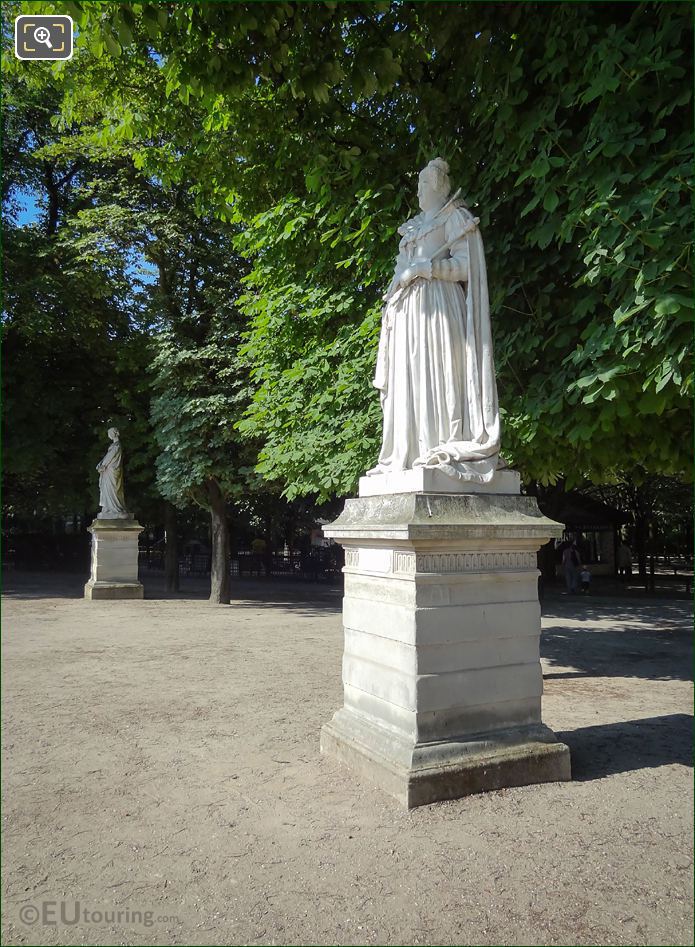 This first HD photo shows the statue of Marie de Medici with another statue of a Queen of France in the background, and these are a part of a series of statues within the Luxembourg Gardens called the Reines de France et Femmes Illustres, which in English translates to Queens of France and Famous Women.
Now this next image shows the statue sculpted in marble that stands at a height of 2.3 metres not including the base, and this was commissioned to the artist Louis Denis Caillouette, for the sum of 12,000 French Francs by virtue of a ministerial decree dated 18th June 1844.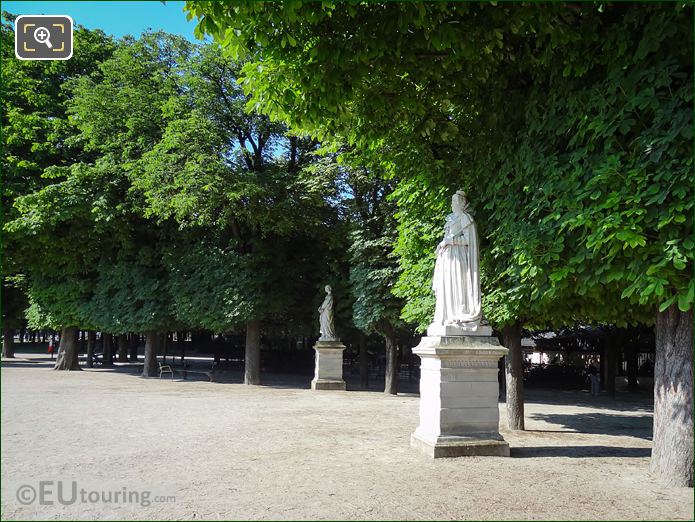 The specific famous women and Queens of France that were to be represented within the Luxembourg Gardens were chosen by King Louis Philippe I, and these statues are all made of marble and were commissioned to different artists, and there is only one portraying Margaret of Anjou that was added later.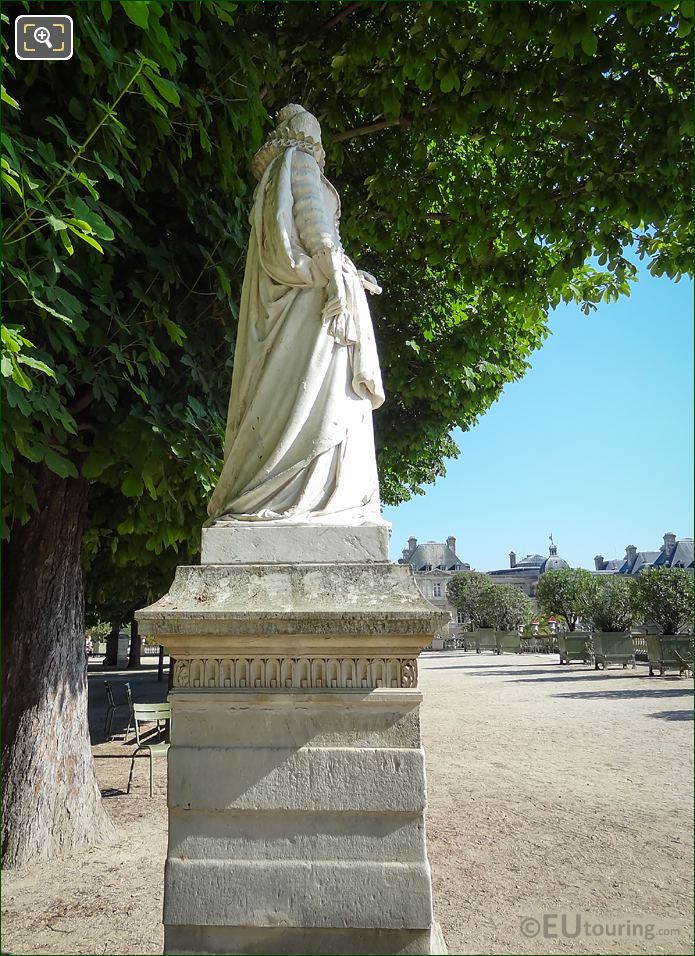 And this statue of Marie de Medici, which is how her name is spelt in English, was completed in 1847 and in the same year it was exposed at the Paris Salon, item number 2031, and this was prior to the sculpture being installed on the western terrace of the Jardin du Luxembourg in 1848.
So, we mentioned earlier that the statue of Marie de Medici was produced by Louis Denis Caillouette, although his surname is sometimes spelt Caillouet, and born in Paris on 9th May 1790 he followed in his fathers footsteps to become a French sculptor.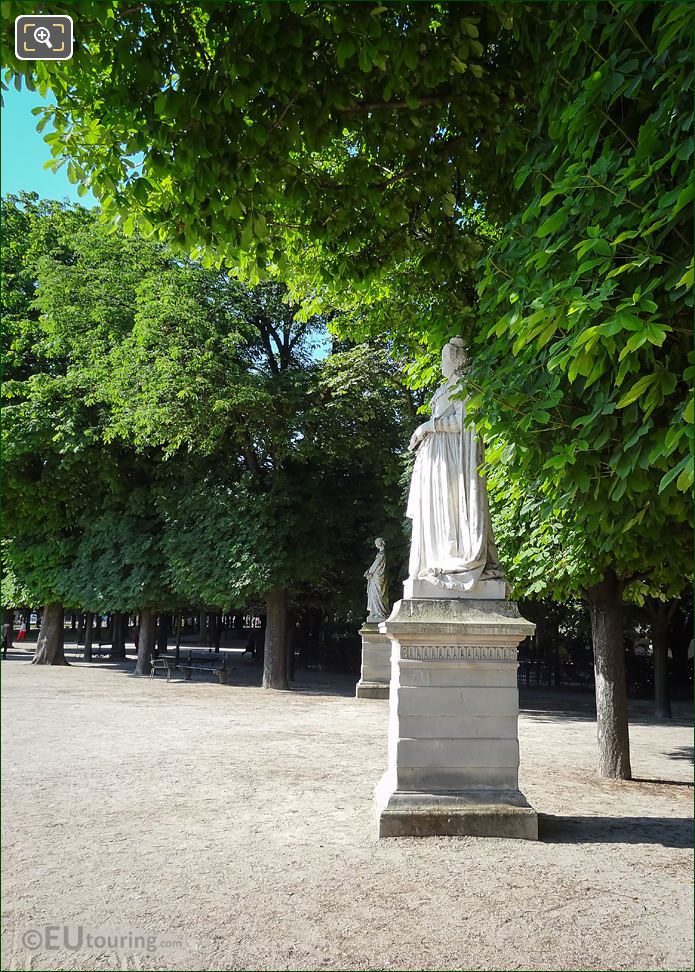 Louis Denis Caillouette produced numerous different works and received several public commissions for statues and sculptures during a career that spanned from 1809 through to 1866 and he passed away less than two years later in the February of 1868.

But these works included many decorative embellishments for famous tourist attractions in Paris including The Louvre, the Place de la Concorde, Madeleine Church, numerous busts that are held at the Chateau de Versailles and of course this statue of Marie de Medici in the Jardin du Luxembourg.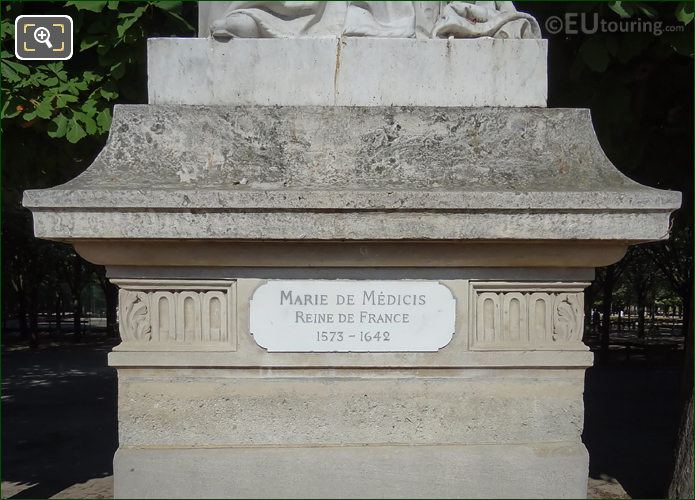 Yet getting back to the statue of Marie de Medici, in this close up HD photo you can see the plaque that is located on the pedestal, which states in French Marie de Medicis, Reine de France along with her years of birth and death.

And she was actually born in Florence, Italy on 26th April 1575, at the Palazzo Pitti and the Italian spelling of her name is Maria de Medici, yet she married King Henri IV of France, and hence she became a Queen of France, acting as regent for their son King Louis XIII after he husband was assassinated.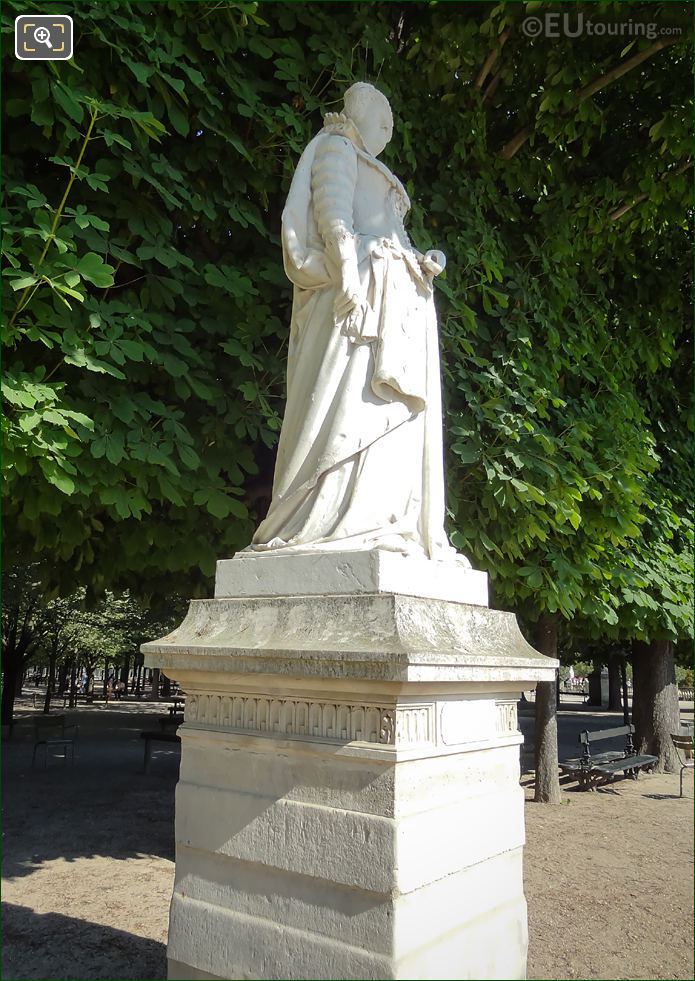 But it was after the death of King Henri IV that she decided to have a palace of her own constructed, as Marie de Medici did not like the Palais du Louvre, and she had this modelled on her native Florence home from her childhood, along with a fountain, known as the Fontaine de Medici and formal gardens.

So having the statue of Marie de Medici, Queen of France within the Jardin du Luxembourg is very apt, considering that it was her who had the Palais du Luxembourg constructed and the gardens originally laid out back in the early 1600s.

And even today you can still get to see the Medici fountain along with other original features, although many parts of these famous tourist attractions changed after Marie de Medici passed away in the July of 1642, and even more so in the following centuries with changes made to the palace and numerous different statues, monuments and sculptures added to the gardens.

Paris Statues - << Previous 461 462 463 464 465 466 467 468 469 470 Next >>


If you would like to use any of these photos for non commercial use we only ask that you please do include recognition to ourselves "eutouring.com", but if you are not sure with regards to usage, please contact us.