Angelina Tearoom and Restaurant in Paris

Angelina is the tearoom in Paris that became famous for its hot chocolate and pastries made to a secret recipe and served in a sumptuous and elegant Belle Epoque decor, which is still just as popular with celebrities and tourists from all over the world, but you can also enjoy breakfast, lunch or a full a la carte meal, along with the option to purchase treats to take away with you.


About Angelina Rivoli Tea Salon, Patisserie and Restaurant

The history of Angelina dates back well over a century, and since having been taken over by the Bertrand Restaurant Group, this beautiful and elegant tea salon has been completely renovated to bring back the sumptuous decoration and elegance of the Belle Epoque decor that was designed by Edouard Jean Niermans.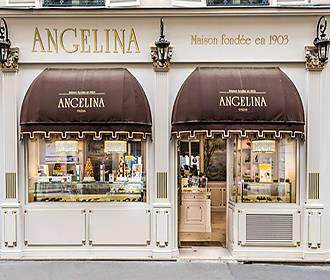 You will be able to discover the marble table tops, gilded mirrors, the mouldings and other gilded iron work, along with the fully restored frescos that bring the patisserie and tearoom back to life, as it was first decorated at the start of the 1900s.

However, Angelina has now expanded to other locations in Paris like within the Musee du Louvre and the Musee du Luxembourg, at Chateau Versailles and throughout the world providing the same luxury brand of pastries and their signature pastry of the Mont Blanc, along with their African Hot Choclate, which are still closely guarded secret recipes.

Plus there are also Angelina Boutiques where you can purchase products to take home with you, just like the one on the Rue du Bac close to the Musee Maillol, which are perfect presents or indulgences after your holiday in Paris.
Cuisine at Angelina Restaurant

At Angelina, as we have mentioned there are the signature options at the patisserie, but they also provide numerous different cakes, pastries, macaroons, etc along with fresh fruit juices, tea and coffee or you can opt for a traditional Parisian breakfast for €20 as of 2015 or €29.50 for the Breakfast Angelina.

Brunch is a cost of €39.50 and includes a hot drink, fruit juice, mini viennoiseries such as croissant, bread roll with honey, jam and their special chestnut cream, plus eggs done the way you like with crunchy vegetables and a choice of either bacon or smoked salmon followed by a dessert, yet you can even add a glass of champagne for an additional €10.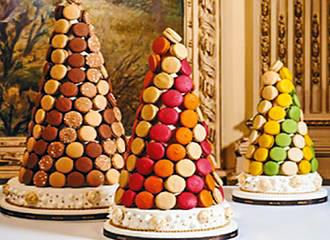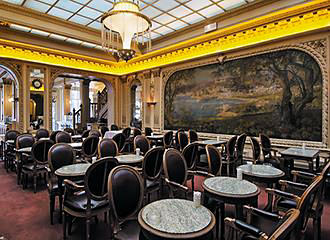 There is a snack menu available at Angelina, with items such as club sandwiches served with French fries and mesclun salad, and these could be a sandwich of lobster, tomatoes, lemon mayonnaise and salad or chicken, tomatoes, hard boiled egg and salad for instance.

Yet there are also a variety of different quiches and omelettes served with mesclun salad, or there are also large salads available with roman style artichoke, fresh green beans, tomatoes, avocado, hard boiled egg and a choice of Scottish smoked salmon or Foie Gras, and you can also get to choose your own dressings.

But the Angelina tearoom and its gourmet restaurant in Paris also provides an a la carte menu with starters such as Chestnut soup with truffle, Semi-cooked duck foie gras terrine, brioche toasts and fig chutney or Baeri imperial caviar Angelina selection (10 g) and blini, which can also be accompanied by a glass of champagne as well.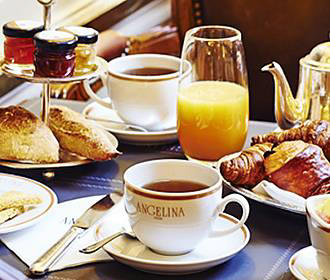 Main courses could be delights such as Beef fillet, Anna potato galette, roasted mushrooms and shallots cooked in Port wine, Truffle ravioli, parmesan cream and rocket salad, Pan fried scallops, black venere rice and shellfish cream or Sea Bream fillet, mashed vitelotte potatoes, butternut mousseline and orange butter sauce to name a few gourmet dishes available.

You could then opt for a cheese course or one of their desserts, pastries, an ice cream or sorbet, cakes, macaroons and much more to tempt your taste buds. And to give you an idea on costs, starters are from €10, main courses are from €24, desserts are from around €7 and small cakes and viennoiseries are from around €3 as of 2015.

But no matter what you decide to order at the Angelina restaurant, you are sure to want to go back again or takes some gourmet treats away with you from this traditional, yet luxury brand that has captured the world.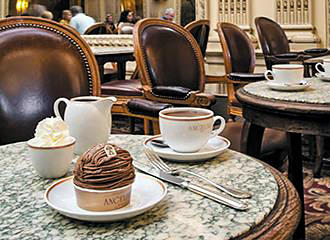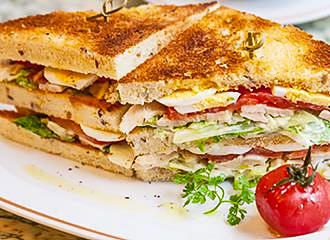 Visiting Angelina Rivoli in Paris

Located within the arcades of the Rue de Rivoli in the 1st Arrondissement right by the Tuileries Gardens and the Louvre Museum, you will find that Angelina is open on a Monday to Thursday from 7.30am through to 7pm.

On a Friday they open from 7.30am right through to 7.30pm, yet when it comes to weekends and all national French holidays this patisserie, tearoom and restaurant is open from 8.30am through to 7.30pm.

Breakfast is served until 11.45am, whereas the snack menu and the grand salads are served from 11.45am through to 6.30pm, however brunch is only served until 2pm, yet there is also an a la carte menu that you can choose from, which is available from 11.45am through to 6pm.

Now when it comes to getting here via public transport in Paris, the nearest Metro station is the Tuileries stop serving line 1, however, in the opposite direction you have the Concorde stop, which serves lines 1, 8 and 12, or alternatively, a lttle further walk and you have the Pyramides stop that serves lines 7 and 14.

But the Paris bus numbers 21, 24, 27, 39, 42, 68, 69, 72, 73, 81 and 95 will get you close by, and the Batobus water bus on the River Seine is also only a short walk to Angelina, plus the bus tours in Paris like l'OpenTour also have a stop by the Musee du Louvre.