History of Angelina Tearoom in Paris

The legendary Angelina tea room in Paris has been running for over 110 years, and continues to provide gourmet treats in a sumptuous setting, yet has now expanded to provide tea salons in different countries throughout the world, yet still maintaining the traditional and secret signature recipes for their hot chocolate and pastries.


Beginnings of Angelina

It all started back in 1903 when an Austrian born confectioner called Antoine Rumpelmayer decided to open a tearoom in Paris, and he decided to name it after his daughter-in-law Angelina.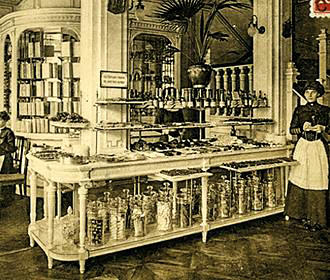 Opened on the Rue de Rivoli close to the famous Louvre Museum, the interior was designed by the architect and interior designer Edouard Jean Niermans in a Belle Epoque style that combined elegance, charm and a romantically refined setting with marble topped tables, gilded iron work, gilded mirrors, etc.

And by providing signature sweets treats including pastries and hot chocolate in the sumptuous and elegant decor that was a mix between tranquillity and indulgence, it soon became the place to be seen, with aristocracy and celebrities such as Coco Chanel frequenting this exquisite tea salon.

Over the years it became world renowned as a luxury brand for its signature African hot chocolate, which is a blend of three carefully selected African cocoas that has a distinctive taste and character with its closely guarded secret recipe.
Not forgetting the iconic pastry that the founder first introduced at the Angelina tearoom, which is called Mont Blanc and has become the trademark pastry that combines meringue, light whipped cream and a chestnut paste vermicelli.


A start of a new era for Angelina

Angelina was taken over by the Bertrand Restauration group in 2005, and has still maintained the stature of this historical and exclusive place for indulgent pleasures in a building steeped in history, yet, they have decided to expand the luxurious brand.

The prestigious image of Angelina and its famous secret recipes has been expanded to other addresses within Paris including one at the Musee du Louvre called the Cafe Richelieu Angelina, along with another in the Musee du Luxembourg and two located at the fabulous Chateau Versailles.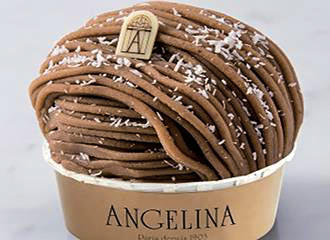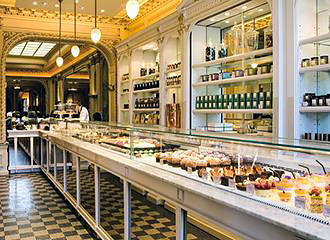 Yet the art of French living and quality gourmet French food have captured the world over the years, and Angelina tea salons have now expanded to prestigious places such as Galeries Lafayette in Beijing and the Dubai Mall with many others in places such as Japan, etc.

And incredibly, just in France alone, there are over 2,500 Mont Blanc pastries sold every day, but as well as the traditional products still in place along with items you can purchase to take home with you from the Angelina Boutiques, there are also new creations available within the tea salons in Paris.