HD photographs of Montesquieu statue on Aile Turgot at Musee du Louvre - Page 360
This time while we were within the Cour Napoleon of the Musee du Louvre in the 1st Arrondissement of Paris, we took these high definition photos of another statue located on the Aile Turgot depicting Montesquieu by Nanteuil.


[ Map of Paris Statues ]
<<
Previous
346
347
348
349
350
351
352
353
354
355
356
357
358
359
360
Next
>>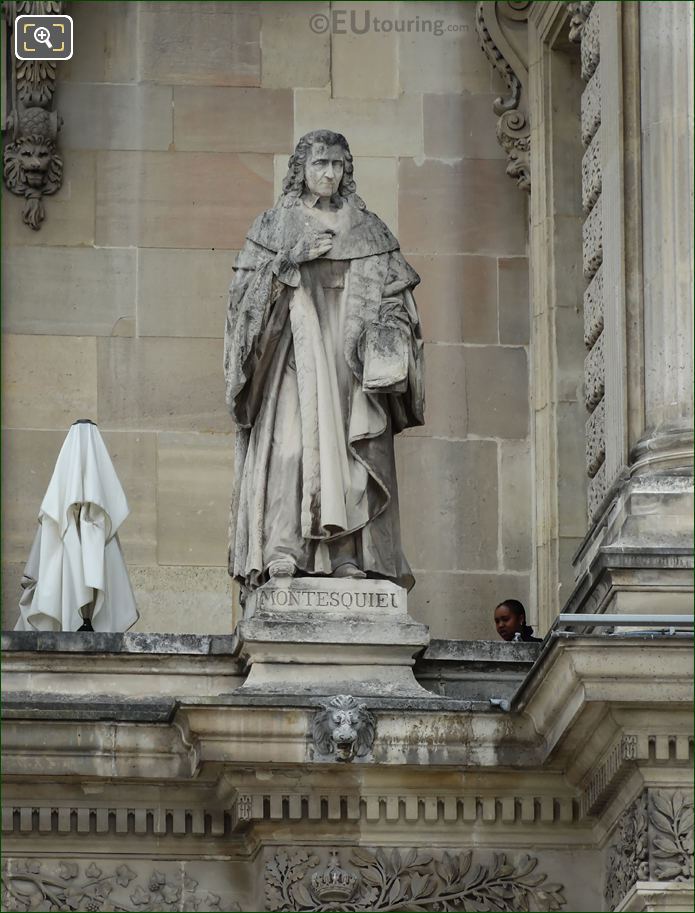 Now as you are looking at the facade of the Aile Turgot wing of the former Palais du Louvre from the courtyard called the Cour Napoleon, you will see statues of Famous French men located on the first level balustrade, and this statue of Montesquieu is positioned at the far right hand side next to the Pavillon Richelieu.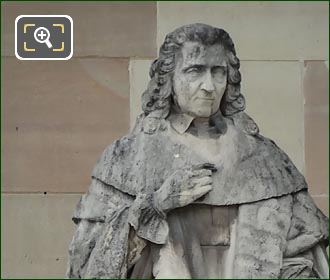 So this second HD photo shows a closer view of the stone statue, which was produced by Charles-Francois Nanteuil-Leboeuf who was born in Paris on the 9th August 1792 and became a French sculptor known just purely as Nanteuil, who won the Prix de Rome in 1817.

So from this award, returning to Paris Nanteuil received many commissions from the French state, and these can be seen on numerous different historical buildings in Paris such as the Gare du Nord, Palais, Garnier and of course the former Louvre Palace that you can see here, not forgetting other monumental sculptures, bas reliefs, monumental statues and busts that were sculpted prior to his death in the November of 1865.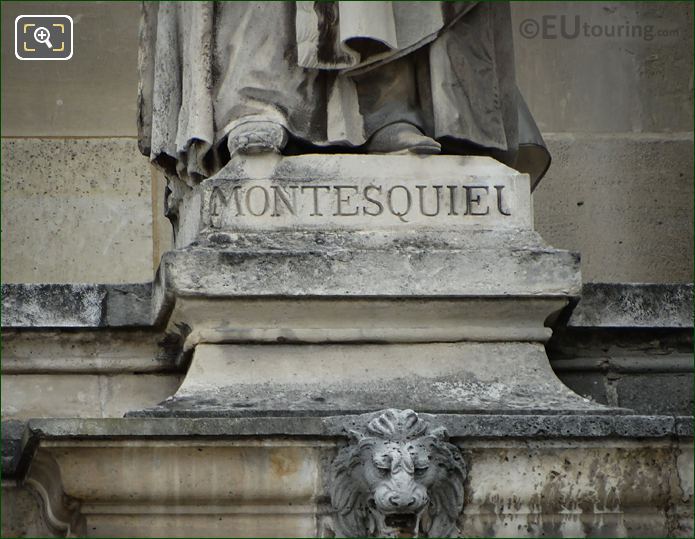 And in this last image you can see the name inscription on the statue that is depicting Charles-Louis de Secondat, Baron de La Brede et de Montesquieu, who was born in January 1689 and just known as Montesquieu, he became a French lawyer, man of letters, and a political philosopher.

So living during the age of Enlightenment, he became famous for his articulation of the theory of the separation of powers, which divided French society into different classes and different powers that meant neither one could be a controlling force, and this theory has been implemented in many constitutions throughout the world.

Yet, with bad eyesight in later years inhibiting his writing, he was eventually completely blind when he died of a fever in 1755, but as with many men represented on the Musee du Louvre, his legacy on certain principles and ideals still lives on today.




Other famous French people on the louvre
Statues on Aile en retour Turgot

- La FontaineLa Fontaine
- Blaise Pascal
- Francois Mezeray
- Moliere
- Nicolas Boileau-Despreaux
- Francois Fenelon
- La Rochefoucauld
- Pierre Corneille


Statues on Aile Turgot

- Gregoire de Tours
- Francois Rabelais
- Francois de Malherbe
- Pierre Abailard
- Jean-Baptiste Colbert
- Cardinal Mazarin
- Comte de Buffon
- Jean Froissart
- Jean Jacques Rousseau


Statues on Aile Colbert

- Mathieu Mole
- Anne-Robert-Jacques Turgot
- Saint Bernard
- Jean de La Bruyere
- Suger
- Francois Auguste de Thou
- Louis Bourdaloue
- Jean Racine
- Voltaire
- Jacques-Benigne Bossuet


Statues on Rotonde de Beauvais

- Condorcet
- Denis Papin
- Duc de Sully
- Sebastien Le Prestre de Vauban
- Antoine-Laurent de Lavoisier
- Lalande


Statues on Aile Henri IV

- Marquis de Louvois
- Saint Simon
- Jean de Joinville
- Esprit Flechier
- Philippe de Commine
- Jacques Amyot
- Pierre Mignard
- Jean-Baptiste Massillon


Statues on Pavillon Sully

- Jacques I Androuet Ducerceau
- Jean Goujon


Statues on Aile Henri II

- Claude Lorrain
- Andre Gretry
- Jean-Francois Regnard
- Jacques Coeur
- Enguerrand de Marigny
- Andre Marie Chenier
- Jean-Balthazar Keller
- Antoine Coysevox


Statues on Rotonde d'Apollon

- Jean Cousin
- Le Notre
- Clodion
- Germain Pilon
- Ange-Jacques Gabriel
- Jean Lepautre


Statues on Aile Daru

- Michel de l'Hopital
- Jacques Lemercier
- Rene Descartes
- A Pare
- Cardinal Richelieu
- Michel Montaigne
- Jean-Antoine Houdon
- Etienne Duperac
- Jean de Brosse
- Cassini


Statues on Aile Mollien

- Henri d'Aguesseau
- Jules Hardouin Mansart
- Nicolas Poussin
- Gerard Audran
- Jacques Sarazin
- Nicolas Coustou
- Eustache Lesueur
- Charles Perrault
- Philippe de Champagne
- Pierre Puget


Statues on Aile en retour Mollien

- Pierre Lescot
- Jean Bullant
- Charles le Brun
- Pierre Chambiche
- Liberal Bruant
- P H Delorme
- Hyacinthe Rigaud
- Bernard Palissy


Related information


- Photos of Musee du Louvre
- Musee du Louvre
- Start of the Louvre museum


Tourist attractions close by


- Arc de Triomphe du Carrousel
- Photos of Tuileries Garden
- Pont des Arts
- Joan of Arc statue
- Place de la Concorde
- Photos Pont Neuf
- Photos Square du Vert Galant
- Photos of Institut de France


If you would like to use any of these photos for non commercial use we only ask that you please do include recognition to ourselves "eutouring.com", but if you are not sure with regards to usage, please contact us.






Copyright © www.eutouring.com All Rights Reserved