Cafe Marly at The Louvre museum

The Cafe Marly is one of the many restaurants and cafes located at the Louvre Museum, yet unlike others such as the Cafe Mollien and the Cafe Richelieu Angelina, this can be accessed even when the Louvre is closed.


About the Cafe Marly

The Cafe Marly is a contemporary brasserie, which is located at the Musee du Louvre and offers a stunning view of the Louvre Pyramid from under the arcades of the Richelieu wing that also has a terrace for fine weather.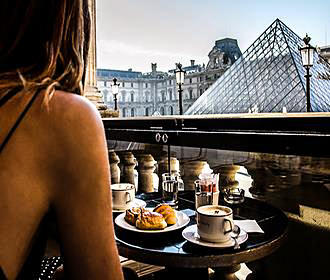 Located in a unique and enchanting setting, this restaurant in Paris has Napoleon III dining rooms with an intimate and cosy atmosphere with padded banquet style seating and gilded woodwork, which is contemporary, yet also evokes the style of a royal palace, as it once was.

The sumptuous decor of this chic venue offers a bold and innovative menu with elegant dishes and original flavours that complete the exceptional setting, which as we mentioned earlier, can be accessed even if you are not visiting the museum itself and has continuous service, not closing until late into the evening.


Cuisine at the Cafe Marly

The Cafe Marly offers breakfast daily from 8am through to midday, and you can opt for a set traditional French continental style breakfast with a choice of a large coffee, cream, tea or hot chocolate, freshly squeezed orange or grapefruit juice and a choice of either viennoiseries or toasts with butter jam and honey, for a cost of €19 as of 2020.
Alternatively, you can go for the a la carte breakfast option, which includes items mentioned above that can be purchased separately, along with fresh fruit salad, a variety of omelettes or homemade granola and fromage blanc.

Snacks are also available up until 8pm of an evening, which include different omelettes such as a ham or cheese, club sandwich, a croque-monsieur or croque-madame, which is a hot sandwich topped with a fried egg accompanied by Mesclun salad.

You will find that the a la carte menu offers a wide variety of different dishes including salads such as lobster or whipped avocado and king crab, a traditional chicken Caesar salad, chilled octopus and baby potato salad or a vegetarian quinoa salad for example, along with pasta dishes such as truffle raviolis from the famed Maison de la Truffe, which is located on the Place de la Madeleine, and these all range in cost from around €20 up to €35 as of 2020.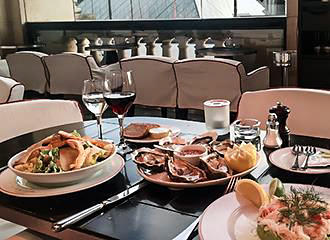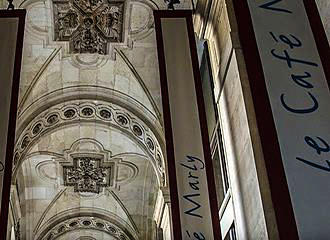 Being a chic brasserie in Paris in a unique setting at the Musee du Louvre, fresh ingredients are utilised and the majority of dishes are made in house, although some specialities are prepared by renowned establishments out of house and you can enjoy a three course meal with innovative, plus traditional dishes.

When it comes to appetisers or starters, these could be Gazpacho, Chicken spring rolls done Thai basilica style, Galician sardines with Espelette chili butter, Truffle infused tamara or Duck Fois gras designed to be shared between two.

You could also opt for Culatello, which is an Italian cured meat, something simple like Japanese Edamame or Carrot juice, yet you could have Smoked salmon or Caviar Alverta Royal, both from the Petrossian Company, which range in cost from around €10 upwards.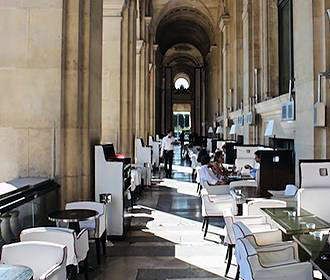 When it comes to main courses, which range in cost from approximately €25 upwards, you could opt for a fish dish such as Monkfish medallion with Tom yam sauce, Seared salmon tartare or Grilled sea bass, with lemon butter.

Meat main dishes could be a Tenderloin steak with either pepper or bearnaise sauce, Veal liver, raisins and balsamic vinegar, Roasted rack of lamb, Beef carpaccio or the New Marly cheeseburger with the option of adding Iberico bacon.

The Cafe Marly restaurant also offers you the opportunity to add an extra side dish to accompany your meal, which could be a traditional mashed potato, extra fine green beans, basmati rice or a mescun salad with herbs for example.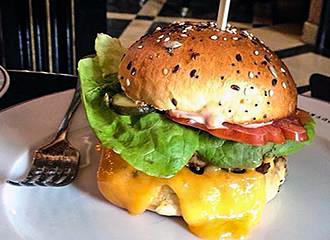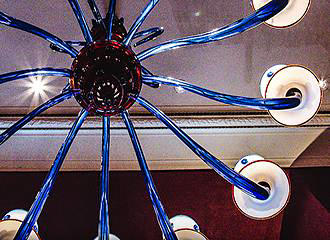 There are also some very tempting desserts to round off your meal, which could be The Saint Marcellin cheese by La Mere Richard, Thin apple tart that can be accompanied by vanilla ice cream, Mille feuille, Chocolate fondant, Raspberry lemon tart, Cracker's Cheese cake, Giant chocolate eclair, Red fruit trifle or Fresh fruit salad, for instance.

However, we would like to point out that the menu does change depending upon what produce is available, so the above is just as a general guide, plus on special days throughout the year such as New Year, there are set menus offered, although they do have to be booked in advance.

This restaurant in Paris also has an impressive selection of wines and champagnes that can be purchased by the bottle ranging in cost from approximately €38 up to over €1,000, along with a wine card for those that are available by the glass, which means that wine pairing is also an option.

In addition to these, there are plenty of Aperitifs to choose from including Kir Royal, Hennesey XO, Port, Campari, Jack Daniel's, Smirnoff black, Yamazaki distiller's reserve, Bailey's and many others.

There are also beers, cocktails such as the traditional Bloody Mary, Mojito and Margarita, soft drinks including freshly squeezed juices, mineral water, sodas, iced coffees and Granini juices, along with a wide variety of hot drinks, which include tea infusions, hot chocolate a variety of different coffees, Irish coffee, Black tea and more.


Access to Cafe Marly restaurant

As we mentioned earlier, you will find the Cafe Marly located under the arcades of the Aile Richelieu of the Musee du Louvre with its impressive views of the pyramid, which is located in the 1st Arrondissement of Paris.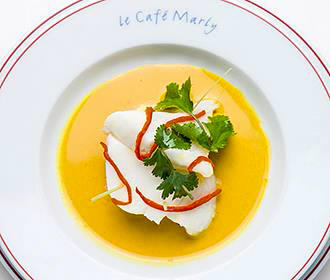 The Cafe Marly is open daily from 8am and offers continuous service throughout the day and evening, right up until midnight, not actually closing until 2am in the morning, and although reservations are not always required, they are highly recommended and essential for certain days of the year.

When it comes to getting to this chic and unique brasserie style restaurant in Paris via public transport, you will find that the nearest Metro station is the Palais Royal - Musee du Louvre stop serving lines 1 and 7, or you have the Louvre - Rivoli stop only serving line 1.

Alternatively, a little further walk away and you have the Tuileries stop via line 1, and at the end of the Jardin des Tuileries by the Place de la Concorde you have the Concorde stop serving lines 1, 8 and 12, although when the Tuileries Gardens is closed, you would need to walk down the Rue de Rivoli from this Metro station.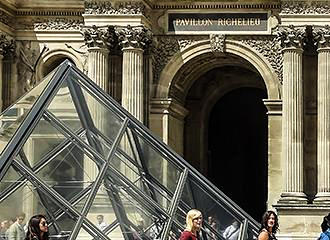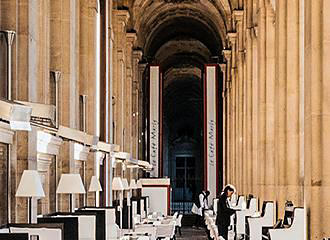 Within walking distance of the Cafe Marly you have the Paris bus lines 21, 27, 38, 39, 42, 45, 58, 67, 68, 69, 70, 72, 73, 74, 76, 84, 85, 87, 94 and 95 along with the Noctilien Night Bus Service, via lines N01, N11, N12, N13, N15, N16, N21 and N24, N122, which are the buses that run when the other public transport has stopped for the night, especially beneficial if you are not leaving the Cafe Marly until the early hours.

In addition to these options, there is the Batobus, which is the water bus that travels up and down the River Seine and has a docking station close to The Louvre, plus there are the bus tours in Paris such as L'OpenTour that stops by the Arc du Triomphe du Carrousel for those you wishing to visit this unique and sophisticated Paris restaurant during the day time.