LouLou restaurant in Paris

LouLou is the new restaurant and bar at the Musee des Arts Decoratifs, which is located within a wing of The Louvre and has a terrace overlooking the Jardin du Carrousel of the Tuileries Gardens where you can enjoy lunch, afternoon tea, an a la carte meal or just a drink in beautiful surroundings.


About LouLou Restaurant

LouLou is new the newly designed restaurant of the Musee des Arts Decoratifs that replaced the former restaurant called Le Saut du Loup, and the spaces were envisioned by the architect and interior designer Joseph Dirand to provide a sense of authenticity and hospitality.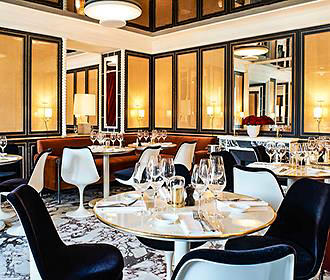 With a crisp and elegant decor that works well within the famous and historical building of the Louvre Palace, and being that the ground floor has a low ceiling, Joseph Dirand decided to divide the space to make several rooms for more intimacy.

However, when it comes to the first floor of LouLou, this has just been divided into two spaces with a panoramic oil painting, which depicts a trompe-l'oeil Flanders landscape, with both areas being distinct, yet complimentary, and some of these spaces can also be utilised for private events.

Combining chic white and navy blue chairs, crisp white tablecloths and brown tones including brown bench seating, along with soft tones, soft lighting and wall lamps plus gilding, the space is contemporary, yet elegant and refined.
The theme of navy and white combined with plenty of greenery is carried through to the large terrace overlooking the Jardin du Carrousel section of the Tuileries Gardens, which are all now managed by The Louvre, you will find your perfect place for a drink, snack or meal.

In fact, inside LouLou restaurant there are a total of 130 seats, whereas the outside terrace capacity is an incredible 200 seats, which is the most popular area during the nicer weather, with large sun canopies for shade from the sun and many evergreen plants in traditional green crates, just like you can find within the Jardin des Tuileries.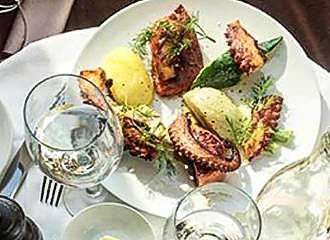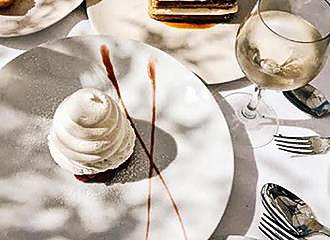 Cuisine at LouLou

When it comes to cuisine, you will find that the LouLou restaurant and bar is open daily from noon through to 2am, with a wide choice of snacks and meals available and continuous service running on a weekday from when they open through to around 11pm.

The young chef Benoit Dargere, who has already earned a high reputation has envisioned a varied menu and dishes from France and the French Riviera, Italy and the Italian Riviera and Sicily, plus there are some staple classics on offer as well.

Benoit Dargere has also enlisted the help of the Italian chef Diego Compagno who was a former head chef at the Alla Vigna restaurant in Padua, Italy, so that he could present some of the great classics in Italian cuisine, which includes an Aperitivo menu.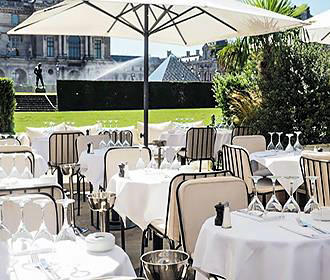 Now basically, Milan is classed as the Aperitivo capital of the world, although just like tapas in Spain, the Aperitivo is part of Italian culture that has spread throughout the world, and is based upon a drink such as wine or cocktail along with snacks, sometimes people referring to them as similar to hors d'oeuvres.

The Aperitivo was traditionally used as a social event after work or to meet up with friends where you could enjoy a drink and some food, which would be a good while before a main evening meal and this was not actually designed to replace an evening meal.

Therefore, the LouLou restaurant has taken on board all of these principles to provide a warm and friendly atmosphere for this tradition, and with the competent chefs having devised a home-made freshly prepared Aperitivo menu, also with a Sicilian twist, you can enjoy this daily from 3pm through to around 7pm.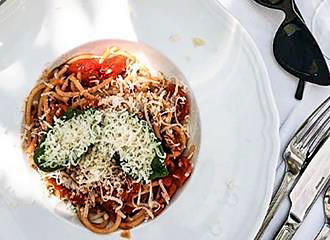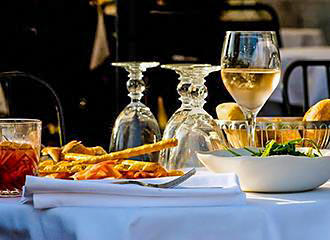 Yet we mentioned earlier there are staple classics and a la carte options available at LouLou, although these are changed according to the seasons and what fresh produce is available, so the following is just as a guide.

These could be starters such as Raw purple artichokes, parmigiano reggiano and virgin olive oil, Citrus warm octopus or Veal carpaccio, tuna cream and capers, followed by a main course of Home-made veal ragout tagliatelle, Tuna with pistachio nuts breading, green apple and celery or Beef Tagliata, black pepper infusion, arugula and parmesan. Desserts could be Tiramisu, Strawberries and raspberries with mascarpone cream or Chocolate and caramel pie.

So whatever you decide, there are a wide variety of different menu choices available plus a wide choice of snacks depending upon what time of the day or evening you wish to enjoy the impressive surroundings of the LouLou restaurant, whether it be after visiting the Musee des Arts Decoratifs, the famous Musee du Louvre or the Jardin des Tuileries with its museums plus numerous statues and monuments.

Access to LouLou

This restaurant in Paris is open 7 days a week from noon through to 2am, with continuous service on weekdays from midday through to 11pm or 11:30pm on a Friday, with choices for lunch, afternoon tea, an Aperitivo, or just a drink. However, when it comes to enjoying an a la carte meal, you will find this served between the hours of 3pm and 7:30pm.

LouLou can be accessed from the Rue de Rivoli by the entrance to the Musee des Arts Decoratifs, but it can also be accessed from the terrace located within the Jardin du Carrousel of the Tuileries Gardens.

You may also be pleased to know that if you are enjoying an evening meal at this restaurant and have your own vehicle, then valet parking is also available to the car park at the Carrousel du Louvre.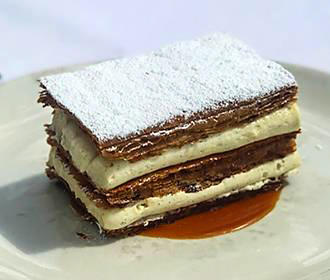 Alternatively, if you are travelling via public transport, then you will find that the nearest Metro station in an easterly direction is called the Palais Royal - Musee du Louvre stop serving lines 1 and 7 or in a westerly direction you have the Tuileries stop serving line 1.

A little further in a northerly direction from this restaurant and bar in Paris and you have the Pyramides stop serving lines 7 and 14 or further to the west at the Place de la Concorde you have the Concorde Metro station serving lines 1, 8 and 12.

If you are travelling via the RER trains, then within walking distance by the Musee d'Orsay on the opposite bank of the River Seine you have Gare d'Orsay station serving the RER C line, whereas slightly further in a north easterly direction you have the Chatelet - Les Halles train station serving the RER A, B and D lines.

In addition to these options for public transport in Paris, you will find that the Bus Lines 21, 27, 38, 39, 42, 45, 58, 67, 68, 69, 70, 72, 73, 74, 76, 84, 85, 87, 94 and 95 along with the Noctilien Night Bus Service via lines N01, N11, N12, N13, N15, N16, N21 and N24 will also all get you within easy walking distance of the LouLou restaurant, as will the Batobus, which is the hop on and hop off sightseeing water bus that travels up and down the River Seine.