Comptoir du Louvre in Paris

The Louvre museum is home to several different venues that you could stop at for a snack like the Cafe Mollien or the Comptoir du Louvre, plus there is the Cafe Richelieu Angelina tea room and the La Grande Louvre that provide some very tasty meals and snacks.


About the Comptoir du Louvre and the cuisine

This is basically a take away style snack cafe that is located under the famous I M Pei Pyramid and is situated close to La Grande Louvre and provides a wide choice of pastries, breads and sandwiches along with coffee and hot chocolate.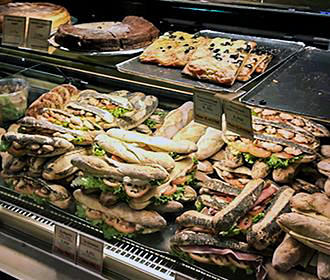 As of 2020, the sandwiches at the Comptoir du Louvre range in cost from €5 upwards and these could be Pavot chicken, a sesame camembert cheese, a ham and cheese or a tomato and mozzarella sandwich to name a few.

There are a variety of different breads available along with croissants, pastries like rhubarb tart or apple pie and cakes such as a soft chocolate cake, chocolate macaroon or a macaroon with pistachio and apple.

Because all of these quick bites and snacks are designed to take away, they are a far more reasonable alternative than some of the other cafes in Paris, especially when you consider that even the bread, pastries etc range in cost from only around €2 up to €4 as of 2020.
Yet, even if you decide not to actually go into the Louvre museum, the Comptoir du Louvre has the same menu available as the Kiosque Paul, which is located in the Tuileries Gardens not far away.

There is also a good range of hot drinks available, which is great if you are on holiday in Paris out of season and wish to warm up and these include coffee, hot chocolate even with whipped cream and several different varieties of tea like Darjeeling or Earl Grey through to green tea and herbal teas.

Any of these make a perfect accompaniment to one of the delicious pastries available like an apple turnover or raspberry fritter, but there are also cold drinks available for a refreshing break.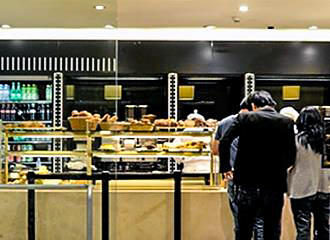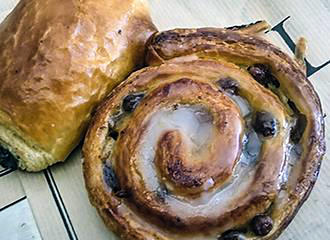 Access to the Comptoir du Louve

As we mentioned before, this takeaway cafe is located underneath the pyramid of the Musee du Louvre, at the corner of the Allee du Grand Louvre, and it is therefore only accessible for quick snacks when you are visiting this museum in Paris.

The Comptoir du Louvre is open on a Monday Thursday, Saturday and Sunday from 9am through to 6:30pm, but on a Wednesday and a Friday, it remains open until 9pm, however it is closed on a Tuesday, which is the same day as this famous museum is closed.

When it comes to getting to the Musee du Louvre via public transport, you will find that the Metro stations called the Palais Royal - Musee du Louvre stop serving lines 1 and 7, the Louvre - Rivoli stop and the Tuileries stop both serve line 1 or by the Place de la Concorde you have the Concorde stop serving lines 1, 8 and 12, which are all within walking distance.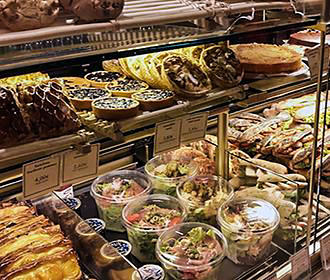 Alternatively, the Paris bus lines 21, 27, 38, 39, 42, 58, 67, 68, 69, 70, 72, 73, 74, 84, 85 87, 94 and 95 along with the Noctilien Night Bus Service, via lines N01, N11, N12, N13, N15, N16 and N24, will all get you near to the Comptoir du Louvre at the Louvre and numerous other tourist attractions in this area of Paris.

In addition, there is the Batobus, which is the water bus service that travels up and down the River Seine with docking stations at strategic places like the Eiffel Tower and the historical Notre Dame Cathedral, plus the Musee du Louvre for this hop on and hop off sightseeing service. Not forgetting there is also the Open Tour hop on and hop off sightseeing bus tour operator that stops between the Tuileries Gardens and The Louvre as well.