This location is now closed and renamed Bistrot Benoit.

The following article is left as-is for historical and archiving purposes.
Cafe Grand Louvre in Paris

The Café Grand Louvre is just one of the cafes and restaurants located at the famous Louvre museum and with such a wide choice of different meals to choose from here, you will never go hungry, whether it be in the Tuileries Gardens like the Italian restaurant Cafe Reale, or in the Louvre itself like the Cafe Richelieu Angelina or the Cafe Mollien that overlooks Cour Napoleon.

The Cafe Grand Louvre is located underneath the Pyramid, just like the Cafes de la Pyramide and the Comptoir, so as you can tell, when you wish to visit the Louvre museum or experience the rich history of the palace and its architecture, then you will have plenty of choice.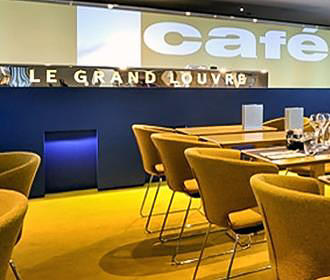 About the Cafe Grand Louvre

As we have already mentioned, the Cafe Grand Louvre is located under the prestigious I M Pei glass pyramid and is a 120 metre squared venue that has been completely renovated and redesigned.

After the renovations were completed the new interior is now a bright and colourful space in a contemporary style with mustard yellow coloured chairs and tables and the same coloured flooring that is mixed with a bright rich blue coloured bar, chocolate coloured table cloths and a lighter hue in the ceiling with ceiling lights.

Also, the French cuisine at the Cafe Grand Louvre has also been completely revamped by the chef, which mixes the traditional with contemporary for a more trendy style, and they provide a great selection of wines along with hot and cold drinks to accompany you meal, whether you just wish to have a quick break or a full three course meal at this restaurant in Paris.
French cuisine at the Cafe Grand Louvre in Paris

Petit Dejeuner, which translates to Breakfast in English is available for a cost of €8.50 as of 2018 and comprises a large hot drink, pastry and a fresh orange juice, or alternatively you can just purchase a croissant.

You will find that there is a formula available for lunch where you can have a starter and main course or a main course and dessert, which also comes with a soft drink or mineral water for €28.50 as of 2018.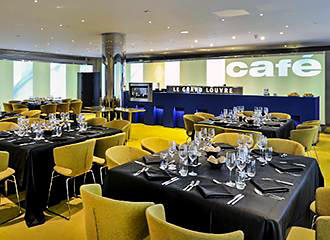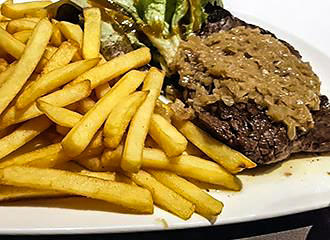 The menu does change regularly, so what we mention here may be not available at the time of your visit, so this is just as a guide to dishes that were available when writing this, which includes two dishes classed as On the go comprising either a large Caesar Salad or a Quiche Lorraine.

Yet if you really want to enjoy cuisine like you would at one of the restaurants in Paris, then this is also not a problem, as the Cafe Grand Louvre is more like an upscale Brasserie and has an a la carte option available, with some of the main dishes being available on the Formula option.

So for starters you could experience Fresh salmon sashimis, green peppercorn and ginger marinade, Granny Smith apple julienne and toasted sesame seeds or a Rabbit and hazelnut terrine with red onion chutney and toasted bread.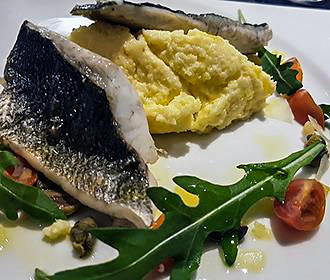 Main courses could be Flank steak with shallots and French fries, Roasted fillet of sea bass, creamy polenta and virgin sauce with Toledo oil or Cheese ravioles from Royans and emulsified truffle juice. There are also additional side dishes that you can add such as green beans, green salad or French fries.

Desserts could be Fruit salad, a Traditional crème brulee with Bourbon vanilla or a very tempting Chocolate dish called Around Chocolate.

Yet for those of you visiting as a family, you may be pleased to know that children are catered for and there is a Formula for children aged under 12, which includes half a chicken breast with a side dish plus either a fruit salad or ice cream for dessert at a cost of €13 as of 2018.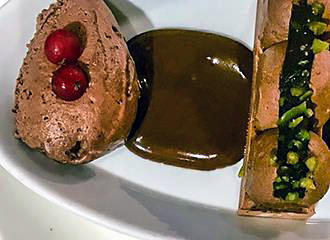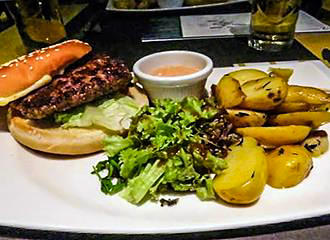 Access the Cafe Grand Louvre Brasserie in Paris

Located at the most famous museum in Paris, the Musee du Louvre, the Cafe Grand Louvre is located underneath the I M Pei glass pyramid and can be accessed via the pyramid itself.

The Cafe Grand Louvre is open every day except for a Tuesday, starting from 11:30am and closing at 4pm and no reservations are necessary.

Situated in the 1st Arrondissement of Paris, the nearest Metro station is the Palais Royal - Musee du Louvre stop serving lines 1 and 7, however, if you have your own transport with you whilst you are on holiday in Paris, then there is also parking available at the Caroussel du Louvre car park.

Another option for public transport are the buses and the Paris bus lines 21, 24, 27, 39, 42, 48, 58, 67, 68, 69, 70, 72, 73, 74, 81, 84, 85 and 95, along with the Noctilien Night Bus Service via lines N01, N11, N12, N13, N15, N16 and N24 will all get you within walking distance of the Louvre Museum, this restaurant and numerous other tourist attractions in the area.