Cafe Reale Italian restaurant in Paris

There are many different restaurants in Paris to choose from and one popular choice is Italian cuisine, plus some of these are located in some prestigious locations such as the Cafe Reale in the Tuileries Gardens of the Louvre, which is the most famous of all museums in Paris.

However, there are also lots of cafes along with brasseries and restaurants that are located within popular tourist attractions in Paris, just like the cafes and restaurants at the Eiffel tower, but the Musee du Louvre is also no exception. Here at this famous museum you not only have the Cafe Reale Italian Restaurant, but also the Café Grande Louvre and the Comptoir along with the Cafes de la Pyramide underneath the pyramid, or the Mollien and the Cafe Richelieu Angelina inside.


About Cafe Reale Italian restaurant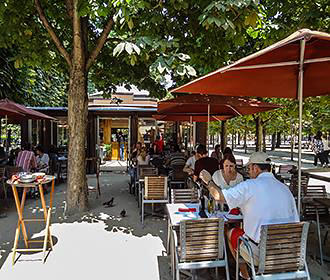 Located in the heart of the beautiful Tuileries Gardens this restaurant in Paris will offer you a setting of peace and tranquillity on their terrace under the shade of chestnut trees during the warmer months.

But alternatively you could also choose to be seated inside in their comfortable restaurant for a more luxurious dining experience, that is done in a country style setting with its wood floors comfortable seating and lovely large windows that allow you to gaze out of over the park and gardens.

The Cafe Reale is situated close to some lovely original sculptures from famous artists such as Auguste Rodin along with more recent additions from artists Henry Moore, Jean Dubuffet and Roy Lichtenstein and is a welcome stop for a bite to eat or relax with a drink in a tranquil leafy setting.

In addition to all these statues nearby, this restaurant in Paris also overlooks the Personnage III statue by the French sculptor Etienne Martin.
Cuisine at the Cafe Reale

Now the chef at this venue has a varied menu which is based on typical Sicilian style cooking and the cuisine on offer incorporates the finest ingredients available and includes antipasti, salads, piadines, traditional Italian desserts and much more to tempt your taste buds, all well presented to add those finishes touches to your meal. But if you prefer French cuisine, then you could opt for the Cafe Renard restaurant in the Tuileries Gardens.

The starters may be vegetable soup or gogonzola and nuts salad, which is a mixed green salad, golden apple, nuts and balsamic vinigrette or you could have a different type including mozzarella, tomatoes, roast chicken fillet, sun dried tomatoes and balsamic vinaigrette and as of 2012 starters cost from €8.50 up to €12.50.

You could choose to have a Piadine with tomatoes, salad, mozzarella and ham or tomatoes, salad mozzarella and grilled chicken or a Tartine such as mozzarila, tomato sauce, mushroom and ham or tartine mozzarella, tomato sauce, mushroom, artichoke and roasted chicken fillet and these range in cost from €10.50 up to around €13.50 as of 2012.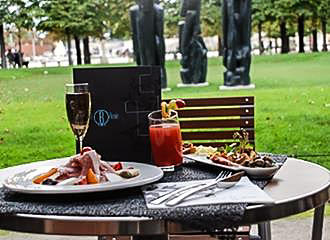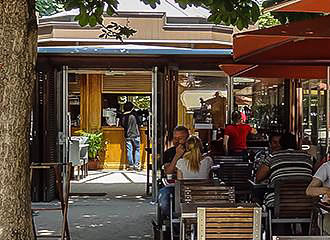 Antipasti is another selection of delights that are on offer at the Café Reale in the Tuileries Gardens of the Louvre museum, such as a meddly of marinated grilled vegetables and green salad, marinated green vegetables and selection of italian cheeses and Italian cold cuts with green salad. And these are an approximate cost of around €14 to €15.

Main courses could be penne with pesto or spice tomato sauce, maybe tagliatelle with bolognaise sauce or meat lasagne with mozzarella and roquette salad and again, as of 2012 these are approximately between €11.50 and €13.

All of the tempting desserts are around €7 and delights such as crepes, which are like a certain type of pancake that you can have with jam, sugar or Nutella are available, along with a Tiramisu Italian cream dessert, a pastry cream with hazelnut praline decorated with hazelnuts. But maybe you would prefer something like a Rhum Baba or figs and gingerbread Panna Cotta.

There is also a childrens menu for around €9 available for children up to the age of 12, that includes a main course such as a slice of pizza along with a dessert like Italian homemade ice cream and a fruit juice or mineral water.

Now talking of drinks, there is a wide selection of beverages available at this restaurant in Paris, which includes coffees, cocktails, juices, wines and more.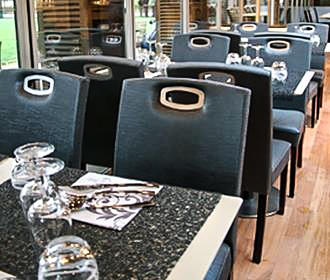 Access to the Cafe Reale Italian restaurant

Located in the 1st Arrondissement of Paris in the heart of the Tuileries Gardens, with its official name being the Jardin des Tuileries, between the Louvre Museum and the Place de la Concorde, it is close to the Place du Carrousel, which is home to the Arc de Triomphe du Carrousel, and to many incredible sculptures.

The Cafe Reale is open every day all year round for snacks, beverages, lunches and dinner, and from October through to March is open from 9am to 6pm.

During the months of April, May and September this restaurant in Paris is open from 9am through to 8pm and from the start of June through to the end of August, it is open from 9am through to 10pm.

There are no reservations necessary, although in peak times, it can get extremely busy and you may have a little wait in order to get a table or be served, but that is expected considering the Louvre and its gardens are the most visited landmarks and monuments in Paris.

The nearest Metro station is called the Palais Royal - Musee du Louvre and you can gain access to the Tuileries gardens via the Place de la Concorde or the Place du Carrousel or of course from the Louvre itself.

However, it is also within easy reach of the River Seine, where you have the Batobus water bus, but if you are on holiday in Paris and have your own transport, then the nearest parking places are at a car park called the Caroussel du Louvre.