HD photographs of Monument de l'Amiral Gaspard de Coligny in Paris - Page 601

We were in the 1st Arrondissement of Paris at the Oratoire du Louvre when we took these high definition photos showing the Monument de l'Amiral Gaspard de Coligny, which was designed by Scellior de Gisors and sculpted by Gustave Crauk.

<< Previous 601 602 603 604 605 606 607 608 609 610 Next >>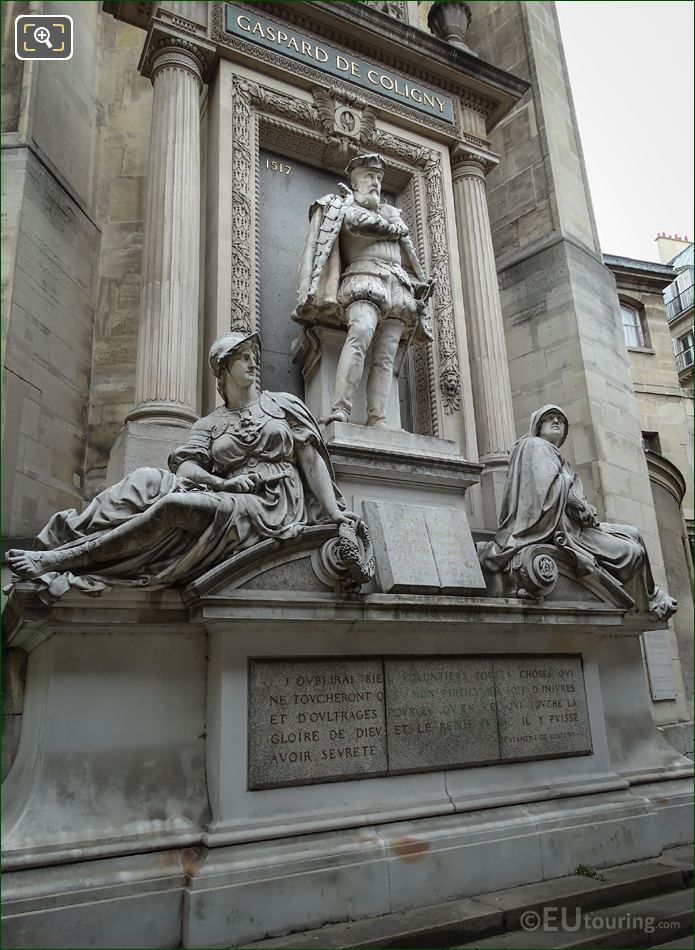 This first HD photo shows the entire Monument of Admiral Gaspard de Coligny with two allegorical statues on either side, and was constructed in memory of Gaspard II de Coligny who was killed nearby when the Saint Bartholemew's Day Massacre took place.
Gaspard de Coligny was born into a French noble family from the Burgundy region of France and his father was known as Marshal of Chatillon and a Marshal of France, so he followed in his fathers footsteps serving in different battles including the Italian campaigns, being knighted on the battlefield.

But Gaspard de Coligny was a Huguenot, and he became a Protestant leader fighting in the civil wars, and demanding religious tolerance, however, returning to the royal court he grew in favour with King Charles IX, but this alarmed Chatherine de Medici, the Queen Mother, and he was murdered in what would become known as the Saint Bartholemew's Day Massacre.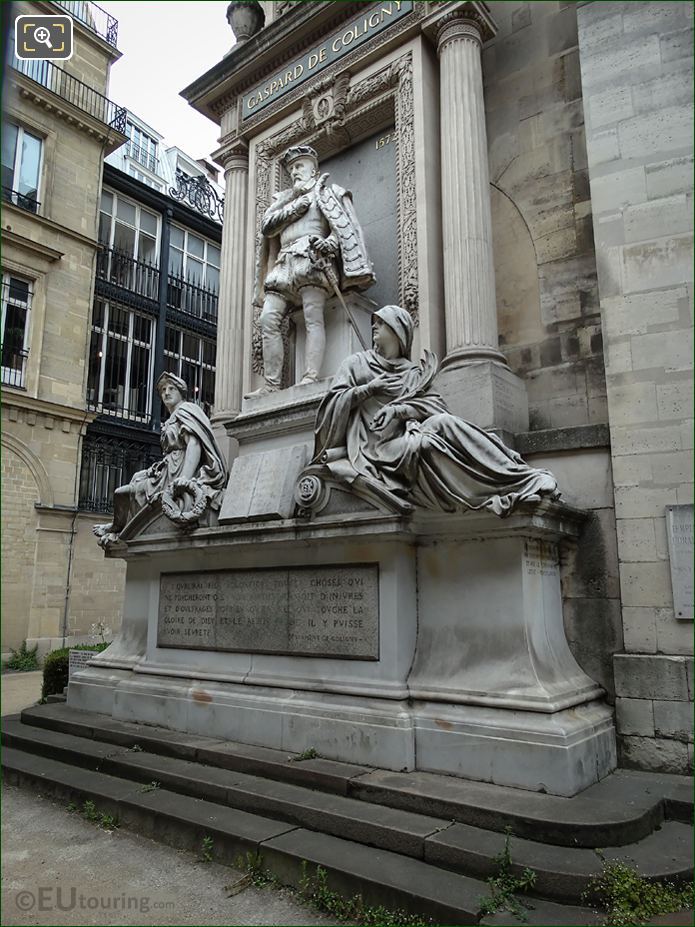 Now the Monument de l'Amiral Gaspard de Coligny was initially achieved through a national subscription that had been organised by Pastor Eugene Bersier, and when this was officially inaugurated on 17th July 1889 there were both Protestants and Catholics in attendance as part of a reconciliation between religions.

And standing an impressive 10 metres in height, this monument was designed by the architect Louis Henri georges Scellier de Gisors who was born in 1844 and worked as an inspector and draftsman in the office of Charles Garnier, before becoming inspector general of civil buildings, constructing the Orangerie for the Musee du Luxembourg along with designing several other monuments in Paris.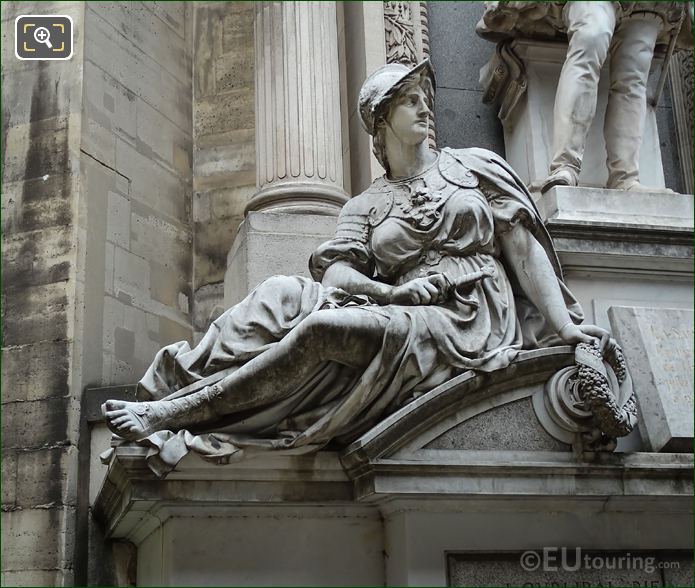 However, the Monument de l'Amiral Gaspard de Coligny was actually sculpted by Gustave Crauk, who was born in 1827 and being taught by Jules Ramey, Augustin Dumont and James Pradier, he became a prolific French sculptor, with many of his works to be found at tourist attractions in Paris.

And in this image you can see a close up showing the statue to the left of the Monument of Admiral Gaspard de Coligny, which is designed as an allegory representing the Fatherland holding a sword in one hand and the other hand is holding a wreath style crown that has Saint Quentin inscribed on it.
Yet this next close up high definition photo shows the statue to the right of the Monument of Admiral Gaspard de Coligny, which again was sculpted by Gustave Crauk as an allegory depicting Religion, holding a palm in his hand, but if you look very carefully you will also see the date of the Saint Bartholemew's Day Massacre has been inscribed on the scroll.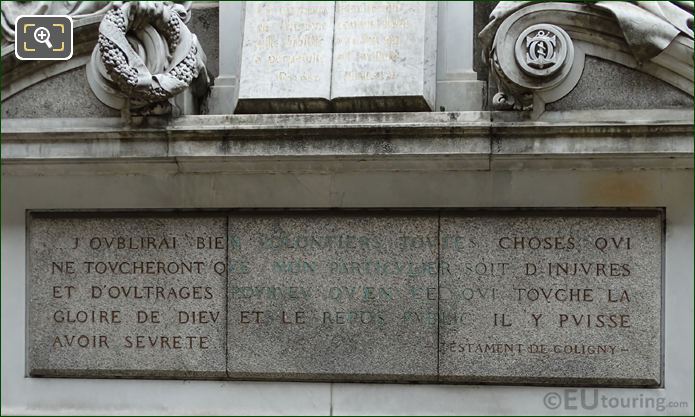 But this image shows the inscription on the base of the Monument de l'Amiral Gaspard de Coligny, and this is engraved with the testament of Coligny, which even though it was restored in 2004 is still hard to read, and hence, so far we have been unable to translate this properly into English.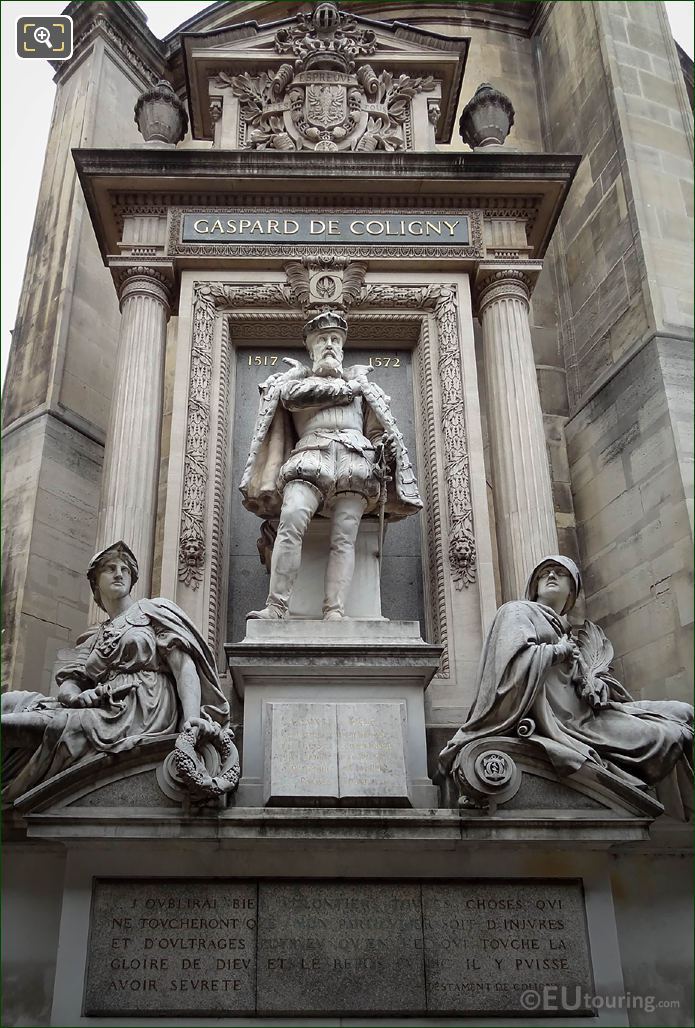 Yet in this photograph you can see the entire Monument de l'Amiral Gaspard de Coligny with the fancy top pediment, but also the open book in between the two allegorical sculptures below the marble statue of Coligny, and this was designed to be the Bible as another aspect representing the problems caused during the Wars of Religion.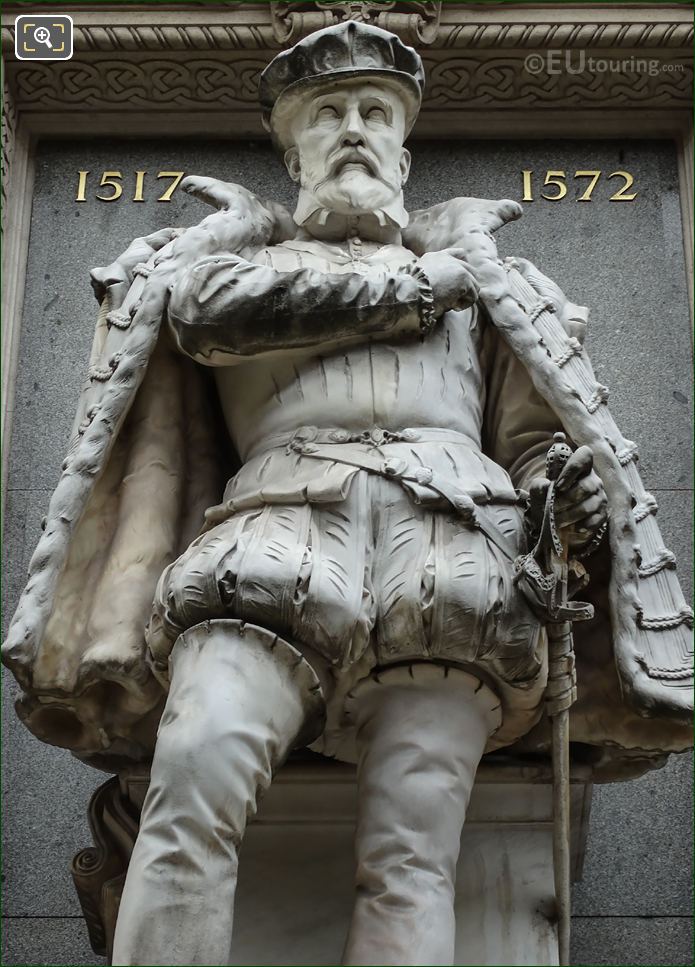 And here you can see a close up HD photo of the statue depicting Admiral Gaspard II de Coligny with his year of birth and death in gold lettering, which was again sculpted by Gustave Crauk in white marble, and you can see the worried look on his face that the sculptor wished to emphasise, yet with an authentic regalia costume with a collar representing the Order of Saint Michael.

But Gustave Crauk also wanted to show the feelings of the Admiral within his pose, as Coligny was actually against the civil wars, even though he ended up becoming the leader of the Protestant armies, and the idea of this French sculptor was to show him in a time of reflection with one arm by his sword, but the other on his heart.
So this image shows the plaque located on the wall next to the Monument de l'Amiral Gaspard de Coligny, which as you can tell states the Temple Protestant de l'Oratoire du Louvre, and this monument was positioned within the apse of the church called Eglise Reformee de l'Oratoire du Louvre, that's located on Rue de Rivoli in the 1st Arrondissement of Paris.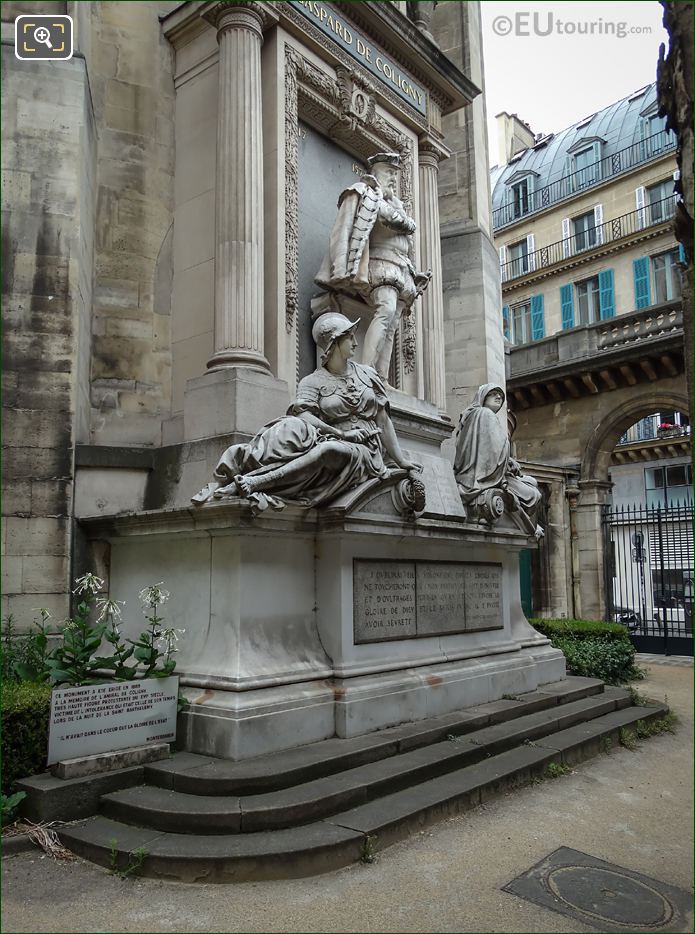 And in this last photograph you can see that there is a modern plaque located next to the monument, which we assume was put in place in 2004 after this impressive monument and the statue groups had been restored by the City of Paris to its former glory for another tourist attraction that people can enjoy for future generations.

<< Previous 601 602 603 604 605 606 607 608 609 610 Next >>


If you would like to use any of these photos for non commercial use we only ask that you please do include recognition to ourselves "eutouring.com", but if you are not sure with regards to usage, please contact us.