Orlybus Shuttle Service to Orly Airport in Paris

The Orlybus is a shuttle service that goes from the Place Denfert-Rochereau by the RER and Metro station in Paris directly through to the Orly Airport and runs daily from 6am through to 11pm with an approximate journey time of 30 minutes.


About the Orlybus Shuttle Service

There are different options for getting to Orly Airport from the centre of Paris, and one of these is a bus shuttle service known as the Orlybus, which runs from early morning to late at night with a bus leaving in either direction between 10 and 20 minutes on average.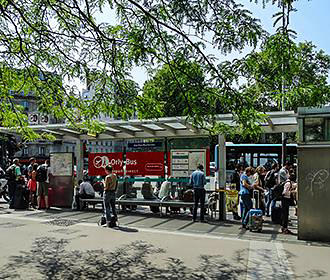 They are standard buses, yet you will find that most of them have the concertina aspect in the middle, sometimes referred to as a bendy bus, although the correct term is an articulated bus, which means access is slightly easier for the passenger. Plus the Orlybus can carry more passengers on any single journey, which is especially beneficial during peak times.

The average journey time from Denfert-Rochereau to Orly Airport is approximately 30 minutes, but unfortunately, there is no luggage hold on the Orlybus buses, like you get on coaches, so therefore you do have to take your luggage on board with you.

Now when it comes to purchasing a ticket, which is around €8.50 as of 2015, you can purchase a ticket via the ticket machines at the Orlybus stops, or at the Point of sale office at Place Denfert-Rochereau, where the bus departure point is located in Paris.
However, if you are arriving at the Orly airport and wish to travel into Paris, then you can purchase an Orlybus ticket from the Orlyval agencies, and the Orlyval is also another shuttle service from a different station via train.

You will find the Orlyval agencies located at gate H on platform 4 at Orly Sud, which is the south terminal, or there is another located at gate J and level 0 at arrivals within Orly Ouest, which is the west terminal. But we would like to point out that the Orlybus departs from Orly Sud, south terminal of Orly airport approximately every 15 to 20 minutes.

And the Orlybus buses for the airport shuttle service are very easy to spot, not just because of their size, but the fact that they have the name written on the front, sides and back, plus are white with a greenish blue top, and going to the airport, they do stop at both Orly airport terminals, which makes your arrival easier.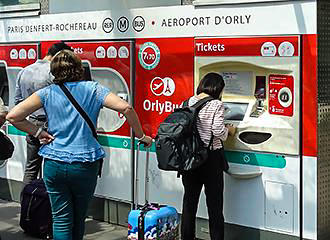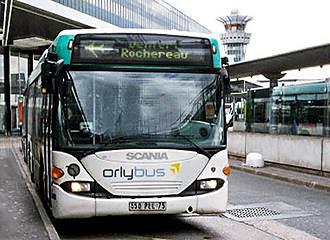 Accessing the Orlybus Shuttle Service

You will find that the Orlybus leaves just outside the Denfert-Rochereau train station in Paris at the Place Denfert-Rochereau, which is in the 14th Arrondissement, and this station serves the RER line B trains as well as the Metro lines 4 and 6.

The frequency of the Orly bus shuttle service is between 10and 20 minutes depending upon the time of day, and they start from approximately 6am running through to around midnight in both directions, either from Denfert-Rochereau or from Orly airport, although the service differs at weekends and during holidays.


Paris Orlybus 283 maps and timetables
Orlybus map PDF
Orlybus timetables PDF

But if you want to make sure of specific times in order to plan your connections, then there is a customer service telephone number for the Orlybus, which is +33 (0) 1 40 02 32 94. However, this is only available on a Monday to Friday from 8.30am through to 5.30pm, but is not available at weekends or on any National French holidays.