Taxis in Paris

A lot of people get daunted about using public transport when they are on holiday in France, especially if they do not know the language, and even though there is a fantastic transport network in place, especially in the main towns, negotiating different Metro lines, trains and buses can be very daunting.

If you do not have your own vehicle with you because you have taken one of the cheap flights to Paris or travelled to the city of lights via Eurostar, then taking a taxi to your hotel in Paris, or even back to the airport, will often seem far less daunting and more convenient if you have lots of luggage.

There are actually well over 15,000 taxis that cover Paris and the outskirts, so there will never be one very far away, but unlike lots of cities and countries throughout the world, the taxi drivers in Paris are registered and it is their full time job, which means it is not something they can do as a sideline.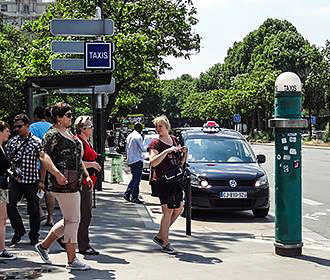 In fact, to become a taxi driver in Paris, the person has to study first by going onto a specialised training course, so that they can become a professional with a knowledge licence, and then they have to pass two exams before they are even able to start taxi driving in Paris.

In addition to this, all taxi drivers are controlled by the Paris police, so that you know you will not only get to your destination safely, but also via a sensible route and at a fair price, as every tax has to charge the same rate.


Paris Taxi Rates

You will notice that on the top of each taxi there is a sign that is lit up when the taxi is available and goes out when there is a fare. However, where we say that the rates are fare, well the police actually monitor the taxi drivers through three different coloured lights that indicated what rate the person is being charged.
And there are three different rates depending upon where abouts you are travelling in Paris, at what time of day or night and also on what day of the week.


Paris Taxi Fair Rate A
This is the cheapest rate at a cost of €0.96 per kilometre and is applicable for the main Paris area inside the periphery and the fare is charged at this rate from 10am through to 5pm on a Monday to Saturday.


Paris Taxi Fair Rate B
This rate is for all travel between the hours of 5pm through to 10am the next morning on a Monday to Saturday, however, if there is a National Holiday on one of these days, then the Rate B at a cost of €1.21 per kilometre applies all day.

But, on a Sunday this rate applies from 7am right through to midnight and then goes to Rate C and travelling in the suburbs of Paris this cost starts at 7am through to 7pm before going to the higher fare until the same time next morning.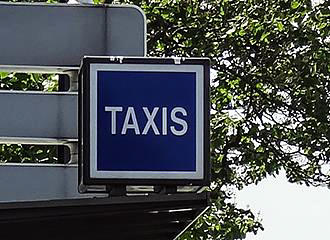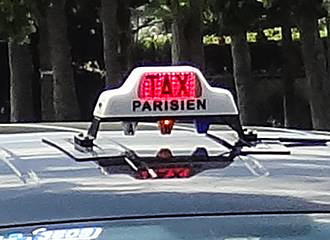 Paris Taxi Fair Rate C
Anywhere outside of Paris is charged at Rate C, plus, as mentioned above, the suburbs have this charge from 7pm through to 7am in the morning. Also, a Sunday is charged at Rate C costing €1.47 per kilometre from midnight through to 7am.

However, as with any taxi company that we know of throughout France, there is still a charge that keeps on clocking up, even if you are stuck in a traffic jam, so do bear that in mind and try to avoid rush hour times if possible, otherwise it can be a very distressing experience to see the meter keep on clicking up.

All of the rates are based upon what they were at the start of 2012, but of course these will be subject to change, yet there are other rates that do apply to taxis in Paris, such as the additional charge for more than three passengers.

You will find that there is a starting charge of €2.40 before you have even moved and there is a minimum charge of €6.40 for a fare no matter how short a distance you are travelling in Paris.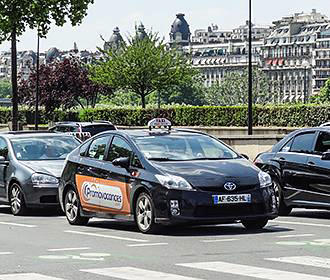 Plus we would like to point out that even though getting a taxi to or from the airport or train station when on your holiday in Paris is very convenient, there is a charge added to the fare for every bit of luggage that is put into the boot.

Even pushchairs, sports equipment like golf clubs etc all have an additional charge on top of the rate applicable, however, wheelchairs are exempt from this. But if you do have a lot of large or bulky items, then it would be wise to book a taxi prior and mention this point to make sure that your luggage will be able to fit in, as the taxis will range in size and some can be quite a bit bigger than others!


Getting a Taxi in Paris

You can hail a taxi in the street, just like you would in any other city, but if there is a taxi rank nearby with some available, then hailing a taxi is not allowed and the taxi driver will not stop!

You will find a taxi rank near every railway station, at some of the major Metro stations and close to numerous points of interest such as near the Eiffel Tower, the famous Champs Elysees avenue and many of the squares around Paris like the Place de la Concorde.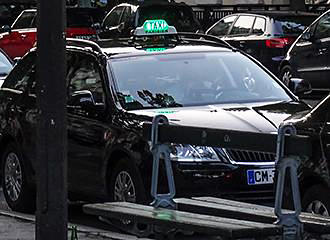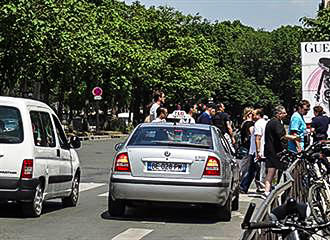 However, you can also book a taxi to take you to your hotel even if it is after a night out at one of the many restaurants in Paris, or you can arrange a taxi to pick you up for an airport transfer like to the Charles de Gaulle airport.

Now when you book a taxi in Paris, you will be asked the normal questions such as name and a contact telephone number, but also how many passengers, how much luggage, etc. Also, if you do require a baby seat or have pets, then this is something else you must mention, as there may be only certain taxis that you can book at the time you require.

But please note that when you do call a taxi, you will be charged for the cost of the taxi driver getting to you pick up point in addition to the fare that you will pay, so it is wise to ensure the taxi is close by if at all possible.

Also, most people these days have a credit card that they will use to pay for their hotel in Paris and lots of other things like enjoying one of the many cabaret shows, yet if the total cost of the taxi fare is less than €20, then it will be cash only, so do bear this in mind.

However, there are companies that specialise in airport transfers that will charge you a fixed rate, which for many can be a better option, so that you know where you stand. And to give you some idea, the cost to get from the centre of Paris to the Charles de Gaulle airport can range between €40 and €100 depending upon how many passengers and the amount of luggage, etc.

Well, we hope that this has given you a little insight into getting a taxi in Paris, and if you cannot bear the thought of utilising the public transport system or if the Metro or Paris buses have stopped running for the night, then this a safe and convenient option to make your holiday in France run that little bit smoother.