Marionettes du Parc Montsouris Puppet Theatre in Paris

Originally called the Theatre de Guignol du Parc Montsouris, this has now changed its name slightly to Marionettes du Parc Montsouris, and is still a puppet theatre in Paris that have always been popular tourist attractions for many years, and this particular one is located within the Parc Montsouris Park.


About Marrionettes du Parc Montsouris

Guignols are also known as Marionettes in French and these are traditional puppet theatres in Paris that delight children and their parents alike, often as a reminder of their own childhood.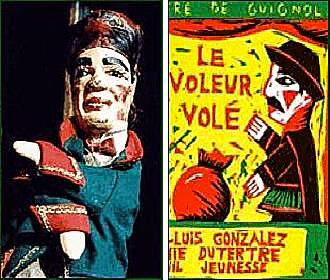 Now this particular puppet theatre, known as Le Theatre de Marionettes in French, was based upon the Theatre du Luxembourg and was first created in 1982, yet in 1990, the Theatre de Guignol du Parc Montsouris was completely renovated with the actual stage scene part of the theatre, which now allows for a change of scenery quickly, and far more recently changed to Marrionettes du Parc Montsouris, but still maintaining the Art Decor inspiration.

In addition to this, the room itself now has a capacity of 100 seats for each performance and the room is also heated in winter, plus the production company creates an entirely new show each year, always paying particular attention to the importance of puppet manipulation, the staging and the costumes.

Each of these live shows only lasts for around 35 minutes without an intermission and are based on a repertoire drawn from tales of famous writers such as Jules Verne, Perrault and Grimm etc, but this does mean that it is great for young children who often have a short attention span.

And even if you do not know French, you can soon get the gist of when to shout, cheer or boo, just like you may remember from the old fashioned Punch and Judy shows, yet in our opinion with much more flair.
Access to Marionettes du Parc Montsouris in Paris

The Marionettes du Parc Montsouris is located in the 14th Arrondissement of Paris within the Parc Montsouris, and hence the name of this guignols puppet theatre, and they hold shows on Wednesdays, Saturdays, Sundays, on National French holidays and virtually daily during French school holidays.

As of 2021, the cost of entry is only €6 per adult or per child, yet we would like to point out that children on their own are not allowed and have to be accompanied by an adult. Additionally, cards are not accepted, so do make sure you have enough cash in Euros with you, as payment has to be made on site prior to the theatre show starting.

However, you may be pleased to know that this is one of the theatres in Paris that is disabled friendly and wheelchair accessible and it is recommended to arrive at least 15 minutes prior to the puppet show starting, plus no advanced bookings can be taken, so with limited spaces, the sooner you get there, the better, especially during holiday times.

Now as tradition goes, you will normally hear a bell prior to the next show starting, but to give you a rough idea, the times for the puppet shows are normally 3pm and 4:15pm. But if you want to get a better idea of the exact programme with dates and times, then you can look at their website or contact the Marionettes du Parc Montsouris Theatre de Guignols via telephone for the most up to date information for when you are thinking of going on holiday to Paris with your children.

This puppet theatre is actually situated by the lake in this park in Paris close to the gates and the entrance on the corner of Avenue Reille and the Rue Gazan and you can also enjoy the wildlife and different birds on the lake, have a picnic, play games or admire the many different statues plus let your children have fun at the playground or of course enjoy the puppet show.

So when it comes to reaching the park via public transport in Paris, then if you are travelling on the RER trains, you would need the Cite Universitaire stop serving the RER B line. This is also the same stop name for the T3a line of the Paris Tramway system and is located on the opposite side of Parc Montsouris to where the Marionettes theatre is located.

However, when it comes to the Paris buses you have the bus line 21 and bus line 216 plus the Traverse Bievres Montsouris, which is also known as bus line 513, which are closest to the Marionettes du Parc Montsouris, but going in a westerly direction about 200 metres and you could also utilise the Paris bus line 88 or going north for around 300 metres and you have bus line 62.

Whereas if you are thinking of arriving via the Paris Metro, unfortunately you will have a walk of approximately 1000 metres, as the nearest Metro station is called the Glaciere stop serving metro line 6 located in a northerly direction from the park.