Place Bernard-Halpern Square in Paris

Originally known as the Place des Patriarches the name was changed in 1985 in memory of a doctor and within the square you can discover an original Wallace Fountain.


About Place Bernard-Halpern

This little area was once at the entrance to a market and called the Place des Patriarches, yet it is one of the many gardens and squares in Paris that has been renamed over the years.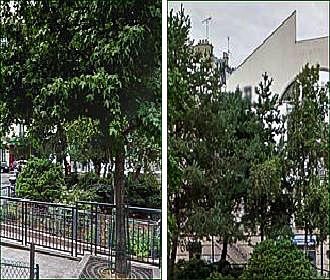 And this particular square was inaugurated with the new name of Place Bernard-Halpern on 18th November 1985, which is dedicated to the memory of a French doctor who was originally born in the Ukraine when under Russian rule. Yet having moved to France Bernard Nathalie Halpern became an immunologist and member of the Academy of Sciences, and he died in Paris in 1978.

There are railings surrounding the Place Bernard-Halpern square and inside you can discover one of the original Wallace Fountains, which is still operational so that you can fill up your water bottles with ease.

Plus there are a few trees and a pretty flowerbed, yet on one entrance there are steps leading up to the square that has a tree on either side, but the other access point is suitable for the disabled.
Visiting Place Bernard-Halpern in Paris

This small square in Paris is located in the 5th Arrondissement and on one side overlooks the Eglise Saint-Medard, and it is only a very short walk from the Metro station called the Censier - Daubenton stop that serves line 7.

Alternatively, the bus numbers 27 and 47 will also get you close to the Place Bernard-Halpern, plus there is a Velib station for the self service bike rental scheme nearby as well.