La Vagalame Rotisserie Restaurant in Paris

Located on the quay by the River Seine, this is a very popular meeting place for drinks, relaxing with friends or for a meal, especially their rotisserie selection and the suckling pig available on a Wednesday evening.


About La Vagalame Restaurant

The Vagalame is almost like a wooden shack that is located on the quayside facing the River Seine, yet is an exceedingly popular meeting place for friends, work colleagues and families, to relax with a drink, enjoy one of their meals or a snack.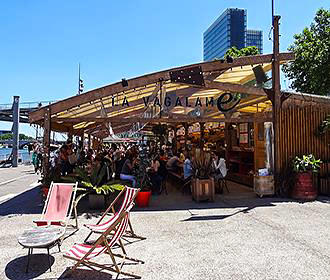 However, the construction is more than just a makeshift wooden structure, as it was imagined by Serge and designed by Cedric to be able to have an open top for allowing in sun, or closed to provide shade.

Plus the sides and front can be dropped for added warmth and comfort, or of course opened for the views, etc.

Nicolas produced the tables and other elements, whereas the lighting and other features utilising engine parts were created by Momo, and these people along with Alexander were those responsible for starting La Vagalame, which is actually sometimes referred to as La Vagalame by Emmanuel, whom we presume first envisioned the whole concept.
There are plenty of bench style tables, some seats at the bar and also many deckchairs that you can enjoy relaxing on with a drink, cocktail, etc right by the River Seine, however, this is a very popular place to spend an evening, so it does get crowded, but you can feel the buzz and excitement here.


Cuisine at La Vagalame Rotisserie Restaurant

You could opt for a cheese, charcuterie or mixed platter, yet there are also a variety of large salads available, but if you want something more of a main meal, then there are some starters and desserts available for those that want a three course meal.

But we are getting ahead of ourselves here, as we have not even mentioned the more traditional main courses available at La Vagalame such as Lamb with thyme and grilled vegetables or marinated grilled rump steak with potato gratin.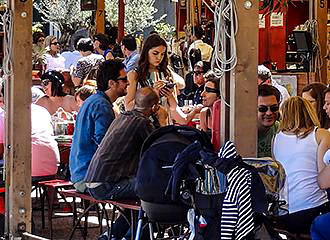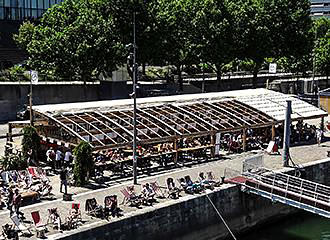 Yet there are Wok meals available like Salmon with ginger and lime, mixed seasonal vegetables with basil or curry. But one of popular choices at La Vagalame is the Rotisserie selection that could be a half chicken, cockerel or pork ribs with honey.

However, on a Wednesday evening, one of the specials is a roast suckling pig on the rotisserie, which is exceedingly popular and the rotisserie choices are served with new potatoes and salad.

There are also specials or plate of the day for starters, main courses and desserts, and to give you an idea, as of 2014, the average price of a main course is from €14 up to €22, plus there are a great selection of drinks available from fruit juices and coffee through to wines, aperitifs, champagne, cocktails and more.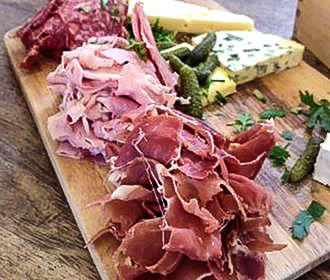 Visiting La Vagalame Rotisserie Restaurant in Paris

You will find La Vagalame rotisserie restaurant in Paris along Port de la Gare which is the quayside and promenade in the 13th Arrondissement by the Nix Nox Latin American nightclub barge, the Passerelle Simone de Beauvoir footbridge and the Bibliotheque Francois Mitterrand.

And when it comes to getting to La Vagalame via public transport in Paris, the nearest metro station is the Quai de la Gare stop via lines 6 and 14, however, the bus numbers 62 and 89 will also get you close by.

Yet this rotisserie restaurant is open during an evening and sometimes until the early hours, so the metro may not be running when you decide to go back to your hotel or other accommodation in Paris, and if this is the case, you would need to utilise the Noctilien, which is the Night Bus Service, and the numbers you need are N32, N35, N131, N133, or you can always book one of the Paris taxis.