Folies Bergere Cabaret in Paris

The Folies Bergere is one of the famous cabarets in Paris that was first started back in the 1800s and is still one of the popular tourist attractions today where you can enjoy a wide variety of different theatre shows including those suitable for children along with their famous revue that includes the naked dancers.


About the Folies Bergere

The Folies Bergere is one of the famous cabaret venues in Paris that was immortalised by the painter Edouard Manet with his famous painting called the Bar at the Folies Bergere, which is now in a museum in London, UK. However, there are paintings of his located at the Musee d'Orsay, which is the art museum in Paris that starts where The Louvre finishes.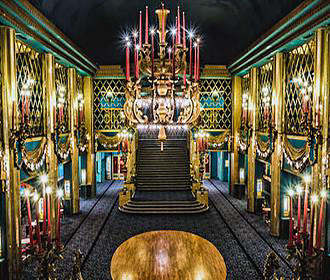 Now when you look back at the history of Folies Bergere, you will find that it has not always been the success story that we know today. And yet over the years there have been many famous people perform here including Charlie Chaplin, Mistinguett, Maurice Chevalier, and Josephine Baker who became an overnight success after appearing in a skirt made of banana skins.

Today, they still produce a revue that made this place famous, which also carries on the tradition that it has only 13 letters in the title of the revue and no more or less, but there are also numerous other performances that take place at this venue.

Some of the previous shows in Paris at the Folies Bergere have included Califonia Dream Men, Celtic Legend, Shadowland, flamenco, circus, cabaret, comedians, musicians, singers, Broadway musicals such as Cabaret, and much more. And during 2013 there is Scooby Doo, DISCO the musical, a pop opera called Circus and many others that are suitable for all tastes.
But for something even more special, if there is a group of you who want to experience the show, providing it is more than twenty people, you can organise events around this such as a cocktail reception, welcome cocktail and VIP treatment, etc. And you would need to contact them via telephone or fax to find out more along with different costs, depending upon your requirements.


Access to the Folies Bergere

The Folies Bergere is located in the 9th Arrondissement of Paris and the doors to this entertainment venue in Paris open 45 minutes before the show starts, which gives you enough time to enjoy a drink or snack in the bar area in the Grand Foyer prior to the show.

You can purchase a ticket to the show of your choice online or via fax or via telephone on +33 (0) 8 92 68 16 50 from 10am through to 6pm on a Monday to Friday and also on a Saturday or Sunday when there is a performance. However, we would like to point out that the cost for phoning is charged at €0.34 per minute as of 2013, but this may vary if phoning from abroad or via a mobile phone.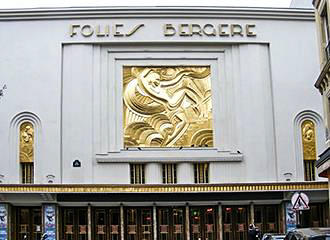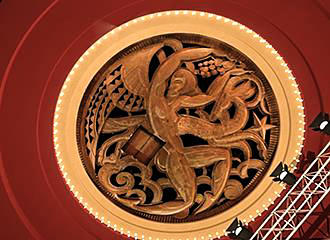 You may be pleased to know that there are dedicated seating areas for those that are disabled, and special placement assistance can also be arranged for those that are visually impaired, however, you must telephone to arrange this, as a handicapped space cannot be guaranteed if booking online.

Your ticket will show the time that the show starts, and the doors are always closed at the beginning of the show, so if you are late, there is a dedicated area you would have to wait in, as you can only go to your seat during the intermission. Also, we would like to point out that once purchased, no tickets are refundable unless the show is cancelled.

We would also like to point out that due to the traditional configuration of this theatre in Paris, which is in a horseshoe style configuration, there are columns and therefore some seats do not have optimum visibility, so it is always wise to ask and make sure prior to booking a show.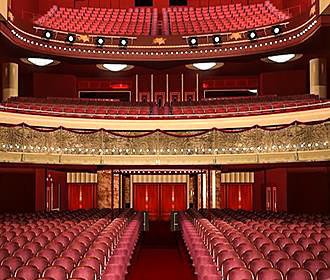 When it comes to getting to the Folies Bergere there are numerous different options of public transport in Paris that you could utilise including the metro. The nearest metro station called Cadet is approximately 200m away and you would need line 7, or alternatively the Grand Boulevards station is around 300m away and is serviced by lines 8 and 9.

There are also several Paris buses that will get you close by within similar distances as mentioned above and include the numbers 26, 32, 42, 43, 48, 67, 74 and 85, but if you are arriving via the RER then you would need the Gare du Nord train station in Paris, but this a good 15 to 20 minutes walk away.
Address and contact details
Folies Bergere, 32 Rue Richer, 75009, Paris, Ile de France, France

Information and Reservations
Tel: +33 (0) 8 92 68 16 50
Monday to Friday 10am to 6pm charged at €0.34 per minute.

Enquiries, Groups and Receptions
Tel: +33 (0) 1 44 79 98 69
Fax: +33 (0) 1 39 75 15 43


Related information
Folies Bergere history
Transport options
Paris Metro lines 7, 8, 9, 12
Bus line 26
Bus line 32
Bus lines 42, 43, 48
Bus line 67
Bus line 74
Bus line 85
Attractions close by
Musee de la Franc-Maconnerie
Square Montholon
Bouillon Chartier Restaurant
Musee Grevin Waxworks
Theatre du Gymnase
Musee Gourmand du Chocolat
Square Jacques-Bidault
Silencio entertainment venue
Opera Comique
L'Antre Magique Theatre
Place Saint-Georges
Bibliotheque Thiers
Musee Gustave Moreau
Le Manoir de Paris
Fidelite Brasserie