Square Jacques-Bidault in Paris

This is a small square with a childrens playground and some park benches on a hill facing a church and was named after a General Secretary in Paris who died in a concentration camp.


About Square Jacques-Bidault

This is a small square in Paris and one of only two green spaces in the 2nd Arrondissement, which is located on a hill that faces a church called the Eglise Notre-Dame-de-Bonne-Nouvelle.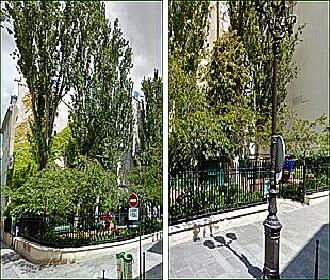 It was first laid out as a garden in 1966, and was inaugurated with the name Jacques-Bidault, who was a war veteran from the World War I and was the General Secretary of the Town Hall of the 2nd Arrondissement during World War II.

Jacques Bidault was also part of the French resistance and he used to provide identity cards, food etc to escaped prisoners, yet unfortunately he was arrested by the Gestapo in 1943 and deported to a concentration camp where he died on 4th December 1944, but he is still remembered to this day.

And although this is a small garden in Paris, there is a little childrens playground and some park benches that you can sit on and relax while admiring the different plants and trees such as a white poplar, flowering cherry trees, forsythia, laurel, etc.
Visiting Square Jacques-Bidault in Paris

Now as we have mentioned before, the Square Jacques-Bidault is located in the 2nd Arrondissement, and you will find the square open from 8am on a weekday and 9am at weekends. And it closes between 5pm during the winter months and around 8pm in summer.

And when it comes to getting to the Square Jacques-Bidault via public transport in Paris, the nearest Metro station is the Bonne Nouvelle stop via lines 8 and 9, plus the bus numbers 20, 39 and 48 will also get you close by.