Musee Gustave Moreau Museum in Paris

This is an unusual and unique museum in Paris, as the painter Gustave Moreau designed and implemented the museum himself within the building where he lived and worked, which was designed in such a way that his works could be displayed to the general public just the way he wanted.


A bit of history on Musee Gustave Moreau

Gustave Moreau originally lived with his parents in the modest house arranged on three floors with its central staircase and orange stucco facade, and then he continued to live and work alone in the same place after their deaths in 1852.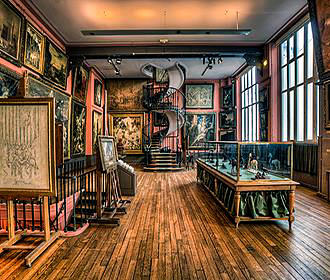 An avid Symbolist painter whose emphasis was on biblical and mythical figures, and being meticulous about his compositions, Gustave was often asked about the fate of his works, and by 1862 he was still thinking about this and wrote some notes as a reflection on the bottom of a sketch.

After the disappearance of any of his known relatives, Gustave Moreau eventually came up with the idea of creating a museum of all his different art works, so he started adding finishing touches to many of his paintings and drawings.

By 1895 he decided to completely change the layout, sacrificing his studio on the third floor by having large workshops built, which were designed to provide as much space as possible for his works and only having a spiral staircase installed from the second floor to the third floor of the house.

He wanted to portray the creative process that he went through with each of his works through his drawings from the first draft through to the final masterpiece, but Gustave Moreau also wanted people to be able to discover more of his life and there are mementos and souvenirs, some of which had even belonged to his parents.

So, by 1896 the Musee Gustave Moreau was in his eyes ready even though he was still re-doing some of his paintings into larger formats, yet it was only two years later that he passed away in the April of 1898 at the age of 72, and was laid to rest in the Cimitiere de Montmartre in Paris.
He left the house and its contents to the City of Paris in which to form the Musee Gustave Moreau and the unenviable task of putting his wishes into action came down to Henri Rupp, but by the January of 1903, the museum was opened to the general public.


About the Musee Gustave Moreau Today

Now Gustave Moreau was originally a very secretive person, who very rarely sold or even displayed his works of art, and therefore this museum houses some unique sets of works, where you can trace the creative processes and how his art progressed over the years.

Spread over three floors, there are around 1,300 paintings, watercolours and cartoons along with almost 5,000 drawings on display, along with boasting some of his most famous masterpieces such as The Apparition and another called Jupiter and Samile complete with all their preparatory work.

In a unique style in terms of any other museum in Paris, thousands of drawing are displayed on pivoting panels, which is like flipping through a book, plus there is a turning cabinet that dates back to the start of the museum, which holds over 200 different watercolours.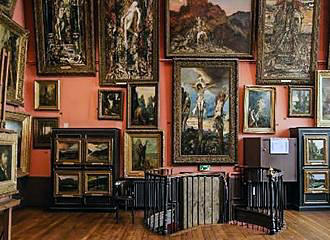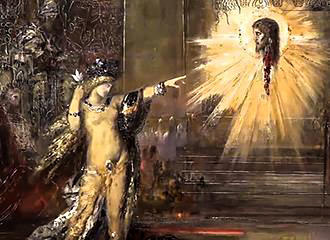 Even though the workshop areas for the museum were opened in 1903, it was not until 1992 that the apartment of Gustave Moreau was opened to the public, and this is where you can discover personal items, mementos, photographs and souvenirs, some of which had originally belonged to his parents or Alexandrine Dureux, who was his "best and only friend", yet often referred to as his mistress.

There is the dining room with its green wood panels and matching Louis XVI style chairs ceramics, a 16th century plate, engravings from other artisits, plates, cups, vases and many other items on display, so of which were probably collected by his father, Louis Moreau.

The bedroom was originally the sitting room of Pauline Moreau, his mother, and after she passed away Gustave Moreau started putting his favourite pieces of furniture within this room, which is where you can also discover numerous family portraits and other personal possessions from the family.

The Boudoire was also designed by Gustave Moreau, which was the last area he put his efforts into, although it was not entirely finished, even having price tags still on glasses, and some pictures that were framed in blue velvet but not hung, and this room has been preserved exactly as it was.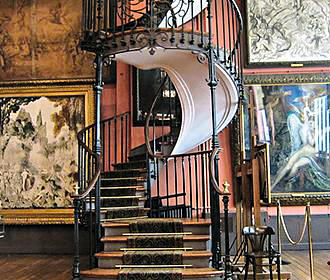 Then on the centenary of the opening of the Musee Gustave Moreau, his private study where very few people were ever allowed to enter was eventually opened to the public, after being carefully restored to how it used to be. It is here that you can discover numerous other personal objects, see the rare books, along with some of the more unusual objects that he collected over the years.


Visiting the Musee Gustave Moreau

Located in the 9th Arrondissement of Paris the Musee Gustave Moreau is open on a Friday, Saturday and Sunday from 10am through to 5:15pm, however on a Monday, Wednesday and Thursday it opens from 10am to 12:45pm, then from 2pm through to 5:15pm.

However, this unique museum in Paris is closed on a Tuesday and on major French Holidays, plus we would like to point out that all halls close fifteen minutes prior to closing time and last entry is normally a minimum of half hour prior to closing.

The cost of entry as of 2018 is €5, however it is free of charge to those under the age of 18 and there is also free entry on the first Sunday of each month.

Groups are also welcomed, but reservations must be made in advance by telephone or fax with a maximum number of persons per group being 30.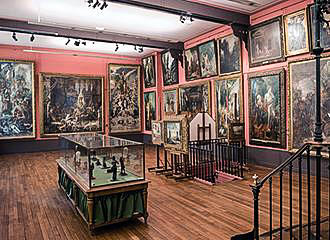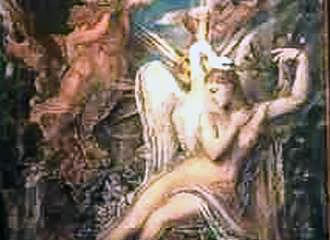 Yet we would also like to point out that due to steps along with the spiral staircase and a total of three staircases, with this being an old building and no lift, this museum is not accessible to those that are disabled.


Access to the Musee Gustave Moreau

Now when it comes to getting to the Musee Gustave Moreau via public transport, you will find that the nearest metro stations are the Trinite - d'Estienne d'Orves stop or the Saint Georges stop, in opposite directions and both serving line 12.

Alternatively, a little further walk away to the north of the museum you have the Pigalle stop serving lines 2 and 12, however, the bus lines 26, 32, 43, 67, 68, 74 and 81 along with the Noctilien Night Bus Service via line N01 will also get you close to this museum and many other tourist attractions in Paris.