Place Blanche square in Paris

The Place Blanche is located in the Montmartre area of Paris right by the famous Moulin Rouge cabaret venue, yet this square has become more well known after a book was written about the people there in the 1950s.


About Place Blanche

The Place Blanche is a small square in Paris that was named after former flour and plaster works that were originally in the area with the goods being carried down the Butte Montmartre Hill from here.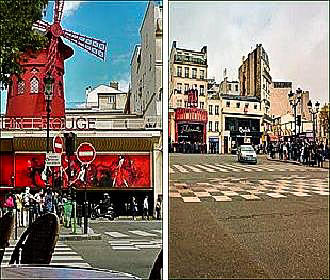 It was opened as a small almost oval type shape back in the 1800s at an intersection between the Rue Fontaine, the Rue Blanche and the Boulevard de Clichy, which is where you will find the most famous cabaret in Paris with its red windmill called The Moulin Rouge.

And today, there is also a tourist train or Promotrain as it is known, called Les Petits Trains de Montmartre that also departs from this square where you can have a lovely tour around the area and find out lots of information on history, heritage and culture you may never hear about otherwise.

But a photographer and writer by the name of Christer Stromholm made this place famous with his book Les Amies de Place Blanche that portrays the transsexual community who resided in the area during the 1950s.
Yet when you look back at the history of Paris, the Place Blanche was one of the many areas that had barricades put up during the Paris Commune to stop troops advancing and retaking the city. So even though it is more a traffic intersection than some of the other squares and gardens in Paris, if you have a chance, it is a great place to see some of the tourist attractions in the area.


Visiting Place Blanche in Paris


The Place Blanche is located on the borders of the 9th Arrondissement and the 18th Arrondissement of Paris in the Montmartre area close to the cemetery, yet near Pigalle, which is famous for its cabarets and night life.

And when it comes to public transport, the nearest Metro station is the Blanche stop via line 2, or alternatively the bus numbers 30, 54, 80 and 95 stop close by.