Le Wagon Bleu restaurant in Paris

Translated it means the Blue Wagon, and if you wish to dine in an unusual location, then what could be better than enjoying French and Corsican cuisine in an original carriage from the Orient Express that looks as it did in its glory.


About the Wagon Bleu restaurant

Upon reaching this venue you will first enter the bar and lounge area that overlooks its terrace, which is heated in winter, and in a friendly warm atmosphere you can enjoy tapas or pastries including some traditional Corsican delights, at any time from when they open right through to the early hours of the morning.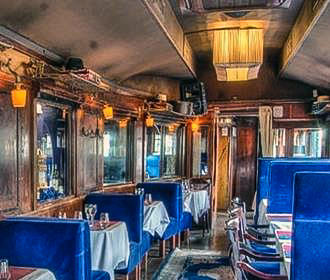 However there is also a Happy Hour aspect, which is actually the longest happy hour at any bar in Paris that runs from 4pm through to 9pm with a pint of lager, a Mojito, etc for only €5 as of 2014 and for non-alcoholic cocktails the cost is only €4. Plus there is a large plasma screen showing any of the major sporting events such as the football and the 6 Nations Rugby.

But the real gem of the Wagon Bleu is the restaurant section. By going up two steps you will enter the wagon, which is in fact a fully restored carriage dating from 1925 that was a part of the famous and legendary Orient Express train. And it is here in the carriage that you can enjoy an a la carte bistro style meal with Corsican and French cuisine, yet without breaking the bank.

We mentioned above that the name of this restaurant in Paris translates to Blue Wagon, and with its rich royal blue banqueting seats to the luxurious wood panelling, you can even discover the original luggage racks and enjoy a bit of nostalgia, while enjoying your meal, which will only cost you around €30 for a three course meal not including drinks.
Visiting the Wagon Bleu restaurant

Le Wagon Bleu is open daily from 11am to 2am in the morning and can enjoy tapas or pastries at any time, however, if you are thinking of a lunch, then this is available from midday through to 2.30pm, but until 3pm on a Sunday.

Evening dinner is served from 7pm through to 11pm, however, we would like to point out that there are actually two sittings on a Friday and Saturday night, and reservations are highly recommended for dinner in the Orient Express wagon, although for lunch you just have to take pot luck.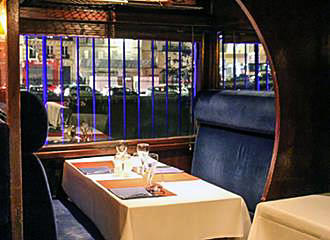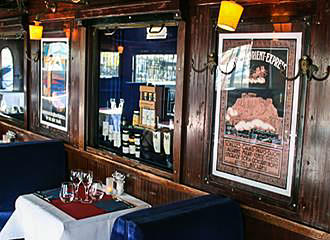 But you will find Le Wagon Bleu very easy to get to, as the nearest Metro station called the Rome stop via line 2 is only approximately 30 metres away, yet the next nearest would be the Villiers stop via lines 2 or 3 and the bus numbers 30, 53, 66, 80 and 95 will also get you close by. However, if you are travelling on the RER or the SNCF trains, then you would need the Gare St Lazare train station.