Le Theatre Musee des Capucines Museum in Paris

The Theatre des Capucines museum is a perfume museum owned by the famous Fragonard company that is located within an old theatre in Paris, and hence the name, but here you can discover a mock-up of a 19th century factory along with other unique objects that relate to fragrances.


A bit of history

Prior to World War I, there was an entrepreneur by the name of Eugene Fuchs, who was passionate about fragrances, and he came up with the novel idea of setting up a perfumery that would supply fragrances to the tourists that were starting to flock to the Cote d'Azur region of France, or French Riviera.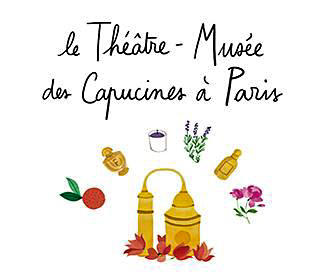 Eugene Fuchs chose to name the perfume company after a famous French painter called Jean-Honore Fragonard who was born in Grasse and the factory first opened in 1926 in the town of Grasse on the French Riviera.

The same spirit and loyalty has continued through the generations of this family run business and under the ownership of Jean-Francois Costa, the Fragonard Perfumerie rapidly expanded its business.

In fact, Jean-Francois Costa was an avid art collector, but he also amassed a large and unique collection of antiques related to the perfume industry, which was why a first museum in Grasse was opened. And as a tribute to 18th century arts within the museum in Grasse there are also paintings dedicated to the artist Fragonard, which is second only to The Louvre museum in Paris.

Yet as time went on, the Fragonard company continued to expand and Paris has always been known as the perfume capital of the world with a rich history of fragrances that dates back to the royal courts at the Chateau de Versailles castle, so what better place to open another museum and a boutique.
So the first museum they opened in Paris was in 1983 and is called the Musee du Parfum, which is also known as the Scribe Museum or the Musee de la Parfumerie Fragonard, however the collection continued to expand and a second museum in Paris was decided upon.


About Le Theatre Musee des Capucines Museum in Paris

When it comes to the theatre itself, the Theatre des Capucines was first opened in 1900 and continued to be a theatre for many years, but after being purchased by the Fragonard Company, it was fully renovated in 1993 to become their second perfume museum in Paris.

Fragonard now have the largest unique collection of its kind in the world and will be able to offer you a complete exploration of the history of fragrances and the world of perfumes that dates back around 3000 years.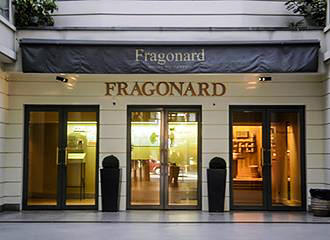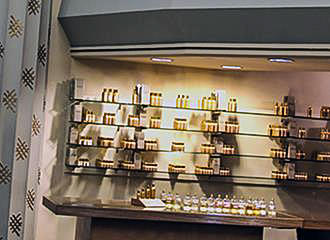 Plus by visiting the Theatre Musee des Capucines you can discover a miniature mock-up factory that comprises 19th century copper distilling apparatus that demonstrates the methods for extracting raw materials like oils and essences in times gone by and how they were utilised to produce exquisite fragrances.

Here you can also discover many other objects relating to perfumes that depict the ancient arts of creating fragrances through to bottling techniques and the fancy bottles that have been used, so anyone that is interested in learning how we get the end product, will be in their element.

Yet there is also a boutique here as well, so you can always try out a new fragrance or pick up your favourite perfume or aftershave, along with other items for sale from the Fragonard Perfumery.


Visiting the Theatre des Capucines Museum in Paris

Now this privately owned fragrance museum in Paris is open on a Monday to Saturday from 9am through to 6pm, however, it is always closed on a Sunday and on all National French holidays.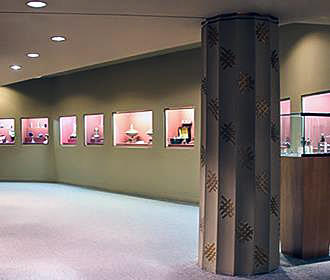 You will be pleased to know that entry is free and you can have a guided tour of Le Theatre Musee des Capucines completely free of charge as well, which are organised throughout the year, but we would suggest contacting the Fragonard Perfumery to make sure of the days, times, etc.

The Theatre des Capucines does request that any groups contact them prior to a visit, as there are a limited number of people able to enjoy this museum or a guided tour at any one time, which can be done by telephone or via their website.


Access to the Theatre des Capucines

Being located opposite the l'Olympia music hall and close to the Palais Garnier Opera house in Paris, it is in a very central location in the 2nd Arrondissement and easy to get to via the public transport in Paris, with the closest Metro Station being called the Opera stop serving lines 3, 7 or 8, yet in the opposite direction you have the Madeleine stop serving lines 8, 12 and 14.

Alternatively, if arriving in Paris via the RER trains you would need the Auber stop serving line A, yet the bus lines 20, 21, 24, 27, 29, 42, 52, 66, 81, 84 and 95 along with the Noctilien Night Bus Service via lines N15 and N16 will also get you within walking distance of this museum and numerous other tourist attractions in the area.
Address and contact details
Le Theatre Musee des Capucines, 39 Boulevard des Capucines, 75002, Paris, Ile de France, France

Tel: +33 (0) 1 42 60 37 14
Fax: +33 (0) 1 47 42 17 45


Related information
Le Musee du Parfum
Transport options
Paris Metro lines 3, 7, 8, 12, 14
Bus lines 20, 21, 24, 27, 29
Bus line 42
Bus line 52
Bus line 66
Bus lines 81, 84
Bus line 95
Night bus lines N15, N16
RER Train line A
Attractions close by
Japanese Bistro
Elephant Paname
Cafe de la Paix
Opera Garnier
Paris-Story Museum
Colonne Vendome
Fauchon gourmet food boutique
Place de la Madeleine
Musee des Lunettes et Lorgnettes Pierre Marly
Tuileries Gardens
Musee du Jeu de Paume
Maxim's Musee Art Nouveau
Place de la Concorde
Joan of Arc statue
Arc de Triomphe du Carrousel
Louvois Square
Musee des Monnaies, Medailles et Antiques
Musee du Louvre