Paris-Story museum in Paris

Classed as a museum, Paris-Story was founded to provide information about numerous tourist attractions you can visit in the capital, and now with 3D presentations along with an interactive map, it is an ideal way to get an introduction to Paris and the places you can enjoy while on holiday.


About the Paris-Story Museum

When you are planning a holiday in Paris, you will no doubt come to the same conclusion as most, which is the fact that you do not have enough time to visit all the different tourist attractions that you would like to discover, and for that matter, where do you even start.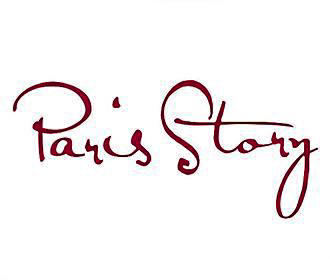 Well, Paris-Story was founded around 20 years ago and with the history, geography and even information relating to the very heart and soul of the city, it has even amazed Parisians who have been able to discover hidden gems and the more unusual landmarks including the city walls, its boundaries, and so on.

Located within the basement of a building that has been put onto the list of historical monuments in Paris, you can enjoy the history of Paris from the Belle Epoque area, even before getting to the modern reception area, which also has a bar serving hot and cold drinks along with snacks, just in case you have to wait for the next film to play.

With their show you can discover the city in one of six different languages due to headphone jacks on the seats, whether it is French, English, German, Spanish, etc, yet a part of this museum is called Paris Miniature where you can enjoy the first interactive model of the city in 3D and colour.

This way you can discover and locate where all the most important monuments are, which has touch screens that have photos and descriptions of over 150 tourist attractions to enjoy.
Paris-Story also now includes those featured within the Da Vinci Code and there are around 180 different images you can touch to find out more, plus get an idea of the location for each one.

You can also learn about the history of Paris in a fun way, with some of the most important events highlighted including early Roman settlers, the French Revolution, the storming of the Bastille and the Restoration period. You could also discover more interesting facts about famous people such as Marie-Antoinette, Napoleon and King Louis XIV.

Another part of this museum in Paris is called the Paris Experience and is designed to let you explore the city based on five different topics. There are five plasma screens that show short films based on the themes of Paris and the River Seine, Paris architecture and its monuments, Paris on foot, Paris by night and last but not least, The hidden and unusual Paris.

Paris-Story also has a Panorama while going to the top of the Eiffel tower, which was filmed by the Lumiere Brothers in 1898 and for the first time ever, you can now see this in 3D for an even more unusual and unique experience.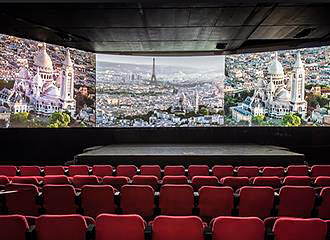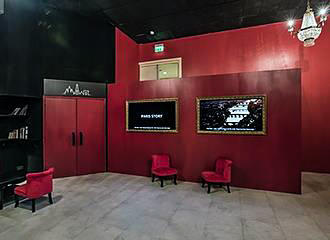 Visiting the Paris-Story Museum

You will find Paris-Story is open seven days a week, virtually every day of the year except for key dates such as specific national French holidays like 1st January, 1st May, etc and the showings run every hour from 10am through to 6pm.

The cost for older children and adults is €9.50 as of 2018, although students and those aged over 65 have a concessionary rate of €7.60 along with children between the ages of 6 and 12 only being a cost of €6.

Children under the age of 6 are admitted free, yet we would like to point out that those under the age of free are not permitted into the screening room, so as to keep a quiet atmosphere for all visitors, plus there is a family ticket price for two adults and two children, which works out at €25 as of 2018.

However, as we mentioned earlier, this unique museum in Paris is located in the basement of a building, and unfortunately, due to having to negotiate staircase from the entrance, this means that Paris-Story is not accessible to the disabled and mobility impaired.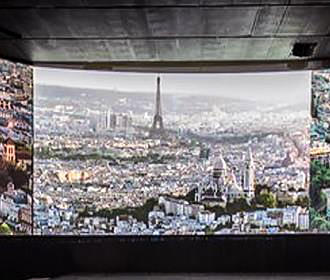 Access to Paris-Story

You will find this unusual museum located in the 9th Arrondissement opposite the fabulous Palais Garnier Opera House and close to the Fragonard Perfume Museum, Place de la Madeleine and many other tourist attractions.

When it comes to getting to Paris-Story via public transport in Paris, the nearest Metro station is called the Opera stop serving lines 3, 7 and 8, whereas if you are travelling by train, then the nearest RER train station is called the Auber stop serving the RER A line.

Alternatively, the bus lines 20, 21, 22, 27, 29, 42, 52, 53, 66, 68, 81 and 95 along with the Noctilien Night Bus Service via lines N15 and N16 will all get you within walking distance of the museum and this area of the city.

In addition to these options, if you are travelling from or to the Charles de Gaulle airport, you may be pleased to know that the RoissyBus stops on the Rue Scribe in front of the Palais Garnier and only a few steps from Paris-Story.

Yet for those of you who have your own vehicle, then you may be pleased to know that there is a public car park located close by, plus there are Velib stations for the self service bike hire scheme in Paris located nearby as well.
Address and contact details
Paris-Story, 11 bis Rue Scribe, 75009, Paris, Ile de France, France

Tel: +33 (0) 1 42 66 62 06


Transport options
Paris Metro lines 3, 7, 8
Bus lines 20, 21, 22, 27, 29
Bus line 42
Bus lines 52, 53
Bus lines 66, 68
Bus line 81
Bus line 95
Night bus lines N15, N16
RER Train line A
Attractions close by
Opera Garnier
Bibliotheque-Musee de l'Opera National de Paris
Musee du Parfum
Cafe de la Paix
Japanese Bistro
Theatre Musee des Capucines
Barramundi restaurant
Fauchon gourmet food boutique
Chapelle Expiatoire
Elephant Paname
Opera Comique
Place de la Madeleine
Colonne Vendome
Musee des Lunettes et Lorgnettes Pierre Marly
Art Nouveau Museum
Tuileries Gardens
Place de la Concorde
Musee du Jeu de Paume