L'Antre Magique Theatre and Magic Shows in Paris

Located in a small theatre in Paris, the Antre Magique is dedicated to magic shows for children and all the family, with shows such as clowns providing magic tricks, the art of balloon forming and more, plus they hold workshops and events for artists to learn more.


About Antre Magique Theatre and its Magic Shows

L'Antre Magique show in Paris was first created back in 1995 by a magician called Christian Gambin and is located in a very small theatre that can only accommodate around 50 people at any one time, and yet because of the proximity to the stage, you feel part of these magic shows.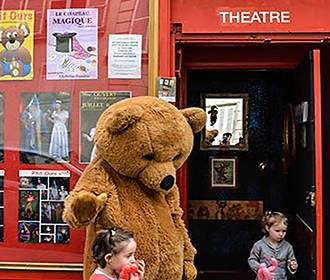 This theatre in Paris is decorated in a 19th century style with old posters on the walls that create an unusual, almost mystical atmosphere, and with red and gold chairs along with other items for decoration, it just adds to the whole experience, plus it is air conditioned for added comfort.

The Antre Magique has become a popular entertainment venue in Paris for anyone interested in magic, but also provides shows, plays, musical shows, clowns that perform magic as well and much more to delight children and families.

Children are exceeding well catered for where they can be enthralled with magic tricks or the art of balloon styling to produce different animals etc, they also have the option that you can book childrens parties here.
Yet L'Antre Magique also provides workshops and training courses for children and adults on numerous different themes such as how to present yourself on stage, learning the art of balloon forming, interacting with an audience, drama training, artistic workshops, learning the art of close up magic and much more.

So if you want to discover something completely different while you are on holiday in Paris with your family, then these magic shows are definitely worth seeing that are run by a professional magician with years of experience.


Access to L'Antre Magique Magic Theatre in Paris

This small magic theatre in Paris located in the 9th Arrondissement, is open on a Wednesday, Saturday and Sunday with shows at 2.30pm, 4pm and 5pm, yet on a Friday and Saturday evening there are also shows at 8pm and 9pm. However, during the French school holidays and on most national French holidays, the Antre Magique is open every day of the week.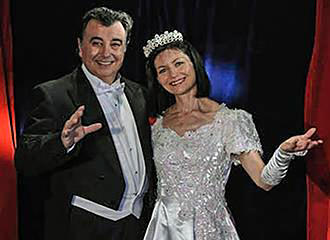 Cost of entry is €22 per person as of 2013, however for an afternoon performance with a group of at lest 20 people, there is a reduced rate of 10€ each, and for evening performances there is a veduced rate of €16 for groups of 15 or more.

But there is a special rate applicable during the holidays, where the cost per individual is half price at only €11.

When it comes to getting to see the magic shows, if you are utilising the public transport in Paris, then the nearest Metro station is the Saint-Georges stop, or a little further away in the opposite direction is the Notre-Dame-de-Lorette stop. But if you are arriving via the RER trains, then the nearest train station to this entertainment venue is the Haussmann - Saint-Lazare stop.