History of the Folies Bergere Entertainment Venue in Paris

It was the architect Plumeret, who was a building inspector of the crown, that designed the building based on the Alhambra music hall in London, and it was originally meant to be a lavish, elegant opera house.


Inaugurated 2nd May 1869

First inaugurated on 2nd May 1869 with all the grandeur that was expected of such a venue, it had been the customary to name theatres, also known as folies, after where they were located in the city, and therefore the original name was Folies Trevise because of a street of that name by the stage door. However, the Duc de Trevise objected, as he did not want his name associated with a theatre.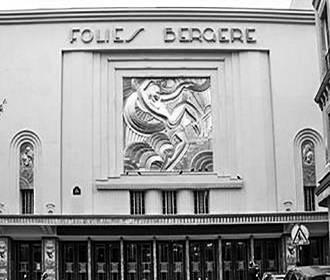 The next name was going to be Folies Richer, but again this was also a surname, and therefore they decided on the name Folies Bergere which was a street name nearby, plus this did not refer to any nobility or upset any people as there was no family name associated with this.

However, the success of the Folies Bergere was not at the time what was to be expected, and it ended up being a place for political discussions during the Paris Commune, but was then purchased by Leon Sari and re-opened in 1872.

Yet even then it was not plain sailing and Sari was on the verge of bankruptcy and sold this music hall venue in Paris, but when it re-opened yet again, there were numerous types of different acts from singers, operettas and comedy through to circus style acts with elephants, snake charmers and acrobats.
It was in 1886 that the first group of European girls appears on stage and by the 1890s, with striptease becoming more and more popular, the girls were getting to wear less and less, until eventually when the Folies Bergere became known for its spectacular shows with entirely naked girls.

Over the years this cabaret venue in Paris became even more popular, especially just prior to World War I and then after the war when Paul Derval took over, which lasted through the roaring 20s.

He was very superstitious and always made sure that a revue, or show, had 13 letters, the same as its name and continued with the naked girls, yet he also incorporated numerous different stage acts, fancy costumes and fabulous sets, which led to even greater success.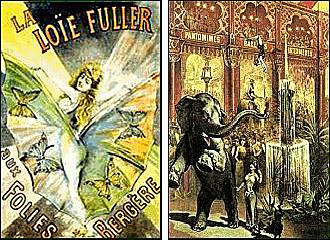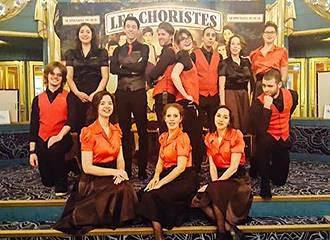 Plus Paul Derval also had numerous well known names in show business that starred at the Folies Bergere such as Charlie Chaplin, Maurice Chevalier, Mistinguett and Jospehine Baker who caused a scandal when she appeared scantily dressed with a banana skirt, literally made with banana skins!

Initially, because he had a Jewish gentleman helping organise and produce the revues and the Germans occupying Paris during World War II, the Folies Bergere was closed, which the Germans were not at all happy about. But eventually, it re-opened through lots of negotiations with Paul Derval, even though the Jew Michel Gyarmathy was always hidden.

And throughout this and after the Liberation of Paris, Derval ran the Folies Bergere, and did so for nearly half a century, yet his successors continued with the tradition, providing even more elaborate reviews that ensured the continued worldwide appeal of this theatre style entertainment venue in Paris.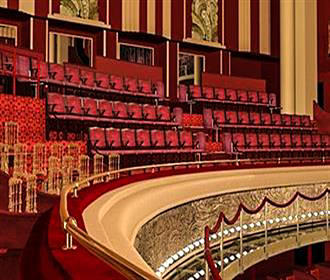 Helene Martini took over in 1974, and in 1980 the Folies Bergere celebrated its 50 millionth visitor, which at the time was equivalent to the whole population of France, but she continued its appeal and fame, so that the Folies Bergere could become even more of a legend.

Yet by the 1990s, although the elaborate reviews were still in place that had always been really for male pleasure, times were changing and other types of shows were now being organised and performed at this cabaret in Paris.

So, then came shows such as Fame, along with the California Dream Men for ladies pleasure, along with many other musicals and different types of shows suitable for all ages, even though they still hold their famous review with the same elements that made the Folies Bergere famous.

And of course, the Folies Bergere is still one of the major tourist attractions in Paris that you can enjoy today with its elegant and sophisticated decor along with spectacular shows and the famous elaborate revues.
Address and contact details
Folies Bergere, 32 Rue Richer, 75009, Paris, Ile de France, France

Information and Reservations
Tel: +33 (0) 8 92 68 16 50
Monday to Friday 10am to 6pm charged at €0.34 per minute.

Enquiries, Groups and Receptions
Tel: +33 (0) 1 44 79 98 69
Fax: +33 (0) 1 39 75 15 43


Related information
Folies Bergere
Transport options
Paris Metro lines 7, 8, 9, 12
Bus line 26
Bus line 32
Bus lines 42, 43, 48
Bus line 67
Bus line 74
Bus line 85
Attractions close by
Musee de la Franc-Maconnerie
Square Montholon
Bouillon Chartier Restaurant
Musee Grevin Waxworks
Theatre du Gymnase
Musee Gourmand du Chocolat
Square Jacques-Bidault
Silencio entertainment venue
Opera Comique
L'Antre Magique Theatre
Place Saint-Georges
Bibliotheque Thiers
Musee Gustave Moreau
Le Manoir de Paris
Fidelite Brasserie