Vedettes du Pont-Neuf sightseeing boat tours in Paris

Taking a sightseeing tour is a great way of discovering the many different monuments and tourist attractions in Paris, and a Vedettes Pont-Neuf boat tour on the River Seine provides a completely different outlook to the many of the tourist attractions that you may want to discover.


A bit of history..

It all started back in the 1950s when a boat builder for the Rocca brand, Emile Azam, decided to start up River Seine sightseeing tours, and the first location was at the foot of The Louvre Museum on the Quai du Louvre with a wooden boat that only had a capacity for 30 people. By 1960 a 50 seat cruise boat was constructed, yet it still proved too small, and a new boat called called Rocca 2 with 112 seats was put in service in 1962.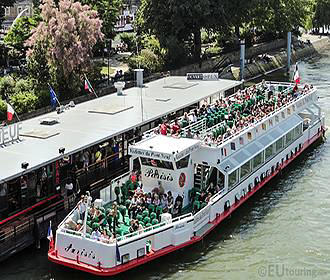 ---
The Rocca was sold to make way for the Rocca 3 and then the Rocca 4 came about in 1966, but with the ever changes faces of Paris and the Georges Pompidou Expressway being constructed, it was necessary to move locations and in 1967 the company moved to the Square du Vert Galant on the Ile de la Cite Island.

This is where the name Vedettes du Pont-Neuf came from, being that you access their dock via the intersection on the Ile de la Cite island where the two parts of the Pont Neuf meet, which is the oldest of all bridges in Paris, even though in English it translates to New Bridge!

In the latter part of the 1970s the Rocca 5 was added to the fleet and by the start of the 1980s River Seine cruises were becoming more and more popular, with a boat called the Hydraseine being added, which meant evening events could also be organised, and then the dock jetty was enlarged and a bar added, which proved such a success that another boat was acquired called the Vert Gallant.
Then in 1989 they added another boat called the Europa that could also accommodate up to 350 people for a River Seine Tour, which was the first fully open topped sightseeing boat on the River Seine.

Following on from that, in 1994 the largest boat of the fleet called the Parisis was put into operation and this can hold up to 550 people, which means that not only are more tours available each day, especially in high season, but more people can get a chance to experience these short cruises at a very reasonable cost, not forgetting the lunch and dinner cruises that are also available with Vedettes du Pont Neuf, that saw 15,000 meals served within the first year and has steadily grown.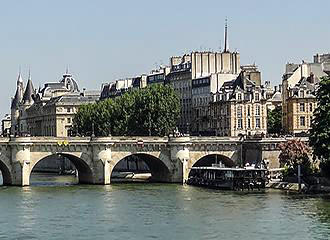 ---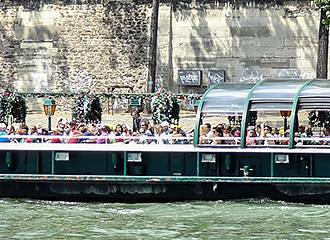 About Vedettes Pont-Neuf cruises in Paris

With an official full name of Les Croisieres du Pont-Neuf, you can enjoy a sightseeing boat tour in Paris along the River Seine, which includes an audio guide so you can discover the different bridges over the River Seine that you will pass under, along with famous monuments.

You can also enjoy a quick snack or drink in the elegant and sophisticated Captains Bar on board the boats, to make your trip even more enjoyable.

However, as we mentioned earlier, the Vedettes du Pont-Neuf invested in outfitting certain boats such as the Vert Gallant and the Sisley with galleys along with a floating restaurant atmosphere.

So now there is the opportunity to have a lunch or dinner cruise on the River Seine as well, but for more information about this you would have to contact the company either by telephone or email.


The sightseeing tours with Vedettes du Pont Neuf
1 Hour Sightseeing Cruise on the Seine
The sightseeing boat tour lasts 1 hour and the service runs every day of the year at approximately half hour intervals, and having different boats for sightseeing, you can opt for a day time tour or one during the evening when the monuments take on a whole new look when they are lit up, which is why Paris is often known as the City of Lights.

You can book online with an open ended ticket that is valid for 1 year, and at a cost of on €15 per adult as of 2023, you will find there is live commentary in French and English, although other languages like Spanish German, Italian, etc are available via their free mobile app.


Happy Hour Cruise
Also known as an aperitif cruise, instead of commentary you can enjoy a soft musical atmosphere on the 1 hour River Seine cruise, and for a cost of €23 per adult as of 2023, you also get a drink included, which could be a glass of champagne or wine, beer or a soft drink, and the bar remains opens both on board and at the dock so that you can continue enjoying your evening with friends or family.

However, we would like to point out that a set date has to be booked in advance as places are limited and then you can enjoy being on the terrace, indoors, at a round table or by the bar.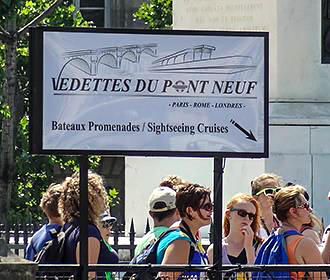 ---
Vedettes du Pont Neuf Lunch Cruise

Known as a Discovery Lunch Cruise, Veddettes du Pont Neuf offer you a 3 course lunch menu consisting of a set menu that has a limited choice of starter, main and dessert, but with a vegetarian option available, yet a cheese course as a platter can also be added for an additional charge.

Boarding at noon on the quay by the Musee d'Orsay, for a cost of €66 per adult and €44 per child as of 2023, this lunch cruise is a duration of 90 minutes, an hour and a half on a cosy panoramic boat, although we would like to point out that drinks are not included.


Parisian Dinner on the Seine
As the name suggests, this is dinner cruise on the River Seine with Vedettes du Pont Neuf, departing at the Quai de l'Horloge, which is by the clock tower of La Conciergerie on the Ile de la Cite. For an inexpensive, yet memorable cruise, it is a duration of 90 minutes, and the tour will take by the Eiffel Tower as it sparkles at a set time each evening.

You will be able to enjoy a set menu comprising a starter, main course and dessert accompanied by 1 glass of wine per person plus still water, all for a cost of only €49 per person. However, we would like to point out that there is no discount for a child and there is an additional charge if you require a vegetarian option, plus it must be booked for a set day in advance, due to limited places available.


Romantic Paris Dinner Cruise
Vedettes du Pont Neuf called this cruise Romantic Paris, because it is available as an evening dinner cruise that has a duration of 2 hours and an individual table is reserved for you within the entirely glass encased restaurant boat when booking this particular River Seine cruise.

For a cost of €85 per person as of 2023, you will be able to enjoy a glass of champagne followed by a starter, main course and dessert along with a half bottle of wine and mineral water to accompany your meal, yet a cheese course can be added for an additional charge.

There are other cruises available, such as those at special times of the year like Bastille Day on 14th July, Valentines Day and even a Music Festival cruise plus many others, but as you can expect these do have to be booked well in advance due to the high demand and limited spaces, and of course these do vary in costs.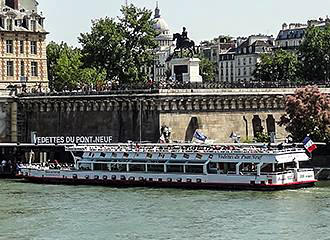 ---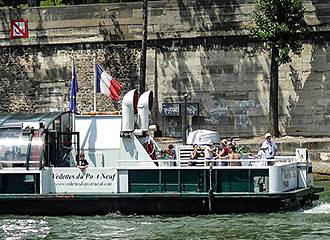 Access to Bateaux les Vedettes du Pont-Neuf boat tours Paris

These boat tours on the River Seine are in operation virtually every day of the year and the first sightseeing cruise normally departs at 10:30am, whereas the lunch and dinner cruises are of course set times, and you can discover some of the Paris landmarks and other famous places from our additional page for the tour circuit of Vedettes du Pont Neuf.

The Vedettes du Pont-Neuf sightseeing cruises operate at shorter intervals from mid March to the end of October, and the last departure is normally at 10pm for a true night experience of the Paris tourist attractions Paris all lit up.

Obviously cruise times can change or even be cancelled due to adverse weather conditions or other situations beyond their control, yet something we would also like to point out, is that if you have booked a lunch or dinner cruise, then boarding normally starts a minimum of half hour but up to 1 hour before the sailing time depending upon the type of cruise you book, so be sure to arrive early. Plus do check where you depart from, as the company uses additional docks such as the Quay d'Orsay rather than their main dock at the Square du Vert Galant.

However, if you go to the Vedettes du Pont-Neuf website you can get discounts on certain tickets, and booking various lunch and dinner cruises on the River Seine can be done this way, which will give you the terms and conditions, and other information including menus etc.

So, as we have mentioned prior, you will find the Vedettes du Pont Neuf located in the heart of Paris on the Ile de la Cite island at the western end at the Square du Vert Galant next to the famous Pont Neuf bridge, which is the oldest bridge over the River Seine.

However, due to the fact that numerous stairs have to be negotiated just to get to the dock, yet alone boarding the boats, it is not recommended for those that are disabled, have difficulty walking or wheelchair users.

Yet when it comes to utilising the public transport in Paris in order to access these boat tours and cruises, the nearest Metro station is the Pont Neuf stop via line 7 or alternatively you could utilise the Cite stop serving line 4 located on the island close to the Saint Chapelle.

Whereas the Paris buses numbered 27, 58, 67, 70, 72, 74 and 87 will also get you within easy reach of these boat tours and River Seine cruises in Paris.