Vedettes Pont-Neuf sightseeing boat tours in Paris

Taking a sightseeing tour is a great way of discovering the many different monuments and tourist attractions in Paris, and a Vedettes Pont-Neuf boat tour on the River Seine provides a completely different outlook to the many of the tourist attractions that you may want to discover.


About Vedettes Pont-Neuf cruises in Paris

With an official full name of Beateaux les Vedettes du Pont-Neuf, you can enjoy a sightseeing boat tour in Paris along the River Seine, which includes an audio guide so you can discover the different bridges over the River Seine that you will pass under, along with famous monuments.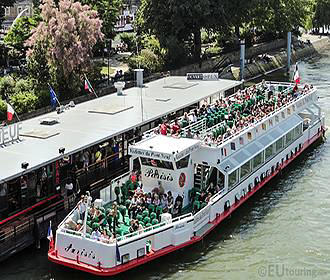 The Vedettes Pont-Neuf cruises first started operating from the Ile de la Cite island back in 1980 with their first boat called the Hydraseine that can accommodate up to 350 people, then in 1989 they added another boat called the Europa that could also accommodate up to 350 people for a River Seine Tour.

Following on from that, in 1994 the largest boat of the fleet called the Parisis was put into operation and this can hold up to 550 people, which means that not only are more tours available each day, especially in high season, but more people can get a chance to experience these short cruises at a very reasonable cost.

And the sightseeing boat tour lasts approximately 1 hour and the service runs every day of the year and having three different boats for sightseeing, you can opt for a day time tour or one during the evening when the monuments take on a whole new look when they are lit up, which is why Paris is often known as the city of lights.
You can also enjoy a quick snack or drink in the elegant and sophisticated Captains Bar on board the boats, to make your trip even more enjoyable.

However, in the year 2000, the Vedettes Pont-Neuf invested in another boat, but this time it was a far smaller boat, which was named the Sisley, and this was turned into an elegant restaurant that can accommodate up to fifty diners.

So now there is the opportunity to have a dinner cruise on the River Seine as well, but for more information about this you would have to contact the company either by telephone or email.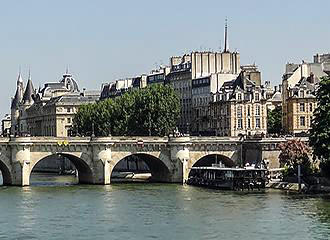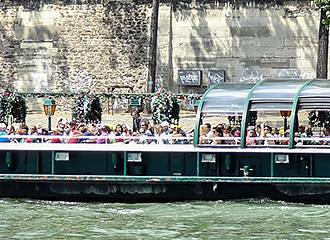 Access to Bateaux les Vedettes du Pont-Neuf boat tours Paris

These boat tours on the River Seine are in operation virtually every day of the year and the first trip normally departs at 10.30am, another is at midday, another is at 3.30pm followed by a trip at 5pm, then 6.30pm and 9pm.

There are of course other departure times depending upon demand and also the Vedettes Pont-Neuf tours has even more scheduled cruises on the River Seine from mid March to the end of October, and the last departure is normally at 10pm for a true night experience of the tourist attractions Paris all lit up.

Now, we say that these are the normal departure times, but these can change or be cancelled due to adverse weather conditions or other situations beyond their control, and at certain times of the year such as 24th December, the last tour leaves at 5.45pm. Yet they also do have the odd days such as main French holidays when the company does not operate.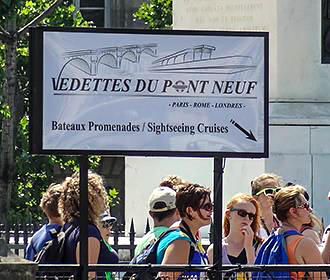 When it comes to costs, the normal price of a ticket for the one hour tour circuit of the Vedettes Pont-Neuf boat tours is €13 as of 2013, but children aged 4 to 12 are a reduced price of €7 and those under the age of four are free of charge.

However, if you go to the Vedettes Pont-Neuf website you can print off a no obligation coupon to obtain a €2 discount off the adult ticket price. Alternatively, if you book online and pay via credit or debit card, then you can get a reduced rate of only €8 instead of €13 and only €4 for children between the ages of four and twelve. Just make sure you remember to print off you booking, that includes your order number, and present this prior to your tour, yet we would like to point out that with this option the tickets cannot be exchanged or refunded.

But you will find the Bateaux les Vedettes du Pont-Neuf located in the heart of Paris on the Ile de la Cite island at the western end at the Square du Vert Galant next to the famous Pont Neuf bridge, which is the oldest bridge over the River Seine.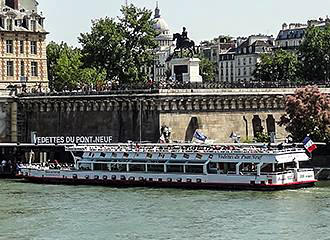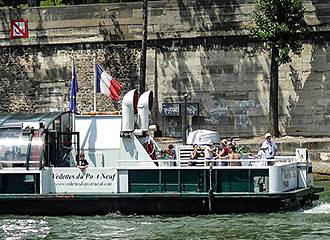 And when it comes to utilising the public transport in Paris in order to access these boat tours, the nearest Metro station is the Pont Neuf on line 7 or alternatively you could utilise the Louvre stop on line 1, but this is on the opposite bank of the river. However, the Paris buses numbered 21, 24, 27, 58, 69, 70, 72, 74, 75 and 81 will also get you within easy reach of these boat tours in Paris.