Abeilles bus line A route map with bus stops, street plan and timetables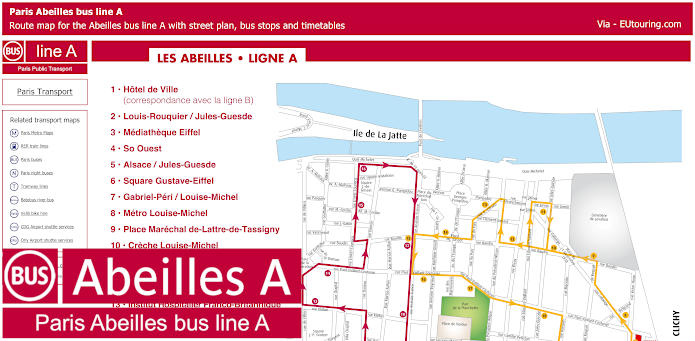 In collaboration with RATP, the commune of Levallois operates a municipal transport called Les Abeilles, which is actually free to use for Levalloisiens, although it can be utilised by any person going to this area and operates daily including on French national holidays.

So here you can see the street maps for Les Abeilles A, which is the pink bus line that travels in a complete circuit with the start point being the Hotel de Ville, where you can also get a connection to Les Abeilles B, which is the same scenario for the Pont de Levallois bus stop.


Abeilles bus line A stops:
Hotel de Ville (correspondance avec la ligne B), Louis-Rouquier / Jules-Guesde, Mediatheque Eiffel, So Ouest, Alsace / Jules-Guesde, Square Gustave-Eiffel, Gabriel-Peri / Louise-Michel, Metro Louise-Michel, Place Marechal de-Lattre-de-Tassigny, Creche Louise-Michel, Danton / Louis-Rouquier, College Danton et Groupe scolaire Anatole-France, Institut Hospitalier Franco-Britannique (Hopital du Perpetuel Secours), Residence Greffulhe, Palais des Sports Marcel-Cerdan, Passerelle de l'Ile de la Jatte, Pont de Levallois (correspondance avec la ligne B), Rue Kleber (Police municipale), Metro Anatole-France / Place du General Leclerc, Conservatoire Maurice-Rave.


Paris Abeilles bus line A route maps available:
Abeilles bus line A map - PDF (2.768 MB)
Abeilles bus line A map - Image (1.703 MB)