Magical Shuttle Selected bus map from CDG Airport to Disneyland Paris partner hotels with stops, timetables and ticket prices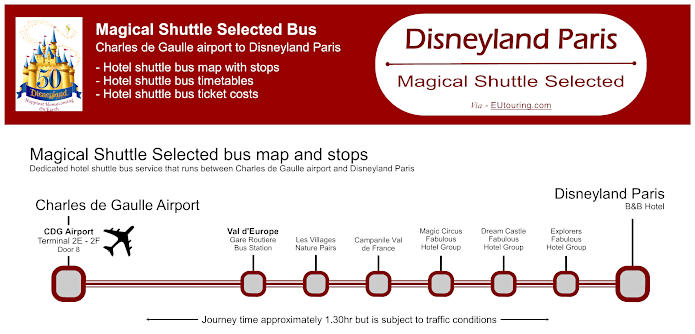 Here you can see the Magical Shuttle Selected information with timetables, pricing and bus stops providing direct connections between Charles De Gaulle Airport, Val d'Europe, partner hotels for Disneyland Paris and Villages Nature Paris.

Although, if your airport connection does not work with the times for this service, you can still utilise the standard Magical Shuttle buses that travel to the bus station at Chessy Nord. Here you can transfer to a free shuttle to the partner hotels, or the free private shuttle for selected hotels at Val d'Europe, yet for Villages Nature, you would need the regular bus line 47 from Chessy Gare Routiere.


Magical Shuttle Selected bus hotel stops:
Val d'Europe - Gare Routiere Bus Station, Les Villages Nature Paris, Campanile Val de France, Magic Circus, House Dream Castle, Explorers Hotel, B&B Hotel, CDG Airport - Terminal 2E / 2F.


Magical Shuttle Selected bus ticket prices:
Adult €23.00 one way
Child (aged 3-12 years) €10.00 one way
Child (aged -2 years) FREE

Price does not include entrance costs for Disneyland parks.


Magical Shuttle Selected bus maps, prices and timetables available:
Magical Shuttle Selected Bus CDG to Disneyland Paris - PDF (0.334 MB)
Magical Shuttle Selected Bus CDG to Disneyland Paris - Image (1.230 MB)


Buying Magical Shuttle bus tickets:
You can purchase directly from the bus driver or online at their website https://magicalshuttle.co.uk

Yet if your hotel is not one listed, there are also Magical Shuttle transfers available to some other partner hotels, which you can see from their website, or there are local buses that can get you to others by disembarking at Disney's Chessy Gare Routiere bus station.

For a return journey, it is recommended that you organise your Magical Shuttle departure from Disneyland at least 2 hours 30 minutes prior to your Orly or CDG Airport check-in time, additionally, please do check the times at Magical Shuttle as they are subject to change and are also dependant upon traffic conditions etc.

We would also like to point out that one bag per person in the luggage hold is permitted, plus the buses have WiFi on board, but unfortunately the Magical Shuttle coaches are not suitable for the disabled and wheelchair users, yet they can organise specific transport services by prior arrangement to get you to Disneyland Paris under these circumstances.