This first R4 bus map shows the geographical route from Gare de Louvres, which is a train station that serves the RER D Line, through to Aeroport CDG 1 Gare, which is the train station 1 of Charles de Gaulle Airport near Terminal 3 that serves the RER B Line going to Paris and beyond. However, there is a route shown with a broken green line, and as per the key, you will see that this part of the Bus R4 line is only served on certain days and at specific hours.


R4 bus line stops:
Gare de Louvres, Parc de Louvres, Mairie Feuchere, La Sucrerie*, Jardin Carre*, Mairie de Villeron*, Eglise de Chennevieres-les-Louvres*, Centre d'Epiais-les-Louvres*, Rue Perichet*, Zone Technique, Aeroport CDG 1 Gare de Roissypole.

* Stop served as a secondary route.


R4 bus line main transport connections:
Train lines: RER B, RER D.
Bus lines: 19, 22, 23, 24, 27, 32, 32ZA, 39, 43, 93, 100C, 100P, 349, 351, 701, 702, Bus Soiree Louvres, Files buses, Express 20, R1, R2, R5, R6, R7, R113, Roissybus.
(along with many other transport options at CDG Airport).


R4 bus route maps available:
R4 Bus line map - PDF (0.942 MB)
R4 Bus line map - Image (0.799 MB)


Bus R4 timetables and map for CDG Airport to Gare de Louvres with stops and connections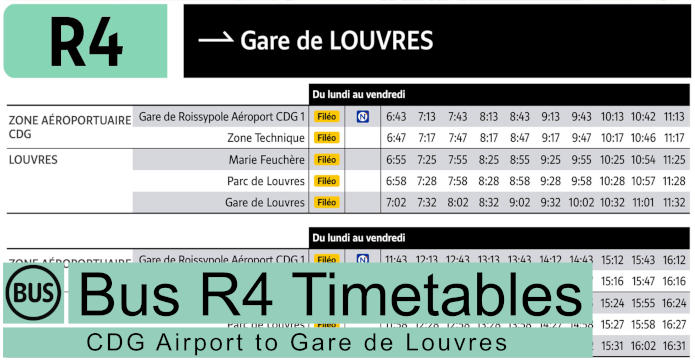 However, here you have the Bus R4 timetables with its map going from Gare de Louvres through to Aeroport CDG 1, which is the Charles de Gaulle Airport station by Terminal 3, and this also show that Zone Technique is only served on this particular route, operating on a Monday through to Saturday.


R4 bus timetables CDG Airport to Gare de Louvres:
R4 Bus timetables CDG1 to Louvres - PDF (1.619 MB)
R4 Bus timetables CDG1 to Louvres - Image (1.244 MB)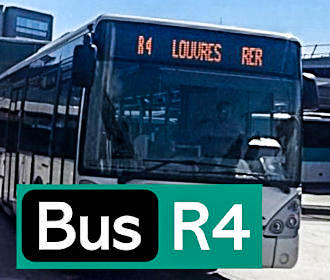 Bus R4 timetables and map for Villeron and Louvres to CDG Airport with stops and connections