High definition photos of the Velib bike hire system in Paris France - Page 1

Now when in Paris you will probably need to use some kind of transport system to get around this capital city, and we have covered a few different types, but one alternative that is very popular with locals and tourists is the Velib bicycle hire or bike rental system in Paris, and as you can see from these HD photos we took they can be found all around the city making these a very cost effective and easy way to get from one tourist attraction to the next.


Photo of Velib bike hire station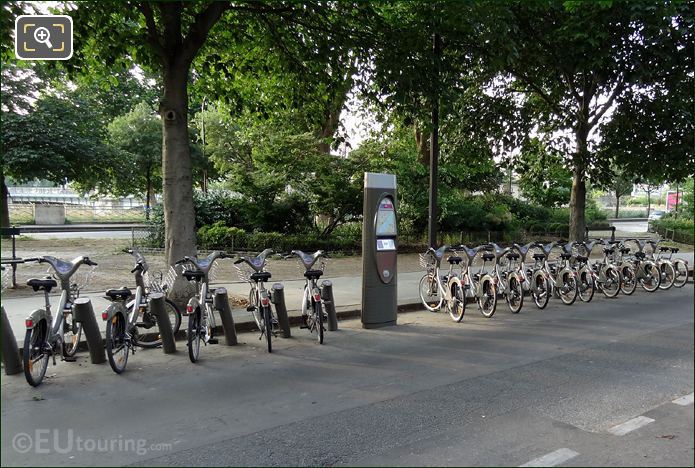 This is a photo we took of a Velib bike station where you can see the automatic ticket machine, which means that you do not have to book in advance and can just turn up and utilise the automatic system by the cycle rank to hire a bike, but we would like to point out that you do need a chip and pin card to use one of the Velib stations, so if you do not have one, then you are best off booking online, but remember to obtain a receipt when you replace the bike at another point.


Picture Showing Velib automated bike hire station
This is a photo we took of one of over 1,700 Velib bike stations that are located in Paris, and this self service bike system was first started in 2007 as an alternative means of transport, and as you can tell, it has become a popular way of getting around the city, especially when the weather is being kind, plus, there is no need to prebook, as you can just register at the automatic station, like one person in this image was just doing.


Velib bikes on the Pont de l'Archeveche in Paris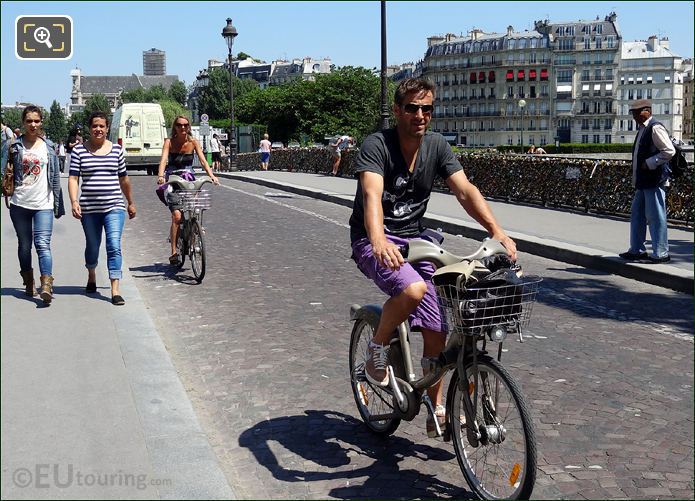 Now as we were walking over the Pont de l'Archeveche, which is now also referred to as the Lovers Bridge with the padlocks that are attached to its railings, we were quite happily taking photos when we just happened to take this image that captured two people using the Velib bike rental in Paris and as of 2014 the cost was only €1.70 per day to purchase a ticket.


Photo of Velib station close to shops and supermarkets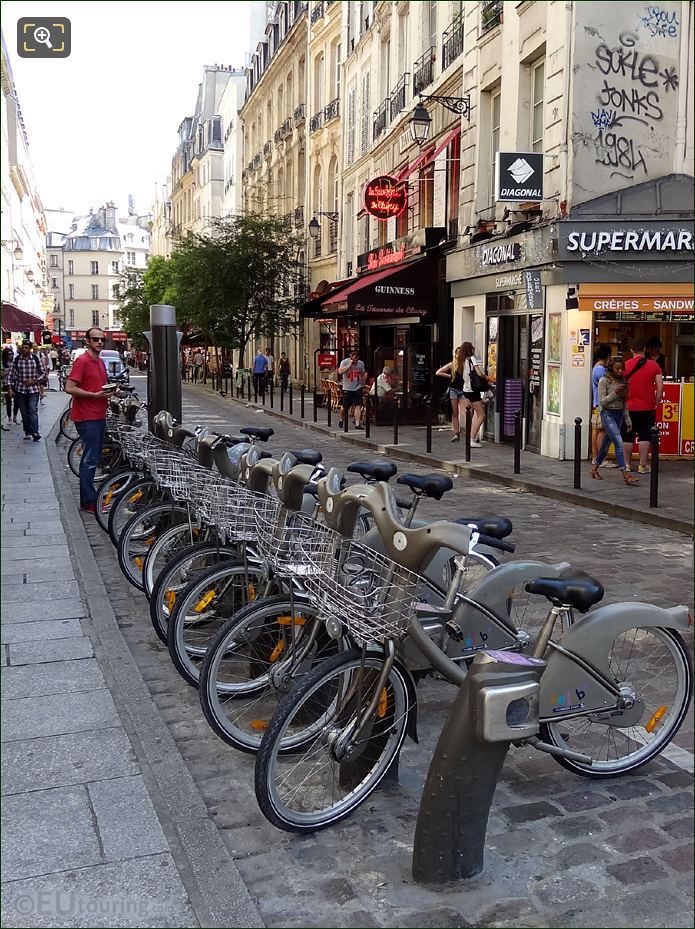 There are actually over 20,000 Velib bikes available in Paris and as you can tell in this HD picture we took, each one of the cycles is distinctive by having the same style including the mudguards, colour and a front basket, plus they are classed as unisex bikes, so they are suitable for both men and women, and anyone over the age of 14 can utilise the Velib bike rental system.


Picture Velib bikes in front of the Eiffel Tower
The Velib is a bike sharing scheme run by the City of Paris, and is the largest of its kind in the world, which is available 24 hours a day every day a year, and whether you are a tourist wishing to visit some of the famous landmarks, like the people in this photograph that were by the Eiffel Tower, or a local using the service to get back and forth to work, it is a healthier alternative to the Metro or the buses.


Velib bikes in cycle lane at Place Justin Godart

This is a photo we took while in the 6th Arrondissement of Paris just as two ladies were cycling by on the Velib bikes utilising one of the many designated cycle lanes in the city, and the location was called the Place Justin Godart, and the plaque you can see in this picture also provides a brief history including his date of birth and death and the fact that he was a politician for Lyon during World War II, yet getting back to these Velib rental bikes, unfortunately you will not see any families with children as the minimum age requirement is 14 to use the system.


Photo of Velib bike on the Pont Neuf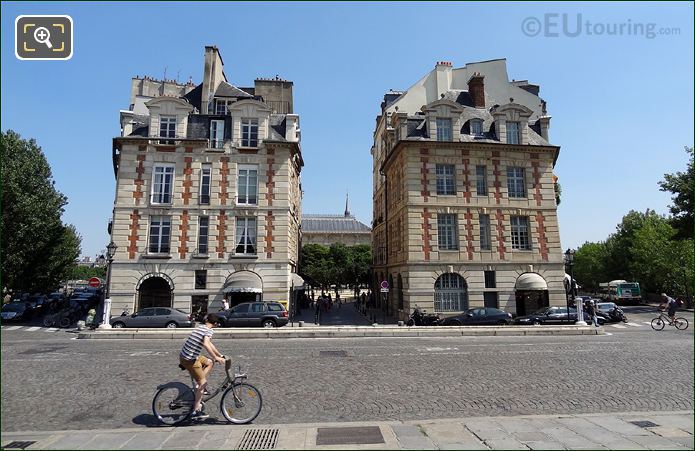 The self service bike system can be utilised by those on holiday in Paris by purchasing a one day ticket or a seven day ticket, yet it is also available on subscription at a very discounted rate for locals or those staying in the city for a longer period of time, and this is a photo of a person riding a Velib bike, that we took while looking at the two virtually identical buildings at the entrance to the Place Dauphine on the Ile de la Cite island by the Pont Neuf bridge, and if you look very carefully, you may be able to spot a Velib station on the street to the left of the image.


Picture of Velib bikes at Notre Dame Cathedral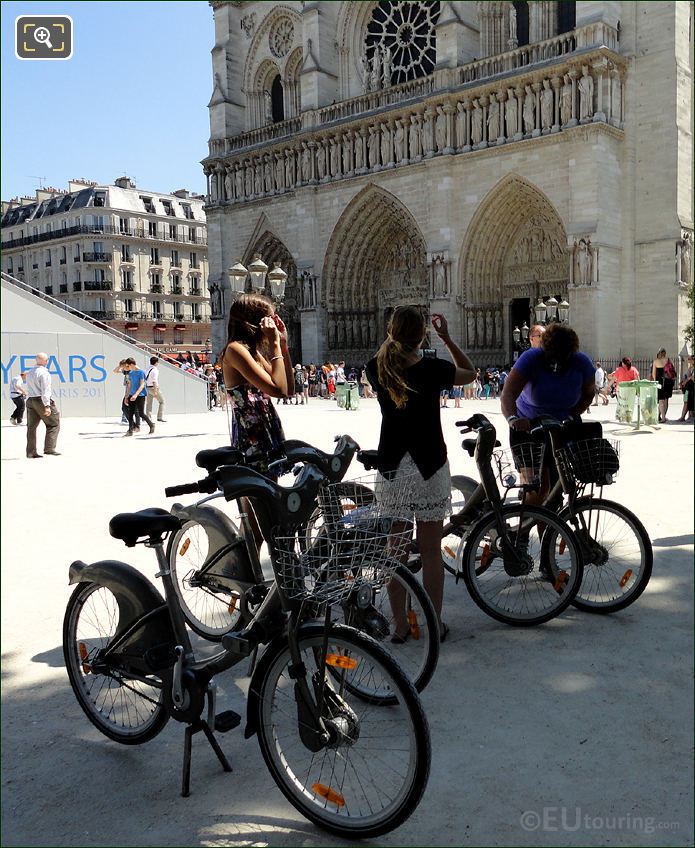 The Velib bike rental system in Paris has stations that are located approximately every 300 metres from each other, so like you can see the tourists doing in this photo, you can easily visit the numerous different tourist attractions such as the impressive Notre Dame Cathedral that you can see here, through to the Sacre Coeur Basilica, and it makes a great alternative way of getting around the city.


HD Photo of Velib bikes at one of the bicycle stations
This is a photo we took showing just a few of the 20,000 plus Velib bikes that are available at over 1,700 different Velib stations throughout the city of Paris, and as you can tell in this image, the bicycles all look the same, yet the seats are adjustable and each has a sturdy basket, not forgetting that the gears and chain are covered for safely, along with other safety features such as reflectors and lights, yet another bonus is the fact that even if a Velib bike is not up to standard or something is wrong, then there are now over 150 people that work full time to maintain these rental bikes.


Picture of Velib bikes at Pont des Arts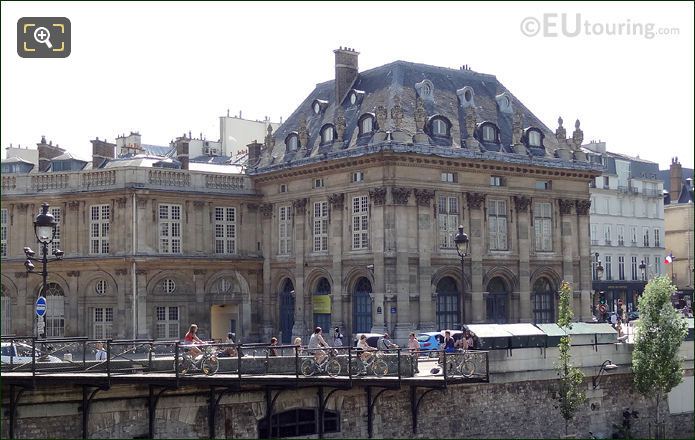 We mentioned before that there is an initial cost for utilising the Velib bikes, and these are a great way of getting to some of the more unusual places, like you can see in this photo we took, however, because the first 30 minutes of each journey are free, what a lot of people do when they are sightseeing, is drop off a bike at one of the stations, and then collect another Velib cycle to get another 30 minutes free to reach their next tourist attraction in Paris.


Photo of Velib bikes at Musee de Louvre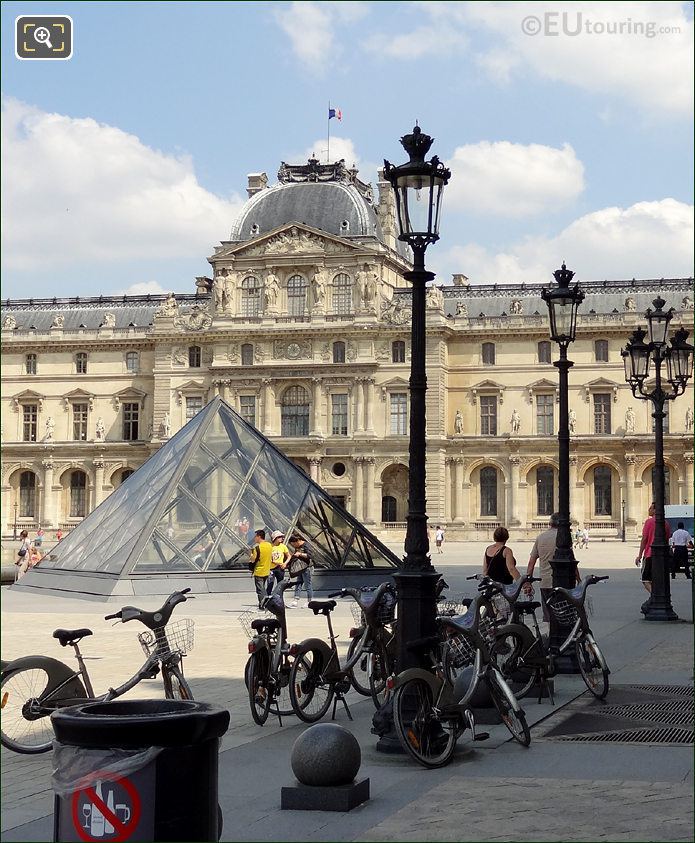 While we were in the main courtyard of the famous Musee du Louvre museum, we took this photo that shows one of the modern pyramids close to the entrance along with a group of Velib cycles, which are actually classed as unisex bicycles that are suitable for anyone from the age of 14 years upwards, and although they were being utilised by tourists on this lovely sunny day, they do also have the benefit of automatic lights for use even when its dark, as the Velib rental service run by the city of Paris is available 24 hours a day.


Velib bike station on the Ile de la Cite Island
Again while we were on the Ile de la Cite island, we took this photo of the Velib self service bike system in Paris, and each bike has its own unique identification number, so when you return the bike and lock it up securely, you just print a receipt at the station to confirm that it has been returned, and of course pay any charges if there are any, but the first 30 minutes of every journey are free of charge once you have paid the initial cost for a whole 24 hours, but as of 2014 it is a cost of €1 for the next half hour after.


Velib bicycle at the Pont d'Iena Bridge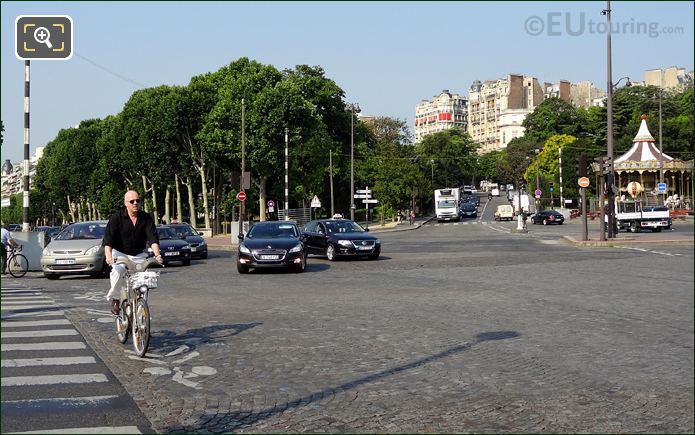 As we were walking across the road by the Pont d'Iena bridge on the side of the River Seine by the Palais de Chaillot, we took this photo looking at the junction and traffic along with a person riding a Velib bike, and from what he is wearing we assume he was probably one of the local Parisiens that utilise this fabulous means of transport in Paris, which has taken off in a big way since its launch in 2007, and is the largest bike sharing system in the world that has become a cost effective way of getting around the city for so many.


Photo of Velib bike station at Rue Saint Severin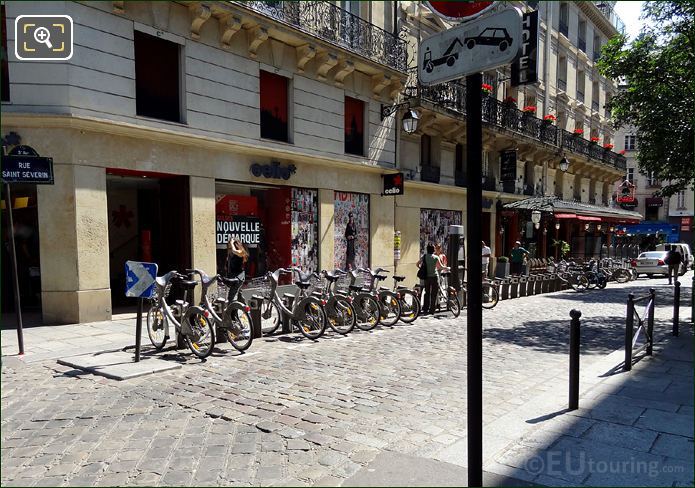 While we were visiting the Latin Quarter, we decided to visit one of the oldest streets in Paris with its cobble stones called the Rue Saint Severin, that dates from the 13th century, and although this is now a very tourist orientated area, as you can tell from this high definition photo, it also has one of the Velib bike stations, which is a perfect point for stopping at one of the cafes, venturing into the souvenir shops, or perhaps discovering the Eglise Saint-Severin, which is one of the oldest churches in the city.