Le Meridien Etoile - Paris 4 star hotel

This large 4 star hotel is ideally situated by the Paris Convention centre, great for business users, families with children and the disabled, and has facilities including different dining options, bar, free WiFi, a fitness centre, in-room spa service for massages, meeting and function rooms, concierge services, valet parking and much more.
Average Double
€190 - €260
---
About Le Meridien Etoile

Le Meridien Etoile is part of the Meridien group of hotels that was first started back in 1972 by Air France as a home away from home hotel, with the first one being Le Meridien Etoile in Paris.

Over the next few years other hotels popped up throughout Europe, Africa, Canada and other places, and by 1991 there were a total of 58 hotels and resorts throughout the world.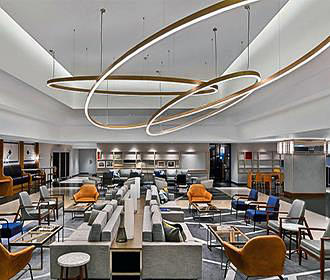 ---
The Meridien hotel chain was acquired by Starwood in 2005 and deciding to reinvent the brand, with a mission to engage its guests with different experiences at each of its hotels and resorts, they subsequently invested approximately 1 billion dollars into the hotels and opening an additional 11.

By 2015 there were over 100 hotels in 35 different countries throughout the world, each having something completely unique, and Le Meridien Etoile in Paris was completely renovated in 2016 by the UK firm Michaelis Boyd to provide additional creature comforts, latest technologies, the unique Meridien Unlock Art program and another unique concept of Le Meridien HUB.
Through the Unlock Art programme and Le Meridien HUB, which started to roll out as completely reinvented spaces within the hotel lobbies, Le Meridien Etoile has a contemporary piece of art work by the sculptor Arnold Goron, which he designed to represent the 20 Arrondissements of Paris and this hotel is also partnered with the Musee Picasso.

Within the lobby of Le Meridien Etoile there is also a large interaction area in centre that sparks conversation and has a screen showing what is called New Perspective, which is an exclusive set of art works plus photographs that were commissioned specifically for Le Meridien.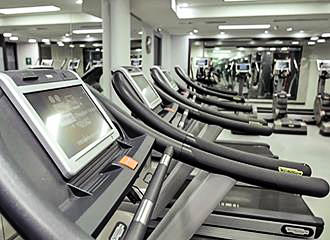 ---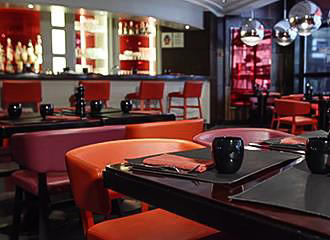 ---
Hotel Services and Facilities

As you would expect from a 4 star hotel in Paris, there is a 24 hour reception with multilingual staff along with full concierge services offered including airport transfers, organising tickets for shows and Paris tourist attractions, making restaurant reservations and much more to make your stay run smoothly.

There are bellmen and porters along with on-site covered parking and a valet parking service, and being that Le Meridien Etoile is certified as a disabled friendly establishment with wheelchair access, lifts, etc, these services make it even more practical for those with mobility problems.

It is also a family friendly hotel, which includes a special welcome kit for all children under the age of 12 that includes a free to stimulate creativity, colouring pencils and a colouring map plus a postcard to colour in, along with a discovery guide for some of the tourist attractions that you can discover as a family such as the Jardin d'Acclimatation the impressive Cite des Sciences and many more.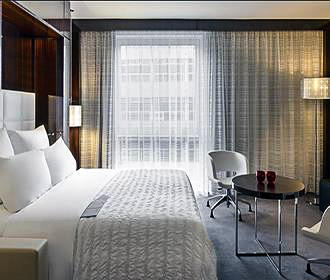 ---
When it comes to people travelling for business, Le Meridien Etoile offers secretarial services to cater to your individual needs along with 25 meeting and function rooms, all with state of the art technology that can be organised for meetings, conferences, product launches and anything else you can think of.

In fact they can cater for seminars, banquets, even weddings and receptions, which also includes special menus from buffet style through to coffee breaks, receptions and sit down dinners and always includes the staff, and for weddings, etc the table decorations, flowers, wedding cake and so on, plus the newlyweds get a free room within the hotel.

For those of you who like to keep in shape or wish to get fit, there is a state of the art fitness centre, which is open to guests 24 hours a day, 7 days a week that and accessed utilising your room key. It includes treadmills, steppers and exercise bikes, all with touch screen available in 15 different languages with TV, internet and games, plus there are weight lifting machines and weights. You will also find that complimentary towels, water and even apples are supplied.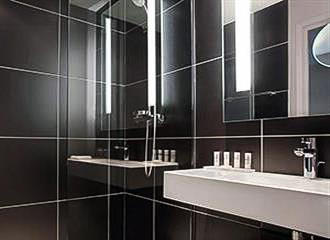 ---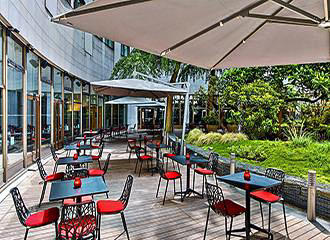 ---
Now we mentioned earlier that Le Meridien Etoile has a theme of Unlock Art and as well as the large sculpture at the entrance to this hotel, at the entrance to the fitness centre you will be able to discover another work of art by the mathematician and artist Laurent Derobert, which was designed to inspire wellbeing.

However, as we also mentioned, this 4 star hotel is also partnered with the Musee Picasso, and located within your room you will discover a pass that provides you with free access to this popular museum in Paris. You can enjoy the largest collection of works by Picasso and explore other artists who inspired him, not forgetting there is a cafe and a gift shop there, which are all located within the historical Hotel de Sale dating from the 1600s.

Getting back to wellness, the Hotel Le Meridien Etolile has what they class as an In-room Spa service, which is run in conjunction with Monmasseur Paris where you can enjoy leg and feet massages, back massages and customised massages utilising precious and rare massage oils and techniques from expertly trained personnel.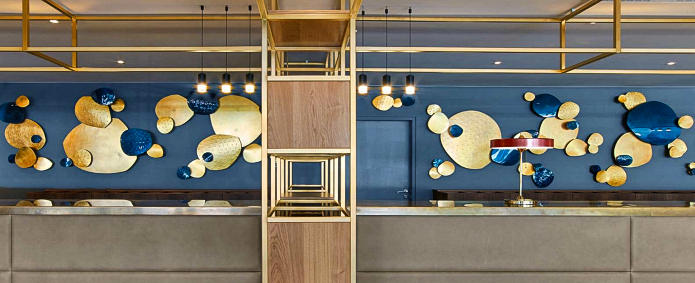 ---
These are performed within the comfort and privacy of your own room and can be booked via reception or just by dialling a specific number of 175 from your room and can be available as quick as 60 minutes after booking, between the hours of 8am and 10pm, plus other services such as facials, pedicures and manicures can also be requested.

Other services and facilities at Le Meridien Etoile include free WiFi throughout the entire hotel, a laundry and dry cleaning service, a currency exchange bureau, car rental, medical services, along with a dedicated tour service for tours in Paris and further out from the city such as to the Chateau de Versailles, the D-Day landing sites and even customised private tours to cater specifically to your needs.


Dining at Le Meridien Etoile

There are several areas for relaxation, drinking and dining at Le Meridien Etoile including the Patio Etoile that is a great area for those warmer days and is linked with the space for the restaurant of the Jazz Club Etoile.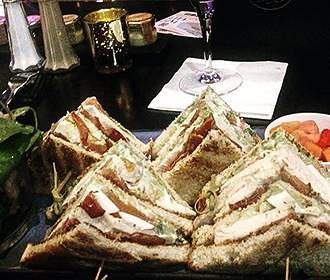 ---
Talking of the Jazz Club Etoile, as the name suggests, this is a jazz club providing concerts for jazz, soul, blues, etc, plus they also have several different dining options for those that wish to enjoy a lunch or dinner within this restaurant in Paris. There is also the Jazzy Brunch of a gourmet buffet accompanied by a Jazz trio providing live music, and you can find out more by looking at our dedicated Jazz Club Etoile page.

For those of you that are meat lovers, the Ma Chere et Tendre gourmet restaurant is a great choice, as it is a steakhouse providing numerous different varieties of beef from the best sources throughout the world including Black Angus, Charolais, etc with many different cuts such as Rib eye, sirloin, etc.

Yet for those of you who are not into meat but still want to enjoy a meal with family or friends, then there are fish dishes available as well, and again you can discover more about the Ma Chere etTendre at the Meridien Etoile Hotel on our dedicated page, with each place also having its own bar.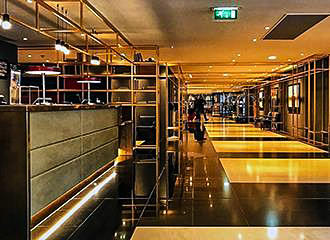 ---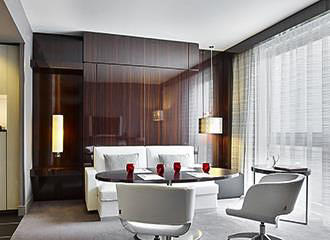 ---
We also mentioned earlier that within the lobby area that is known as Le Meridien HUB or LM HUB for short, there is a lounge area designed for relaxation and meeting or interacting with other people and this is also home to the Bar Longitude.

The Bar Longitude opens up onto the lobby and accentuates the cafe culture that has become so popular throughout the world that has an enormous espresso machine sitting behind the bar and offer coffee based hot beverages from 7am through to 5pm.

There is also what is referred to as the Green Corner, where you can enjoy sweet and savoury snacks that can be purchased and eaten on site, or are available packaged ready to go as a take away. They include sandwiches, fruits including fruit salads, muesli mixes, salads, etc, which are ideal for vegetarians, Vegans or those of you who prefer a healthy option, with formulas such as the LM Light with snack and drink or LM Express with snack, water and fruit.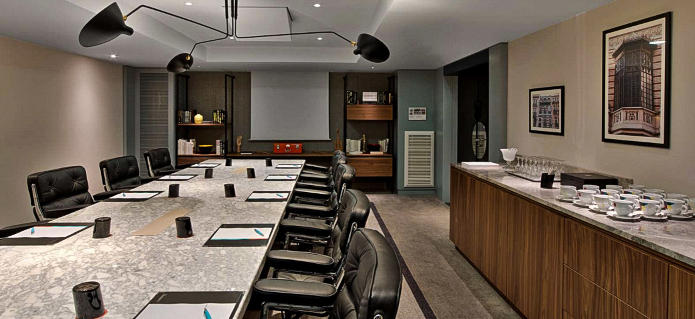 ---
In addition to these there is an exclusive area called the LM Club Lounge, which is only open to guests staying within certain classes of room where you can enjoy a free continental breakfast. You can also enjoy refreshments along with wines and cheeses and in fine weather savour the moment while on the terrace with a view to the famous Eiffel Tower.

Talking of breakfast, there is also the option of a buffet breakfast, which is a cost of approximately €30 per person and includes a variety of fresh breads and pastries with accompaniments, cold cuts, cheeses, fruit, yoghurts, cereals, hot beverages, freshly squeezed fruit juice and much, much more to get your day off to a good start.


Rooms at the Hotel Le Meridien Etoile

This is a large 4 star hotel that has a total of 1,025 rooms including 22 suites that have all been completely renovated and provide different categories depending upon your needs and budget that are all different in their decor and aesthetics.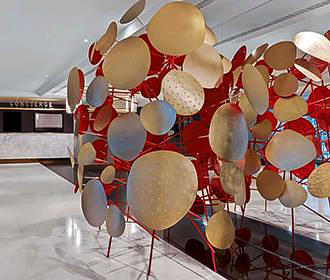 ---
As a standard, each room has an en suite with the usual refinements you would expect including a hairdryer, magnifying mirror and complementary toiletries, along with a 42 inch flat screen TV that has over 100 different channels in various languages, free WiFi internet access, air conditioning, a USB port, personal safe, direct dial telephone, mini bar and free access to the Musee Picasso.

There are different classes of room, which can accommodate up to three people maximum, whether it be one adult and two children, three adults, and so on. The most basic is called Urban that is approximately 21 metres squared, then there are the Smart rooms that are a similar size designed in a contemporary style with subtle lighting and also provide you with an Illy coffee voucher and the option of late check-out up until 2pm.

The Chic rooms are between around 21 and 24 metres squared and have been designed to represent glamour and elegance in the spirit of couture chic with refined materials and colours of black, white, grey and yellow, and by staying in one of these rooms you also get free access to the Open Studios, which are the executive spaces designed for work, social interaction and relaxation.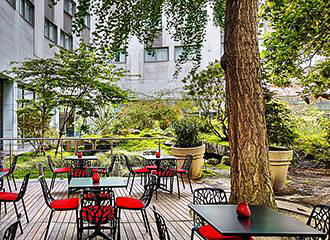 ---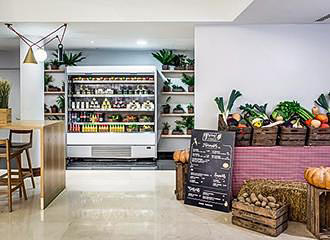 ---
Le Meridien Etoile also offers rooms called the LM Club Room, which are located on the upper floors and provide additional benefits such as access to the LM Club Lounge where you can get a complementary continental breakfast and enjoy the exclusivity of the lounge. In addition to this, you also get two free bottles of water in your room and 10 percent off a meal at the Ma Chere et Tendre Steakhouse.

The next class of room are the Junior Suites that have a master bedroom and separate lounge along with a dedicated work area plus two stylish bathrooms, making these a flexible choice for three people or two people who want more space and comfort, being that they are around 42 metres squared.

The ultimate in space are the Senior Suites, which are an approximate area of 52 metres squared, that can accommodate up to four people, with the benefits including late check-out up until 4pm. Again with two bathrooms, these multi-dimensional spaces can be for families that require two separate guestrooms and enough space to entertain children, or business travellers who even wish to hold small meetings within the large lounge area.
Access to Le Meridien Etoile

Now when it comes to getting to this 4 star hotel in Paris, you will find this located in the 17th Arrondissement close to the Metro station called the Porte Maillot stop, which serves metro line 1, yet this is also a train station that serves the RER C train line.

Alternatively, other public transport options include the Paris bus lines 73 and 98 PC along with the Noctilien Night Bus Service via line N11, N24 and N153, plus Les Cars Air France, now known as Le Bus Direct, will get you directly from the Charles de Gaulle airport to within around one minutes walk of Le Meridien Etoile.

However, for those of you travelling into the city with your own vehicle, then you will be pleased to know that parking is available at a cost of approximately €36 per day, plus valet parking is also available, and if you decide to eat within the Ma Chere et Tendre or enjoy the Jazz Club Etoile, then you will get one free hour of parking.
Paris Hotel booking info

Le Meridien Etoile Hotel
81 Boulevard Gouvion Saint-Cyr
75017
Paris
Ile de France
France

Tel: 0033 1 40 68 34 34
GPS: 48.87944, 2.28502

Website: https://www.marriott.com/en-us/hotels/parmd-le-meridien-etoile/overview/