This venue is now closed and has been re-opened as Espace Latitude.

The following article is left as-is for historical and archiving purposes.
Ma Chere et Tendre steakhouse

The Ma Chere et Tendre is a Steakhouse restaurant located within the Hotel Le Meridien Etoile in the 17th Arrondissement of Paris and provides some of the best cuts of beef from all different places in the world, although there are fish dishes available and all are served with your choice of accompaniments and sauces.


About Ma Chere et Tendre

The steakhouse restaurant of Ma Chere et Tendre is located within the large 4 star hotel in Paris called Le Meridien Etoile and with a decor designed by Nuel, it provides an upmarket designer style with bright yet elegant colours including red for the seating, beige and aubergine that blend seamlessly with the mahogany.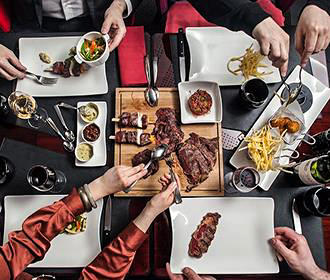 There is also a terrace where you can dine on those finer days and all in elegant surroundings for an upmarket designer style, where screens are also positioned inside to provide more intimacy at select tables, plus there are tables designed for small groups.

You will find that in conjunction with the Hotel Le Meridien Etoile and the Ma Chere et Tendre they do special events on select dates called Meat and Greet, where meat lovers can dine with a three course meal accompanied by a glass of wine, a mineral water and a coffee.

You also gain entry to the Jazz Club Etoile from 9:30pm for a jazz concert, plus you are greeted with a glass of champagne in order to make the evening that little bit more special, all for a cost of around €90, although we would like to point out that these events do have to be booked in advance due to limited numbers, and this offer is not available to more than 10 people in a group.
Cuisine at the Ma Chere et Tendre

On the menu at the Ma Chere et Tendre you will find a wide variety of beef breeds and cuts, which are cooked with American influences and accompanied by home-made sauces and side dishes of your choice, they are served in very good portions compared to many restaurants in Paris.

You will be able to enjoy prime cuts of beef from a variety of sources in France and throughout the world, including the famed Charolaise and Black Angus and from fillets through to sirloin and rib eye, there are numerous options to choose from depending upon your tastes and likes.

However, the Ma Chere et Tendre also provides fish dishes for those of you who are not meat lovers and still wish to enjoy a meal here with friends or family.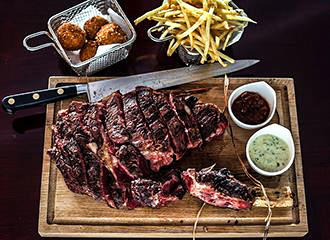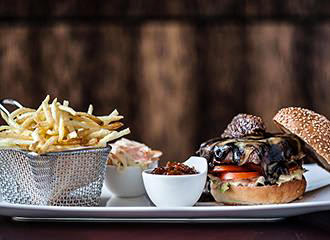 So when it comes to the a la carte menu, for starters you could enjoy Bavarian smoked sirloin and pickles of vegetables, Shrimps skewer marinated with lemongrass and ginger and pan-fried soy shoots, Duck foie gras with Porto and roasted turnip and fruit chutney or there is an option of a sharing platter to name a few.

Thinking of main courses you could have fish dishes like Scottish red label salmon fillet or a sea bream fillet, yet there are skewers of either Gambero Rosa shrimps from Mozambique or a beef fillet skewer, plus there is the option of a 1 kilo Charolaise rib served as a sharing plate for two people.

Yet Ma Chere et Tendre is primarily a steakhouse, so there are numerous different options for beef cooked how you like it, such as a 300 gram sirloin from the Limousin region in France, a 350 gram rib eye steak from the Aveyron area, a skirt steak or Black Angus cheeseburger from Ireland, plus a rib eye from Argentina, to name a few choices available.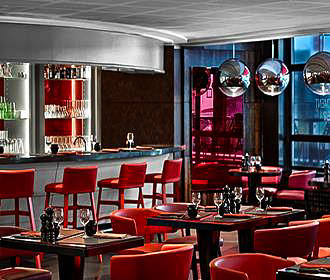 Accompanied by the main dish of your choice you can choose one home-made side dish of your choice such as French fries, wok cooked Asian vegetables, mashed potatoes with herbs, pan-fried mushrooms, a gratin of macaroni with oxtail, seasonal vegetable, etc, although, you can also opt for an additional side for an extra cost of around €5.

The meat and fish dishes are also served with a home-made sauce in a little pot and you have a choice of Bearnaise, pepper, Bordelaise, parmesan or chilli, yet you could opt for a second sauce for around €2 extra.

Desserts could be delights such as a selection of three cheeses, lemon pie, gourmet profiterole, a fruit tart of the moment, etc, which will certainly round off a sumptuous meal at Ma Chere et Tendre.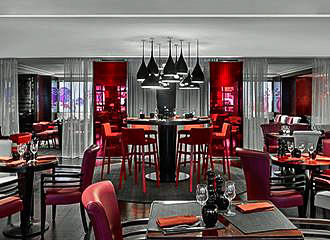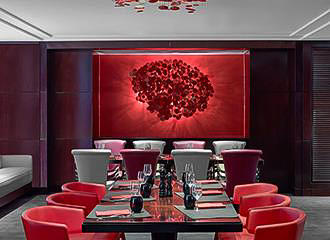 Not forgetting that there is an extensive drinks menu including aperitifs, cocktails, beers, spirits including cognac and whiskies plus liqueurs, non alcoholic hot and cold drinks. There are also a variety of champagnes and an impressive range of red and white wines from different regions of France that can be served by the glass or by the bottle.

There are also menu deals available on a Monday to Friday for both lunch and dinner at Ma Chere et Tendre where you can have a selected starter and main course of the day or a main course and dessert of the day for an approximate cost of €28, plus there is a three course option on the daily specials for around €35.


Access to the Ma Chere et Tendre

Now when it comes to reaching Ma Chere et Tendre, as we mentioned before, this is located within the Hotel Le Meridien Etoile in the 17th Arrondissement of Paris, which is close to the Palais de Congres.

Open for lunch as well as for dinner, reservations are highly recommended and essential in some cases such as the special Meat and Greet events where you also get to experience the jazz concert at the Jazz Club Etoile after your meal.

You will find that the nearest Metro station is Porte Maillot stop serving Line 1, yet this is also a train station serving the RER C Line, however, the bus lines 73 and 98 PC along with the Noctilien Night Bus Service via line N11, N24 and N153 will also get you close by.

Yet if you are coming directly from the Charles de Gaulle airport to the hotel and are ready for a meal at Ma Chere et Tendre, then Le Bus Direct, formerly known as Les Cars Air France, will get you within less than a minute's walk.