History of the Institut de France in Paris

Cardinal Jules Mazarin had succeeded Cardinal Richelieu as the Chief Minister for King Louis XIII and then Chief Minister for the young King Louis XIV with his mother and regent Anne of Austria.

Cardinal Mazarin was very knowledgeable and a bibliophile, yet an avid collector of art and diamonds, and he even bequeathed the Mazarin Diamonds, as they are known, to King Louis XIV, and some of these are still retained and on display within the Musee du Louvre museum.

Because he was such a great reader, he amassed a fabulous collection of books, yet when he had to flee Paris, his first collection was dispersed. But his passion for knowledge never faded and he started his collection again with what was left of the first personal library, with Francois de La Poterie assisting him, and Cardinal Mazarin opened this up to scholars in 1643.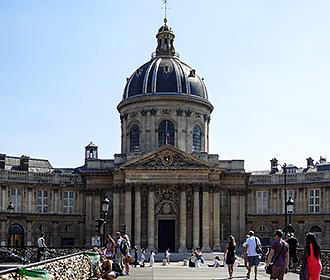 Bequeathed money in order to construct a building in Paris

Cardinal Mazarin had much wealth, and one of the things he wanted to do was set up a college so that he could be remembered, and when he died he bequeathed a large sum of money in order to construct a building in Paris that would be suitable for this purpose. In fact, in his will, Jules Mazarin also bequeathed his entire library, known as the Bibliotheque Mazarine, to what would be this new college as well.

Jean-Baptiste Colberte, who was a French minister, was recommended to King Louis XIV by Cardinal Mazarin, and it was he, who was one of the executors, that took care of the will and the future college.

Also it was Jean-Baptiste Colbert who commissioned the architect Louis Le Vau to design and construct the new school, as he had already worked on palaces such as The Louvre and Chateau Versailles.

Louis Le Vau chose the prestigious site on the opposite bank to the Palais du Louvre, coming up with a design that would incorporate two square pavilions that would flank a chapel and dome, yet gathered together in a wide curve.
However, unfortunately Louis Le Vau died in 1670 well before the building was completed, and the architect Francois d'Orbay succeeded him, and it was Francois d'Orbay that designed the beautiful cupola, or dome roof, which is an impressive 44 metres in height, and although circular on the outside, the inside is in fact an ellipse shape.

Within this chapel and dome was meant to be the resting place of Cardinal Jules Mazarin, yet according to the Institut de France, this was never the case and it is only a mausoleum.

But this was designed by three different sculptors including Charles Antoine Coysevox, who produced numerous statues including the one of Cardinal Mazarin, along with one at the Eglise Saint-Eustache, several at Chateau Versailles, some that were moved from Marly to the Jardin des Tuileries, which are now held within the Musee du Louvre, and statues in the niches on the chapel at Les Invalides to name a few.

Eventually, the new college, which was named the College des Quatre-Nations was opened to the first lot of students in 1688, and the college, along with the Bibliotheque Mazarine continued to prosper until it closed in 1791, yet the history of the Institut de France does not stop there.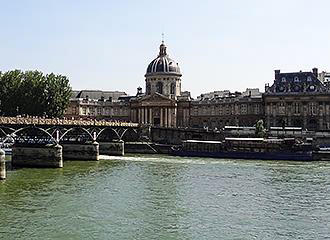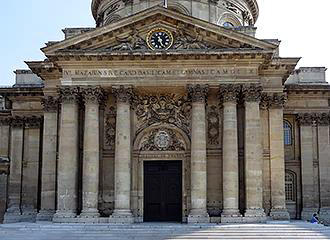 In fact, it was officially re-opened in 1795 with its new name of the Institut de France and incorporated different academies, with the most famous being the Academie Francaise, or French Academy, which is the protector and official authority of the French language and was first set up in 1635.

Another academy, established in 1666 by King Louis XIV, which was designed to protect French scientific research and originally installed in The Louvre, was also moved to the Institut de France and named the Academy of Sciences.

Incredibly, France is the only country that can boast an institution where all endeavours of the mind are covered in one place, whether it be scientific, economist, sculptor, musician, historian, etc, and the Institut de France still continues its role today, with the building itself being classified as an historical monument in Paris back in 1862.
Address and details
Institut de France, 23 Quai de Conti, 75006, Paris, Ile de France, France


Related information
Institut de France
Bibliotheque Mazarine
Institut de France photos
Transport options
Paris Metro lines 1, 4, 7, 10
Bus lines 24, 27
Bus line 39
Bus lines 74, 75, 76
Bus lines 81, 85
Bus line 95
Night bus lines N15, N16
RER Train line C
Water bus service
Attractions close by
Square Gabriel Pierne
Pont des Arts
La Balle au Bond Peniche
River Seine
Square du Vert Galant
Pont Neuf
Equestrian Statue of King Henri IV
Musee du Louvre
Square Michel Caldagues
Square de la Place Dauphine
Musee Eugene Delacroix
La Conciergerie
Arc de Triomphe du Carrousel
Tuileries Gardens