The Buddha-Bar restaurant, bar and night club in Paris

The Buddha-Bar is run by the George V Eatertainment Group that was founded by Raymond Visan, who had the idea of creating unique venues that would combine a bar with a restaurant and a night club that had top DJs performing.

Founded well over 10 years ago, the venture started with the Buddha-Bar in Paris, along with the Barrio Latino and then The Bound and these rapidly became some of the trendy places in Paris that everyone wanted to visit, whether it be the Parisians living there or people that were just going to be on holiday in Paris.

One of the main reasons for their success, was the fact that they had totally unique surroundings that were enchanting, yet provided high quality cuisine with an ambiance that was tailored to each venue, along with of course the music supplied by live DJs for night clubbing and their bars.

The Buddha-Bar itself became such a resounding success, that there were several of these that have since opened up in countries all over the world from London in the UK to Washington in the US and others in Dubai, Cairo, Monte-Carlo, etc.


About the Buddha-Bar in Paris

The minute you enter the two story building of the Buddha-Bar in Paris, you will feel like you have entered a completely different world with its exotic and soothing atmosphere, with the focal point being an exceedingly large Buddha, which of course is how the venue in Paris got its name.
The refined decor of the Buddha-Bar restaurant in Paris has subtle amber coloured lighting and chandeliers with rich mahogany furniture, luxury fabrics, Portuguese mosaics and decorated wood panels, with the colour scheme utilising rich reds and gold colours to provide you with the feelings of luxury, refinement and intimacy.

You will find Chinese and Japanese art objects, Khmer statues and even 18th century wrought iron balustrades on the mezzanine that holds the bar, which is in the shape of an ornate sleeping dragon, and looks over to the extremely large Buddha statue on the ground floor in the dining area.

The top DJs will provide the music selections for a great evening of entertainment in Paris, and in fact there are even music compilations that have been recorded from this night club in Paris and they are on sale.


But perhaps you would prefer just to have a drink at this unusual bar in Paris, or tempt your taste buds with some of the exotic cuisine on offer.


Cuisine at the Buddha-Bar in Paris

The chefs have created a range of dishes that combine exotic flavours and delicacies with high end cuisine that will tempt your taste buds for something completely different from the normal French food that you would experience at many of the restaurants in Paris.

And there are fixed price luncheon menus that start at €22 per person for one of the Tempura Platters such as a fish one that includes salmon, teriyaki fish, shrimp tempura, vegetable tempura, steamed rice and cucumber salad.

As of 2012, for €26 you could opt for the Bento Menu which could include chicken, shrimp, vegetable tempura, cucumber salad and rice along with a mango soup plus chocolate and sesame bars. For this you also get a glass of drink of your choice such as a wine or mineral water.

The next and most expensive luncheon menu option is a cost of €30 per person as of 2012 and this provides a tasting menu of hors d'oeuvre, main course, dessert and a choice of drink.

However, of an evening there is the a la carte option, with appetisers or starters like a spicy tuna tartare or chicken salad and desserts such as a dark chocolate mousse with caramalised walnuts.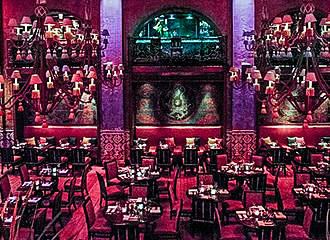 Yet just the cost of a main course will set you back anything from €23 up to €37, but you could enjoy numerous different delights like Chilean sea bass with seasonal vegetables and a pepper and lemon emulsified sauce, five spices grilled chicken or Peking duck with candied fruit.


Access to the Buddha-Bar in Paris

The Buddha-Bar restaurant, bar and night club in Paris is located close to the Place de la Concorde and the famous Champs Elysees avenue in the 8th Arrondissement, with the closest Metro station being called Madeleine.

But there is some good news, as there is a valet parking service if you are arriving with your own means of transport and they can arrange for one of the taxis in Paris to pick you up and take you back to your hotel in the evening.

The Buddha-Bar in Paris is open from 12 noon until late on a Monday to Friday, but on a Saturday and Sunday it is only open for dinner.

And although reservations are required for groups, it is not always necessary for individuals, however, because of its popularity it is highly recommended that you do book for a meal and this can be done via telephone, or email.

Most Parisians dress up for an evening out, and because of the type of clientele and the fact that this is a trendy place to eat out in Paris, then suitable dress is recommended, as you will often see people in suits or fashionable and trendy attire.