Maxim's de Paris Restaurant


Maxim's has always been known as an icon internationally with a restaurant in Paris frequented by the rich and famous, yet since Pierre Cardin took over, it has gone further to include an art nouveau museum as well.


About Maxim's de Paris Restaurant

The facade of Maxim's de Paris has become the symbol of art nourveau, which was originally completed ready for the 1900 Universal Exhibition, or World Fair in Paris, and the internal decoration is also in the same style with its glass ceiling, many mirrors and woodworks.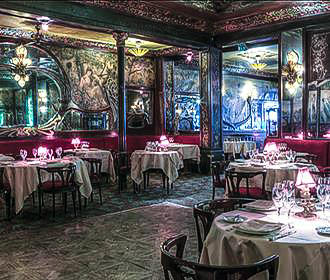 The great artists from the school of Nancy were chosen to restore and transform the bistro into an elegant restaurant that would be appropriate for its chic clientele, and so the legend of Maxim's began.

Yet when you look at the history of Maxim's de Paris, you will find that the famous fashion designer Pierre Cardin took over this restaurant in Paris back in the 1980s and even though the art nouveau decor remained, the place took on a whole new lease of life, which still attracts the elite, rich and famous.

With the passion that Pierre Cardin has for the Belle Epoch era of styling and the amount of furniture and different objects he had collected over the years, he decided to open the Maxim's Musee Art Nouveau Museum, which is located above the restaurant and has been designed like a typical apartment belonging to a courtesan of the time.

You will also find that Pierre Cardin has created a contemporary artistic world with a very chic atmosphere that lends itself to numerous types of entertainment, which can all be arranged for special occasions.
The Cuisine at Maxim's de Paris Restaurant

Maxim's serves traditional classics of French food and is known as a top table restaurant for gourmet French cuisine, which is served by friendly and attentive waiters in traditional dress.

Now as you would expect from such a restaurant in Paris, the price tag is there to match, so do expect to be paying around €150 to €250 for a three course meal in this romantic setting with its soft lights and classic French songs playing softly.

However, delights on the menu could be starters such as Terrine of duck with foie gras and truffles, Poached quail eggs with Baeri caviar, Duck foie gras confit, kumquats and sweet potato with the maniguette, Caviar Baeri and its blinis or Seared langoustines, crunchy salad with black truffle and leek coulis vinaigrette.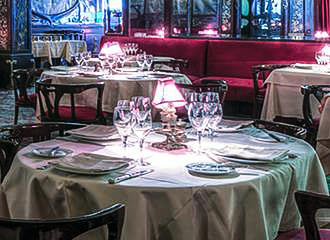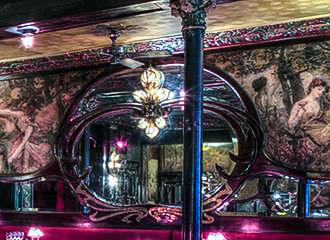 Main courses as a fish course could be Braised Sole Albert with vermouth and langoustine, Blue lobster cooked in half-salted butter, green asparagus and grilled romaine heart, caramel sauce with condiments or Turbot fillet cooked in the natural, raw and cooked white asparagus, citrus fruit juice.

Meat dishes at Maxim's Restaurant could be Roasted beef tenderloin, reduced juice with black truffle and puffed apples, Hazelnuts of lamb Edouard VII, artichoke puree and young glazed turnips, Limousin veal roasted in the saltire, green asparagus and crunchy vegetables, with its juice or Bresse chicken roasted in a casserole, mashed potatoes ratte with black truffles and small salad, which is actually designed for two people.

You could then opt for a cheese platter with fresh and refined cheeses, or just go for one of the very tempting desserts from the pastry trolley such as Lemon tart, Raspberry mille feuille, Apple tart, Chocolate pie, Raspberry tart, etc, then you could round off your meal with a coffee.

As you can no doubt expect, the competent chef and his team utilise the freshest seasonal ingredients available, so you will find that the menu does change with the seasons, and therefore the above is as a guide only, but you can always expect a wide variety of tempting dishes from this gourmet restaurant in Paris.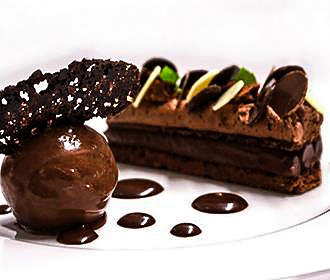 Visiting the Maxim's de Paris Restaurant

Maxim's de Paris is located in the 8th Arrondissement between the Place de la Concorde and the Place de la Madeleine with its incredible Madeleine church and it is also only a few steps away from the River Seine on the Rue Royale.

However, please do not get this restaurant in Paris mixed up with others of the same name, as one is a brasserie and another is located by the airport and these ones do not have the same feel, ambience and definitely not the same cuisine to match the true legendary Belle Epoch venue of Maxim's de Paris.

Yet there is a also a Maxim's boat that is a floating restaurant on the River Seine, which also belongs to Pierre Cardin, and this can be booked for functions and private parties, and can be found at the Port de Suffren very close to the Eiffel Tower.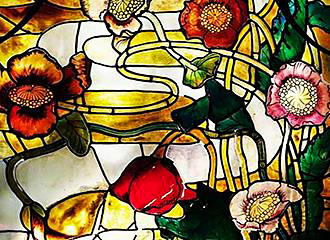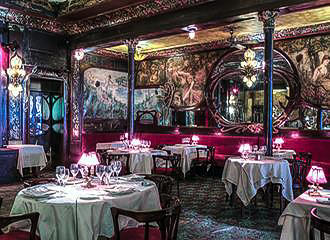 Also, Maxim's has opened up a brasserie in Paris on the very same street, yet this is actually called Minim's, not Maxim's, so as to cause no confusion, and this is open for lunch as well as dinner.

Anyway, getting back to this haute cuisine restaurant, which is located within a building that has now been classified as an historical monument in Paris, you will find that it is open on a Tuesday through to a Saturday for dinner only, but reservations are required in advance.

If you are a group of 20 or more people, then you do have to book in advance and there is a set menu option for this aspect, however, for groups of 40 plus people you can also privatise different rooms of the restaurant, whether it be for a sit down dinner, cocktail reception or a buffet, and there are numerous different options available depending upon your budget.

Now we mentioned earlier that Maxim's is only open for dinner of an evening if dining as an individual or small group, plus it is closed on a Sunday and Monday, yet for large groups and by prior arrangement with booking, the venue can be opened for lunchtime or on a Sunday and Monday.

We would also like to point out that smart dress is required, and when eating out in Paris this is basically expected, especially at a top table restaurant where you will often find people in true evening wear.


Access to Maxim's de Paris Restaurant

When it comes to getting here via public transport in Paris, you will find that the nearest Metro stations are called the Concorde stop via lines 1, 8 and 12 or the Madeleine stop serving lines 8, 12 and 14.

In addition, the buses via lines 24, 42, 52, 72, 73, 84 and 94 or the Noctilien Night Bus Service via lines N11 and N24 that will also get you within walking distance of this impressive restaurant and its Art Nouveau Museum in Paris.