HD photographs of Le Tibre statue group in Jardin des Tuileries - Page 632

We were within the Jardin des Tuileries in the 1st Arrondissement of Paris, when we took these high definition photos showing a statue called Le Tibre, which was sculpted by Pierre Bourdict and represents the River God of the Tiber.


Paris Statues
- << Previous 631 632 633 634 635 636 637 638 639 640 Next >>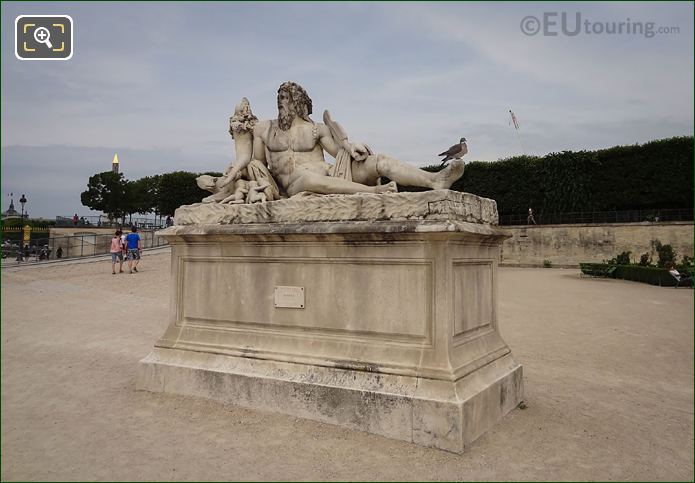 This first HD photo shows the entire statue made of marble on its large pedestal base, and called Le Tibre in French, this translates to The Tiber, which in English refers to the River Tiber that flows through Rome, Italy.
So this next photo shows a close up of the statue with the God of the River Tiber, who is depicted as a middle aged gentleman holding a rudder in his left hand and a cornucopia in his right hand, which was sculpted by Pierre Bourdict, also sometimes referred to as Pierre Bourdy.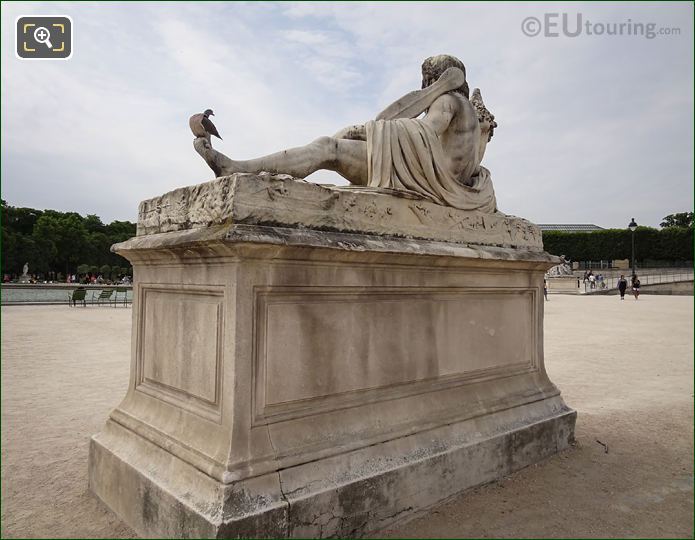 But let us provide you with a little background history, as there is a statue on the very same theme that is thought to have been sculpted back in the time of Hadrian between around 117 and 138 AD, although the statue could even be dated even earlier.

Yet this statue was lost and only discovered again in 1512 on the site of the ancient sanctuary of Isis and Serapis in Rome, and was one of a pair, with the other depicting the Nile, and these were thought to have been adorning a fountain on the driveway leading to the sanctuary.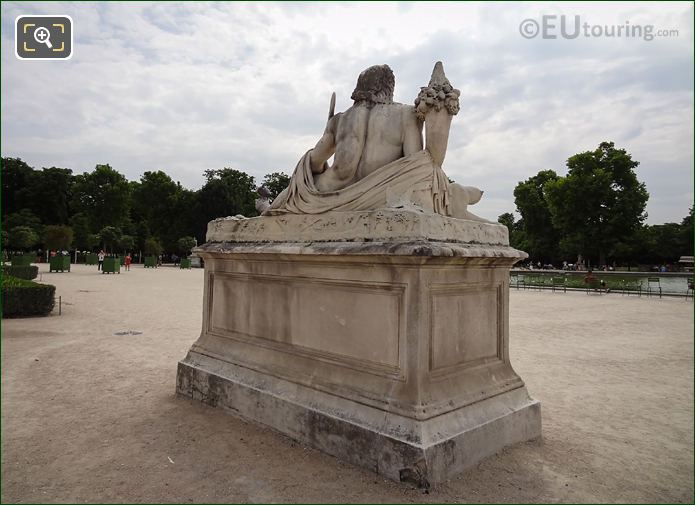 Now the reason we mention this, is because Pierre Bourdict, or Pierre Bourdy, who was first known in 1684, studied at the French Academy in Rome, and while there produced a marble statue in a very similar style and on the same theme as the original that was purchased by Pope Julius II.

So, the marble statue of Le Tibre that you can see here was sculpted between 1688 and 1690 and sent back to France, it was eventually placed within the Tuileries Gardens in 1719, although Pierre never saw this happen, as according to some records he passed away in 1711.
But here you can see a close up photo showing the bearded man depicting the River God of the Tiber and the cornucopia he is holding, which was designed to represent the nurturing qualities of the river, and a cornucopia is a symbol of plenty, usually depicted as a goats horn overflowing with items such as fruit, corn and flowers.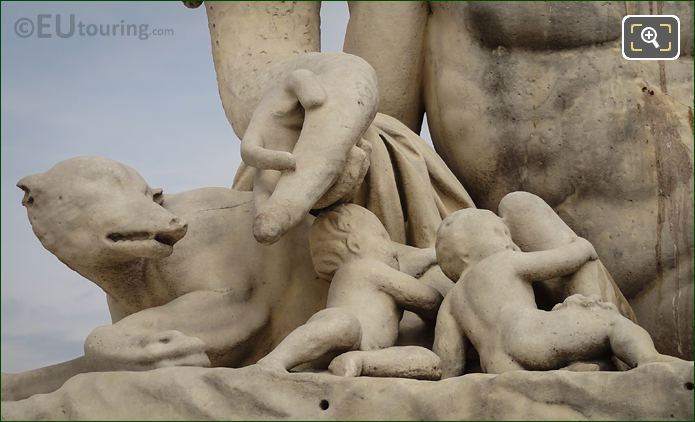 Yet in this close up photo you can see a she-wolf with two very young children, which were sculpted to represent Romulus and Remus, the twins behind the legendary founding of Rome in Roman mythology.

These twins according to myth and legend were originally left to die in the Tiber River, but were saved by the she-wolf suckling them and a woodpecker feeding them, before being raised by a shepherd and his wife. Yet natural born leaders they found out about their origins while wishing to build a new city, yet quarrelling, Remus died, but Romulus founded a new city he called Rome.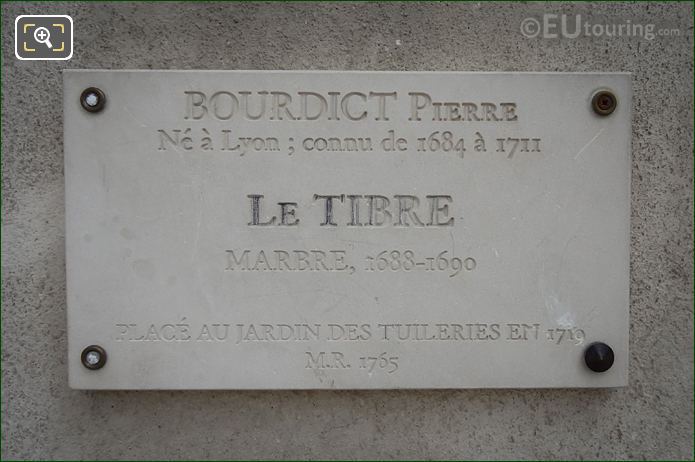 However, this photo shows a close up of the plaque that is located on the pedestal base of Le Tibre statue at the front and as you can see, it states that Pierre Bourdict was born in Lyon, but was known from 1684 to 1711, so these are his assumed dates of birth and death.

Also, at the very bottom of the plaque it states M R 1765, which is actually the Louvre Museum Inventory Number for this particular statue of The Tiber that was produced in marble between 1688 and 1690.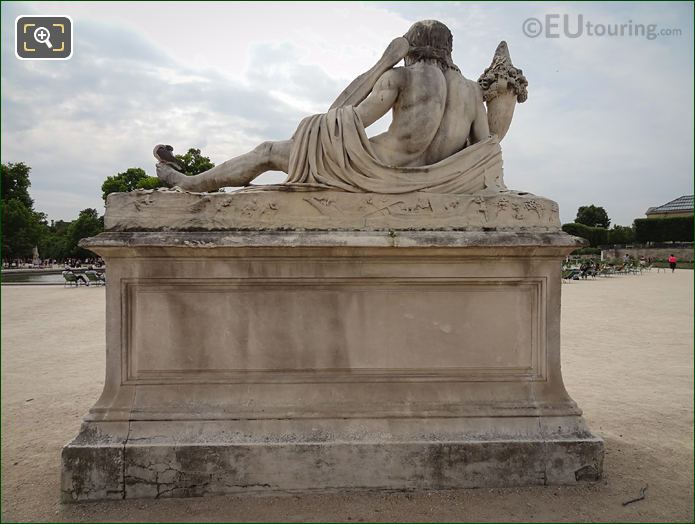 But, we mentioned before that there was an original, and through the Treaty of Tolentino in 1797, this along with the Nile statue were seized by France and taken to The Palais du Louvre along with numerous other works, but after the defeat of Napoleon Bonaparte in 1815, many works were returned to Italy and the Nile statue is now held at the Vatican.

Although, the original statue of Le Tibre was offered by Pope Pius VII to King Louis XVIII and therefore has remained at the Musee du Louvre under the Inventory Number 593 M A, and can still be viewed at this famous tourist attraction in Paris today.
Yet this last photograph shows the location of the later statue of The Tiber and the River God of the Tiber, positioned within the westerly side of the Jardin des Tuileries in the 1st Arrondissement of Paris.

And Le Tibre statue is close to the raised horseshoe ramps, which were designed and constructed by Andre Le Notre that you can see in this image, and these are by the entrance taking you to the Place de la Concorde with the Luxor Obelisk, which you can also see to the far right of the picture.

Paris Statues - << Previous 631 632 633 634 635 636 637 638 639 640 Next >>


If you would like to use any of these photos for non commercial use we only ask that you please do include recognition to ourselves "eutouring.com", but if you are not sure with regards to usage, please contact us.