HD photographs of Apollo statue inside Jardin des Tuileries - Page 714

This time while we were in the Jardin des Tuileries in the 1st Arrondissement of Paris, we took these high definition photos showing the statue of Apollo, the God of Music, which was sculpted by Nicolas Coustou.


Paris Statues
- << Previous 711 712 713 714 715 716 717 718 719 720 Next >>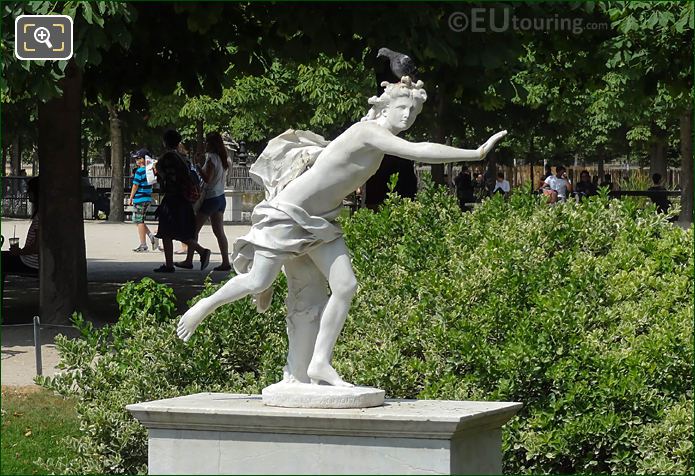 This first HD photo shows the statue of Apollo, which is spelt Apollon in French, and although he was the God of Music in Greek mythology, in Ovid's Metamorphoses, the myth portrays Apollo pursuing Daphne, which is why this statue looks like he is running.
The statue of Apollo was sculpted by Nicolas Coustou who was born in Lyon in 1658, and the son of a woodcarver, he ended up going to Paris to study art and sculpture under his Uncle, Charles Antoine Coysevox, winning the Colbert Prize, which became known as the Prix de Rome.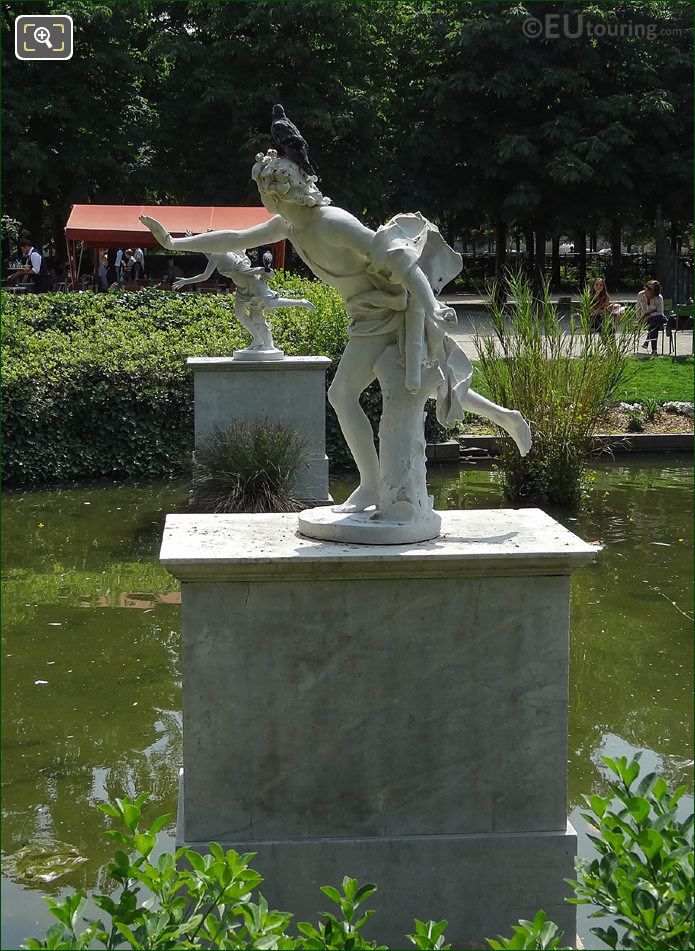 So having studied at the French Academy in Rome, Nicolas Coustou returned to Paris and started working with Coysevox at the Chateau de Versailles and at the royal residence of Marly, which has since been destroyed, and this statue of Apollo was originally sculpted in 1714 for the Marly Chateau.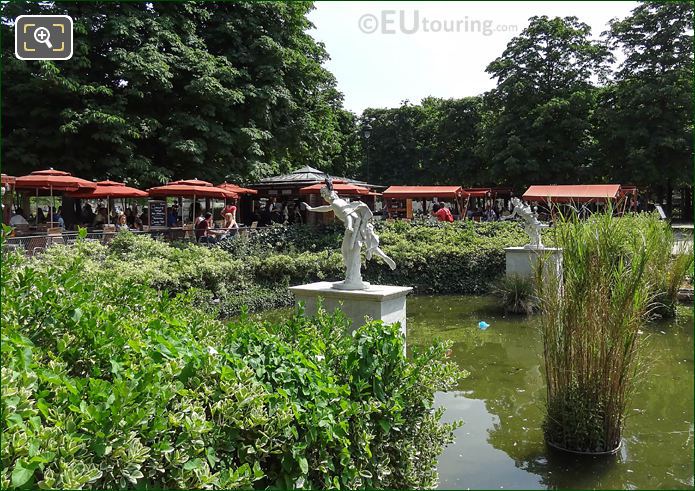 However, like some other statues that were initially designed for Marly, the ones that remained in tact after the French Revolution were removed and brought to the Jardin des Tuileries, and this Apollon statue along with the accompanying statue of Daphne were put in place within these gardens back in 1797.
The original statue of Apollo by Nicolas Coustou was produced in marble, and it remained within the grounds of the Tuileries Gardens right up until 1940, when it was moved to inside the famous tourist attraction of the Musee du Louvre.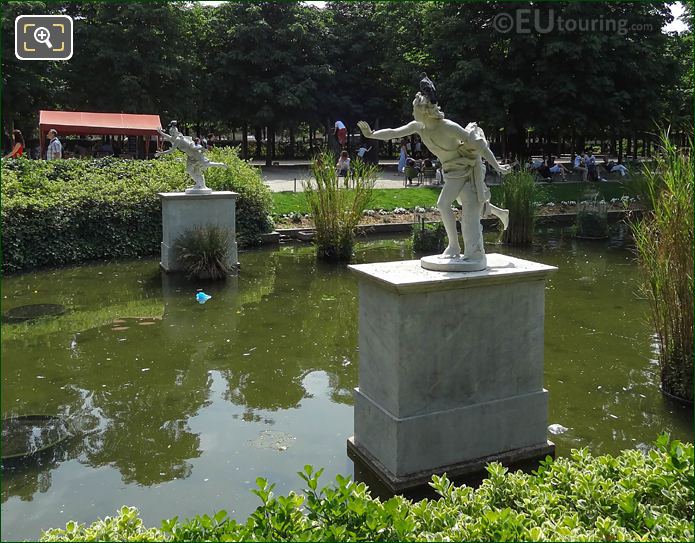 You will find that Nicolas Coustou often used to work with his younger brother Guillaume Coustou who was also a renowned sculptor of his time, which is why sometimes it is hard to tell who the author of a particular statue was by, and the statue group called Apollo Pursuing Daphne, or in French, Apollon Poursuivant Daphne were produced by the two brothers.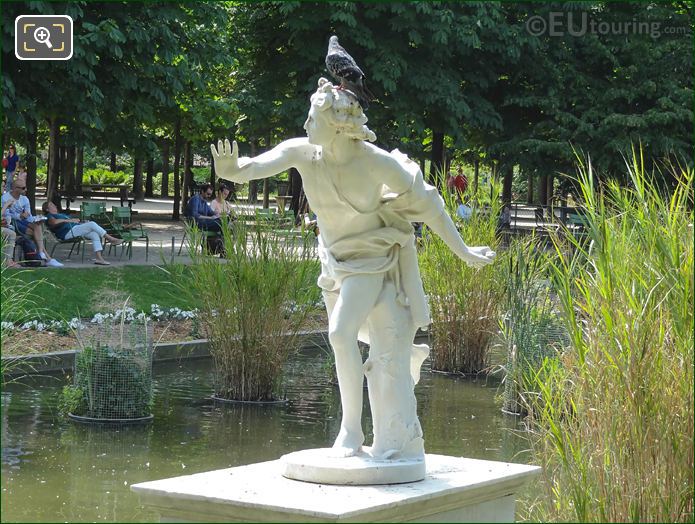 Yet it is confirmed that the statue of Apollo was indeed sculpted by Nicolas Coustou, as his name is on the plinth of the original statue, whereas the statue of Daphne has G Coustou inscribed on the tree trunk, and these two marble statues were fully restored to their former glory between the years of 2004 and 2006.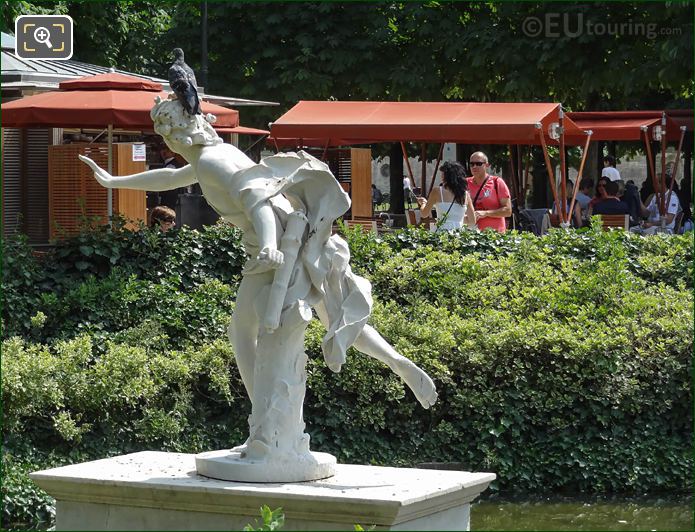 But the statue of Apollo you can see in this photo located within the Jardin des Tuileries is a moulding or cast, which is spelt moulage in French, and although Apollo is often referred to as the God of Music, he is also known as The Archer, and this is why he has been portrayed in this composition with a sack for holding arrows, called a quiver.
Also, in Greek mythology and the myth in Ovid's Metamorphosis, Apollo was hit by a golden arrow after taunting Eros, or Cupid, so that he would be seized with love for Daphne, yet she was hit with a lead arrow, so that Daphne would despise Apollo and remain a virgin, never marrying.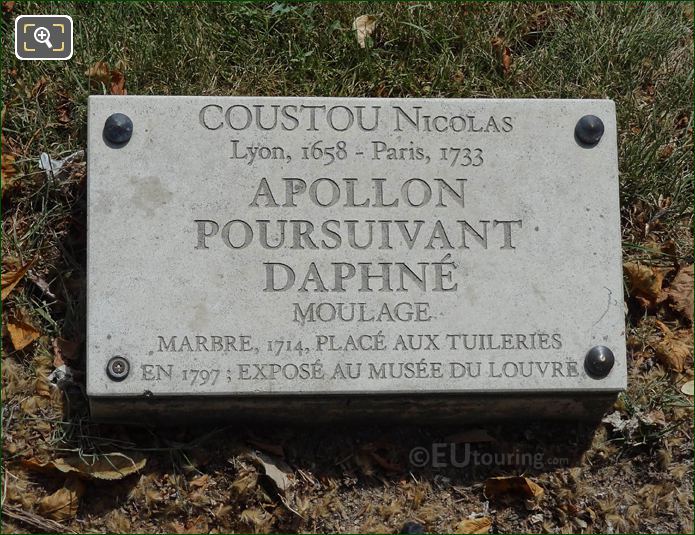 And here you can see a close up photo we took showing the tourist information plaque that is positioned on the ground in front of the pond, that provides basic details about this statue group of Apollon Poursuivant Daphne within the Jardin des Tuileries.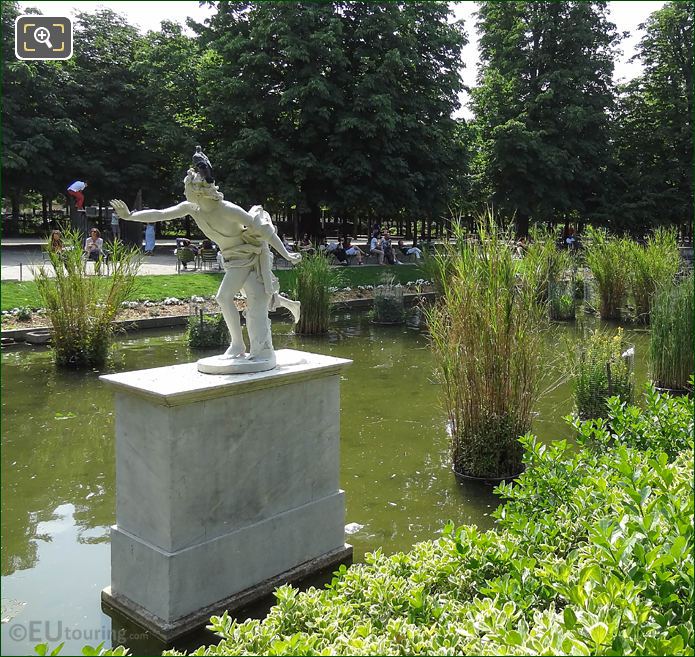 Now originally the marble statue of Apollo by Nicolas Coustou was designed to be placed within a carp pond at the Chateau Marly, so it is rather apt that the cast of the original statue is still located on a tall pedestal within a pond full of fish in the Tuileries Gardens, at this popular tourist attraction in Paris.

Paris Statues - << Previous 711 712 713 714 715 716 717 718 719 720 Next >>


If you would like to use any of these photos for non commercial use we only ask that you please do include recognition to ourselves "eutouring.com", but if you are not sure with regards to usage, please contact us.