HD photographs of Exedre Sud pond inside Jardin des Tuileries - Page 53

We took these high definition photos showing the Exedre Sud, which is located within the Grand Couvert area of the Jardin des Tuileries in the 1st Arrondissement of Paris.


Tuileries photos
- << Previous 51 52 53 54 55 56 57 58 59 60 Next >>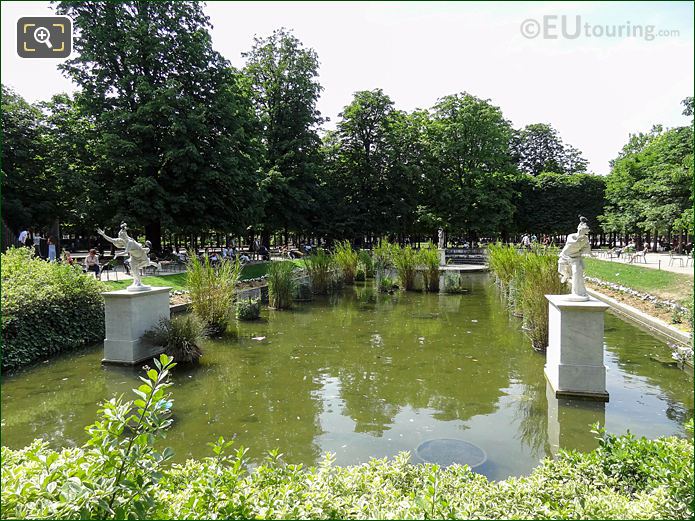 This first HD photo shows the pond within the Jardin des Tuileries called the Exedre Sud, which in English translates to South Exedra, and this can be found within a section of the gardens called the Grand Couvert, that is covered by numerous trees.
However, here you can see the view from the opposite end of the Exedre Sud pond as we were looking in an easterly direction towards one of the restaurants located within the Tuileries Gardens, which has lovely views over the area and also provides much needed shade on a summers day.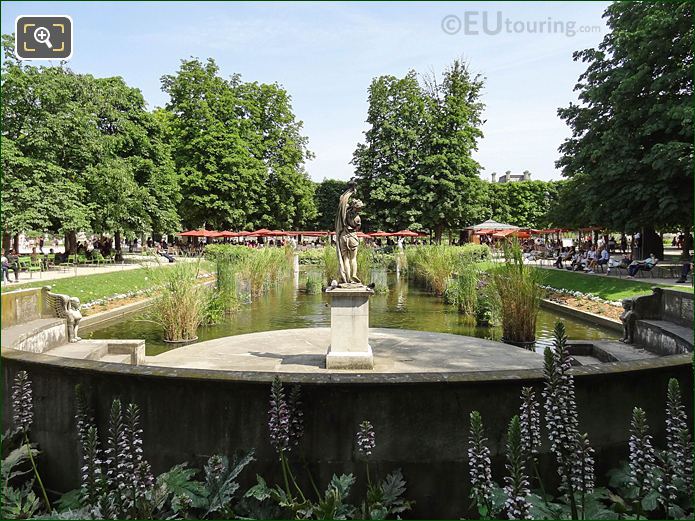 Now an exedra is actually an architectural feature that has been used for centuries within buildings and gardens, and they are designed with the wall as an arc or semi-circular shape, which has a platform, and like you can see here, they are sometimes used as a feature for placing statues on.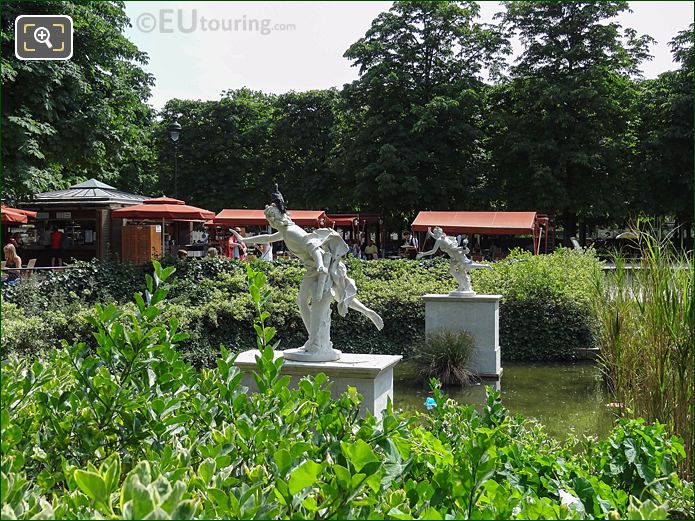 You will also find that different water features including fish ponds, basins and water fountains have been utilised within French Gardens for centuries, especially those belonging to royal chateaux, and it was the new government that decided to renovate the Jardin des Tuileries back in 1794, which is when the Exedre Sud was constructed.
In fact, it was the architect August Cheval de Saint-Hubert and the painter Jacques Louis David who designed new elements for the Tuileries Gardens where they envisioned a classical style influenced by ancient Rome, and historical statues such as this one called Venus Callipyge were a part of the plan.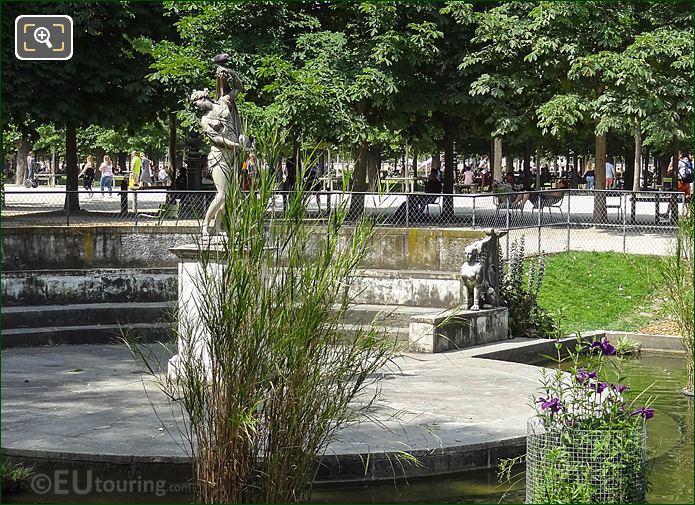 Venus Callipyge was actually sculpted at the French Academy in Rome back in the 1600s and shipped to the Chateau de Versailles, but then went to the former Chateau de Marly, before being placed on the South Exedra in 1794, which is what happened with the other statues on both of the exedras within the Tuileries Gardens.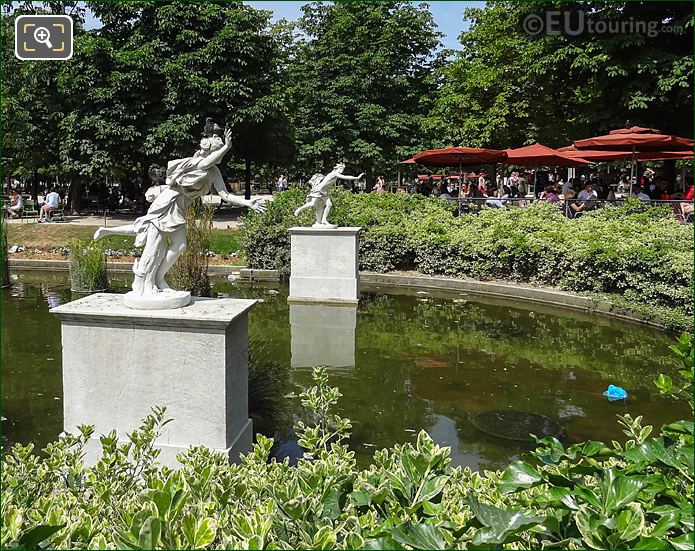 But this next photograph shows an additional two historical statues that were placed within the Exedre Sud pond in the late 1700s, which are named Apollo and Daphne, or a full title of Apollo Pursuing Daphne, based upon a mythological story.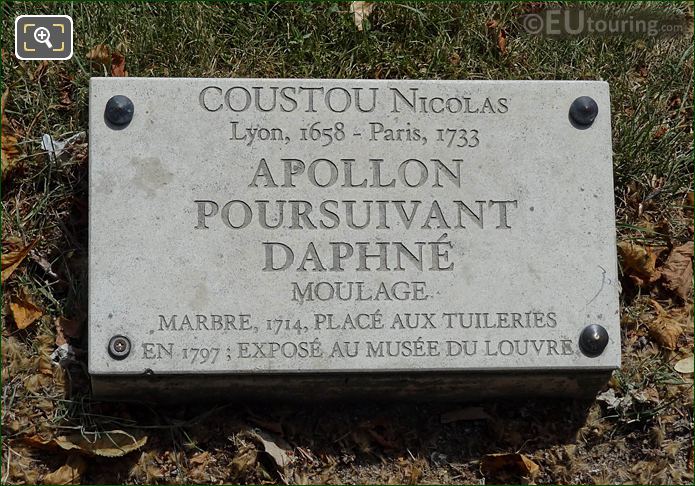 Although, due to their age, as you can see from this close up photo showing the plaque located by the pond, these are actually copies or casts of Apollo and Daphne, with the originals being held within the Musee du Louvre, who also maintain all different aspects of the historical Tuileries Gardens.
So here you can see another view of the Exedre Sud, with its aquatic plants such as reeds, and this pond also holds fish, which is in keeping with the tradition of ponds that can be found within the gardens of royal castles, just like the Jardin des Tuileries, which was classified as a protected historical monument back in 1914, and a UNESCO World Heritage Site in 1991.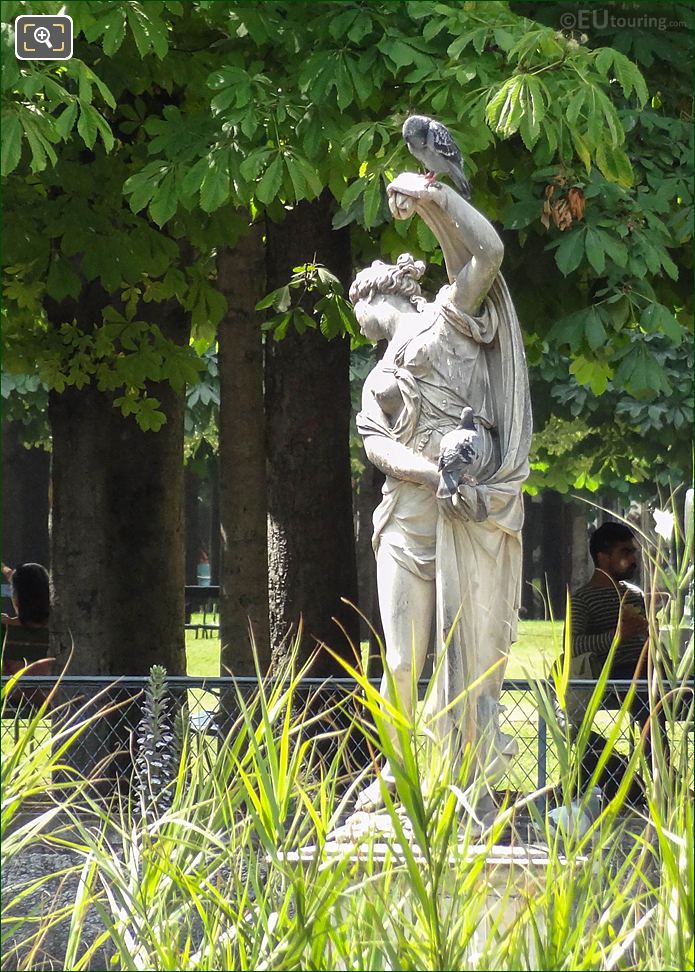 And here is another photo showing the Venus Callipyge statue that was produced by Francois Barois who sculpted this as a copy of an original dating centuries before, which, as we have mentioned, is located at the exedra of the Exedre Sud within the Grand Couvert area of the Tuileries Gardens.

Tuileries photos - << Previous 51 52 53 54 55 56 57 58 59 60 Next >>


If you would like to use any of these photos for non commercial use we only ask that you please do include recognition to ourselves "eutouring.com", but if you are not sure with regards to usage, please contact us.