HD photographs of 1722 Julius Caesar statue in Jardin des Tuileries - Page 646

We were again within the Jardin des Tuileries in the 1st Arrondissement of Paris, when we took these high definition photos showing a statue of Julius Caesar, which was sculpted by Nicolas Coustou.


Paris Statues
- << Previous 641 642 643 644 645 646 647 648 649 650 Next >>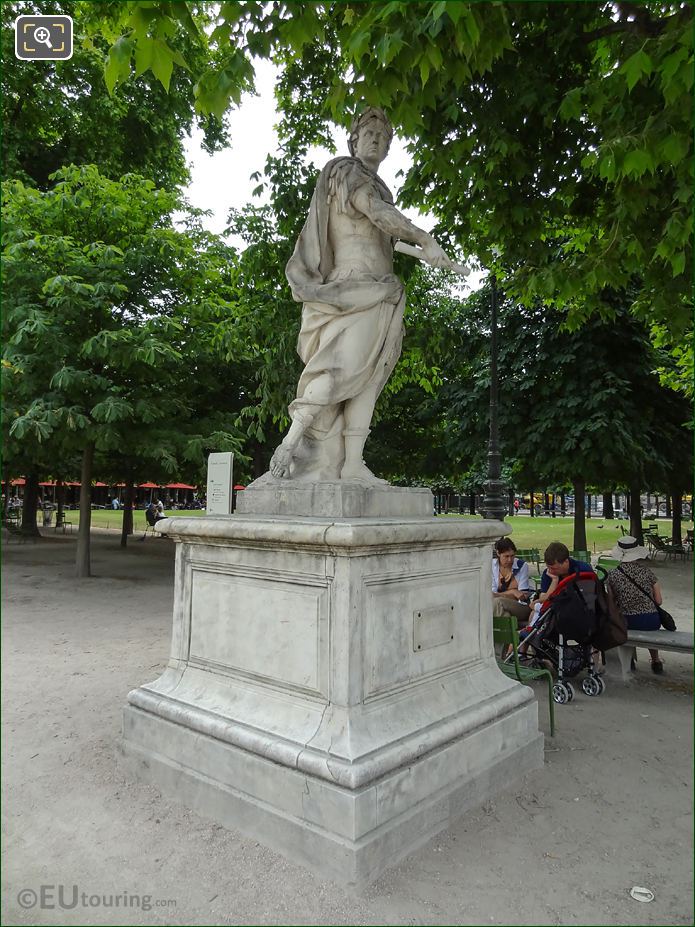 This first HD photo shows the statue of Julius Caesar, that is spelt Jules Cesar in French, and originally this was commissioned to the sculptor Nicolas Coustou by King Louis XIV for the Chateau de Versailles back in 1696, which was to make up a pair with a statue of Hannibal by another artist Sebastien Slodtz.
The full size marble statue measuring a height of 2.42 metres was only paid for in 1713, yet it was not until 1722, that this was placed within the popular tourist attraction of the Jardin des Tuileries, however, the original statue of Julius Caesar is now held within the Musee du Louvre, and this is a moulding, so as to still preserve the original.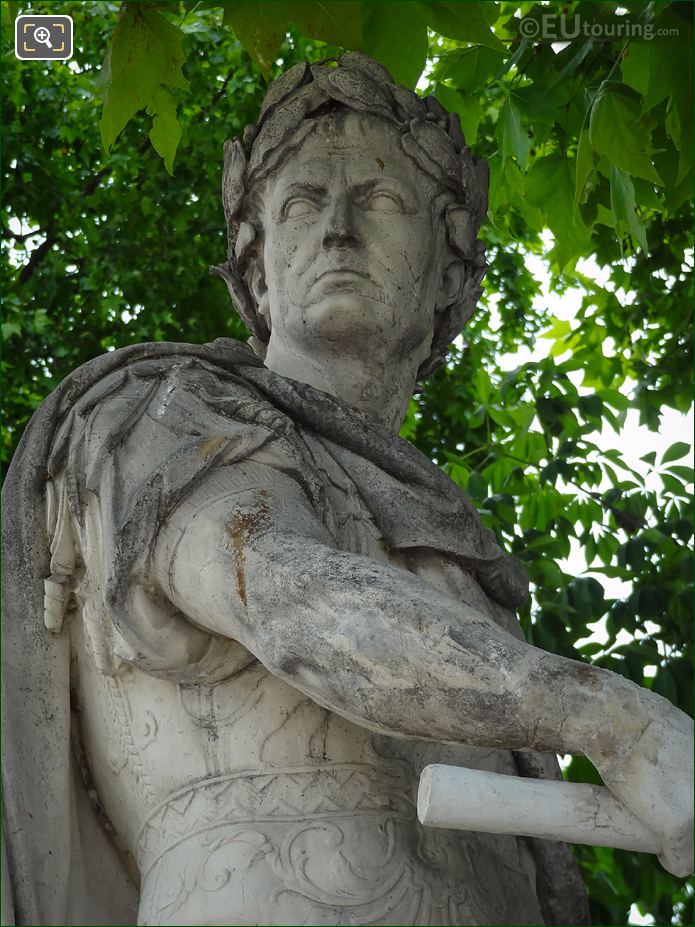 Yet here you can see some of the detailing that went into producing this statue, which was by Nicolas Coustou, also sometimes spelt Nicolaus Coustou as you will see later, and the son of a woodcarver born in Lyon in 1658, he moved to Paris to study under Charles Antoine Coysevox who was his uncle.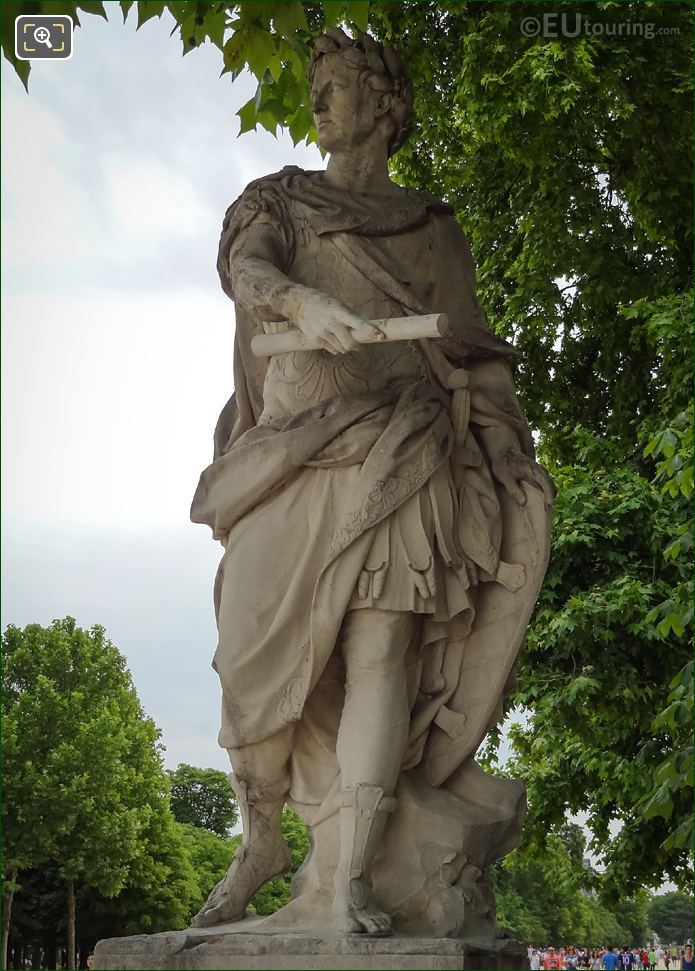 Nicolas Coustou also had a brother called Guilleme Coustou and having both trained under Coysevox and won what was then known as the Colbert prize, in other words the Prix de Rome, they often worked together being employed by King Louis XIV to produce sculptures and statues for castles such as Versailles and Marly, which is why their works sometimes get confused.
Now here you can see the statue of Julius Caesar standing in Roman armour with a cloak and in his extended right hand he is holding a marshals baton, and this type of pose was designed to depict him as a general but also a statesman, as Julius Caesar played a major role in events leading up to the fall of the Roman Republic and the rise of the Roman Empire.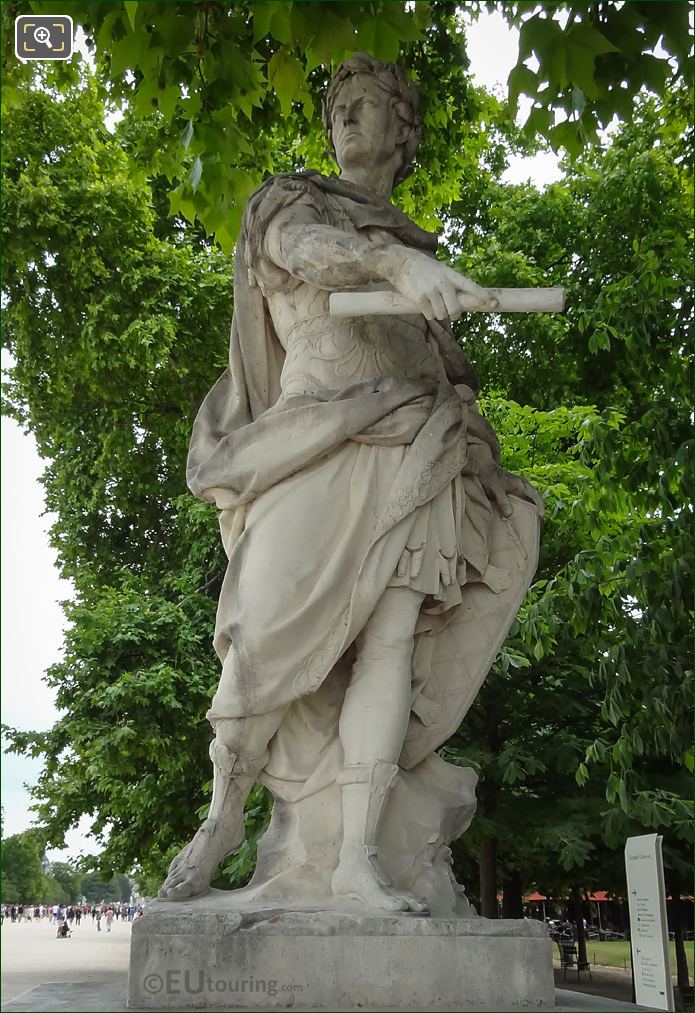 But in this high definition photo you can see that Nicolas Coustou has also depicted Jules Cesar leaning on a shield with his left hand, and born Gaius Julius Caesar in 100 BC he came to prominence after winning the civil war against Pompey, eventually being declared Dictator in 49 BC, ruling until he was assassinated in 44 BC.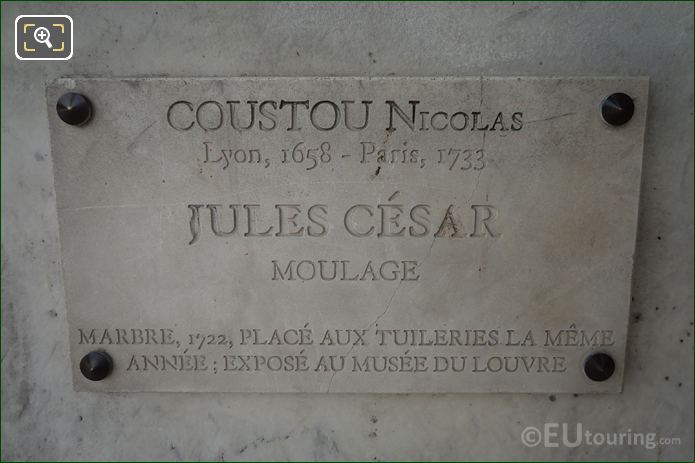 So in this close up you can see the plaque which is located on the pedestal base of the statue, and as you can tell, was originally produced in marble, but what you will get to see in this famous garden now, is an exact copy, or moulding, which is what Moulage translates to from French.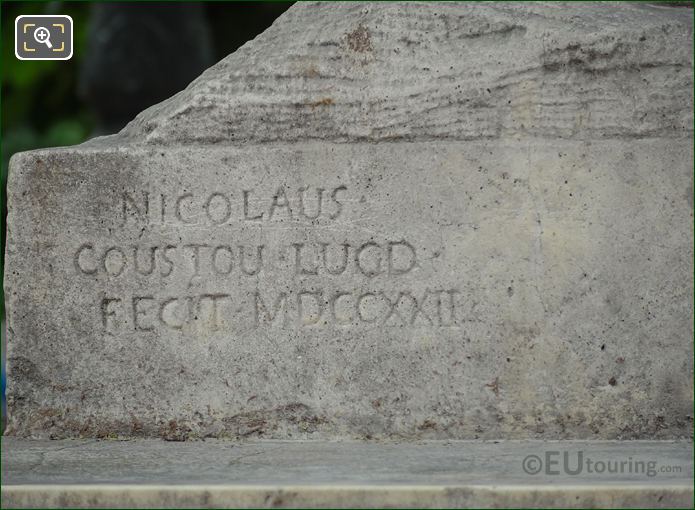 However, this close up photo shows where the statue of Julius Caesar has been engraved with the name of the artist, Nicolaus Coustou and on the bottom line it states MDCCXXII, which is actually the year 1722 when this was first placed within the Tuileries Gardens.
And this last image shows another side on view of the statue depicting Julius Caesar, but we would also like to point out that there is a second statue located within the Jardin des Tuileries, which also depicts Jules Cesar, although this was sculpted by a completely different artist.

Paris Statues - << Previous 641 642 643 644 645 646 647 648 649 650 Next >>


If you would like to use any of these photos for non commercial use we only ask that you please do include recognition to ourselves "eutouring.com", but if you are not sure with regards to usage, please contact us.