HD photographs of The Welcoming Hands sculptures in Tuileries Gardens Paris - Page 959
We were in the 1st Arrondissement of Paris within the Jardin des Tuileries, when we took these high definition photos showing a sculpture group called The Welcoming Hands, which was produced by Louise Bourgeois.


[ Map of Paris Statues ]
<<
Previous
946
947
948
949
950
951
952
953
954
955
956
957
958
959
960
Next
>>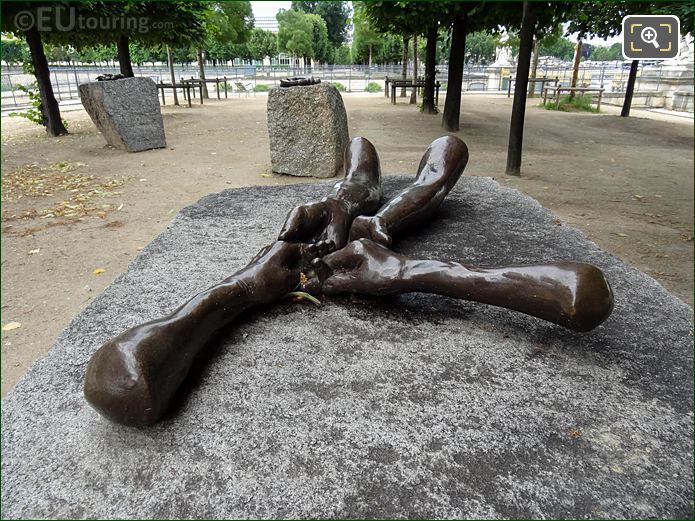 This first HD photo shows a set of four hands, wrists and lower arms that were sculpted in bronze and placed on a granite base as part of a contemporary art sculpture that was produced by Louise Bourgeois.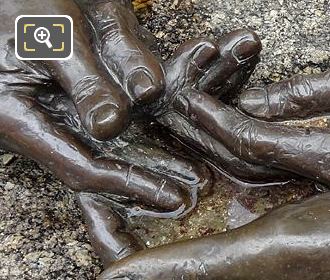 Louise Bourgeois was born in Paris on 25th December 1911 and initially her parent had an art gallery, then moved out of the city and set up a tapestry restoration business, so art was always a part of her life, yet with an awkward family life and her father having an affair with her English tutor she had a troubled childhood.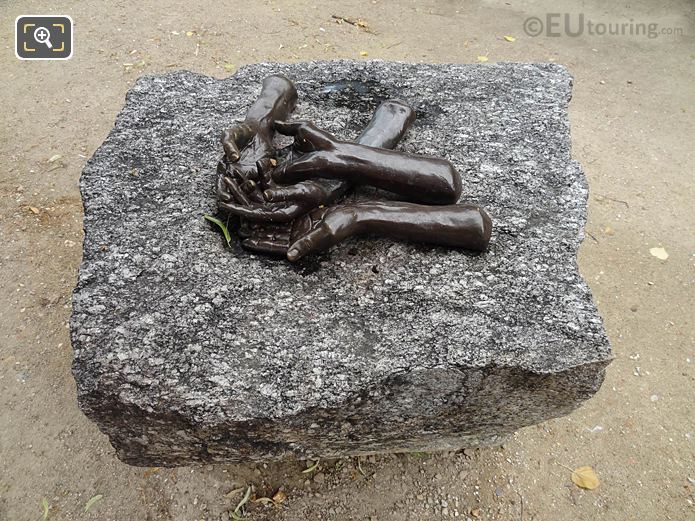 This led to Louis Bourgeois initially studying mathematics and geometry at the Sorboone for stability, yet when her mother died she changed focus taking up art and becoming an English translator for the lessons, meaning her tuition was completely free, and it was then that she discovered her childhood and her life were the inspiration for her art.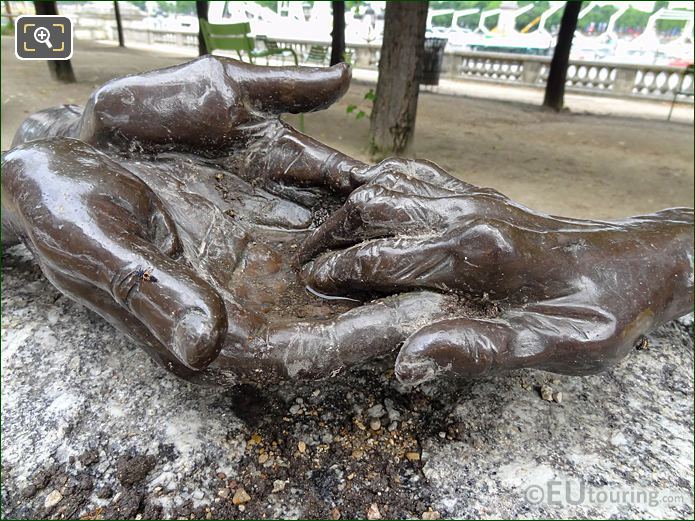 Always wanting to learn more she helped at exhibitions for other artists and this is where she met an American art historian who became her husband, and just before World War II began, Louise and her family moved to America from France, which is where she remained for the rest of her life.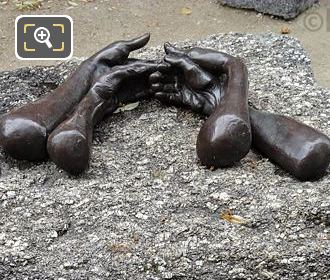 Louise Bourgeois continued producing works of art, which actually became more prolific as the years passed, and every piece or composition was always thought provoking or related in some way to her childhood or her life, just like The Welcoming Hands that you can see in these photos.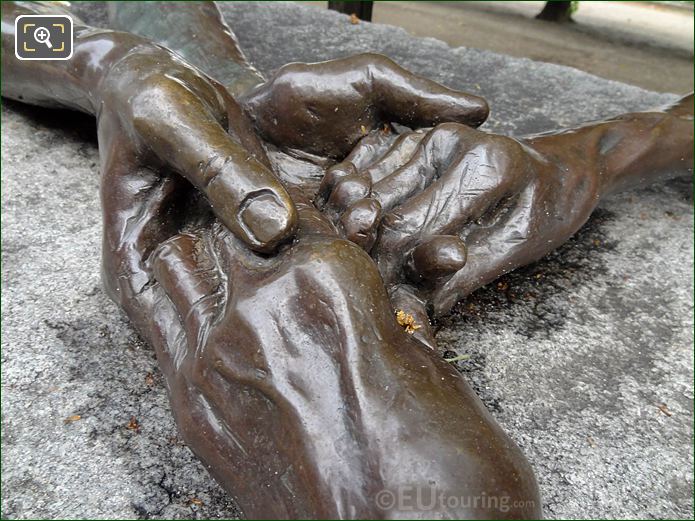 And here is a close up photo showing two pairs of hands clasping each other, which were modelled on real peoples hands and cast in bronze as part of the contemporary art composition of The Welcoming Hands, which were produced in 1996, and initially put on display in New York.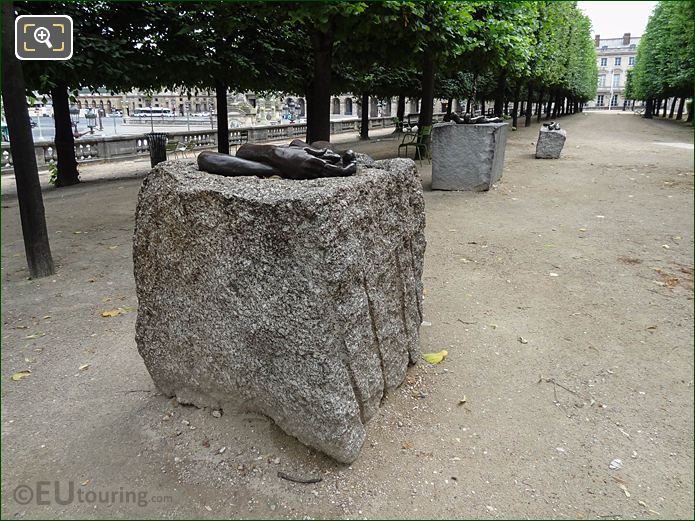 Yet here you can see a view looking down the north western terrace within the Tuileries Gardens called the Terrasse du Jeu de Paume showing three of the granite blocks of varying shapes and sizes that hold parts of The Welcoming Hands composition, and to get your bearings, to the left of the image is the Place de la Concorde.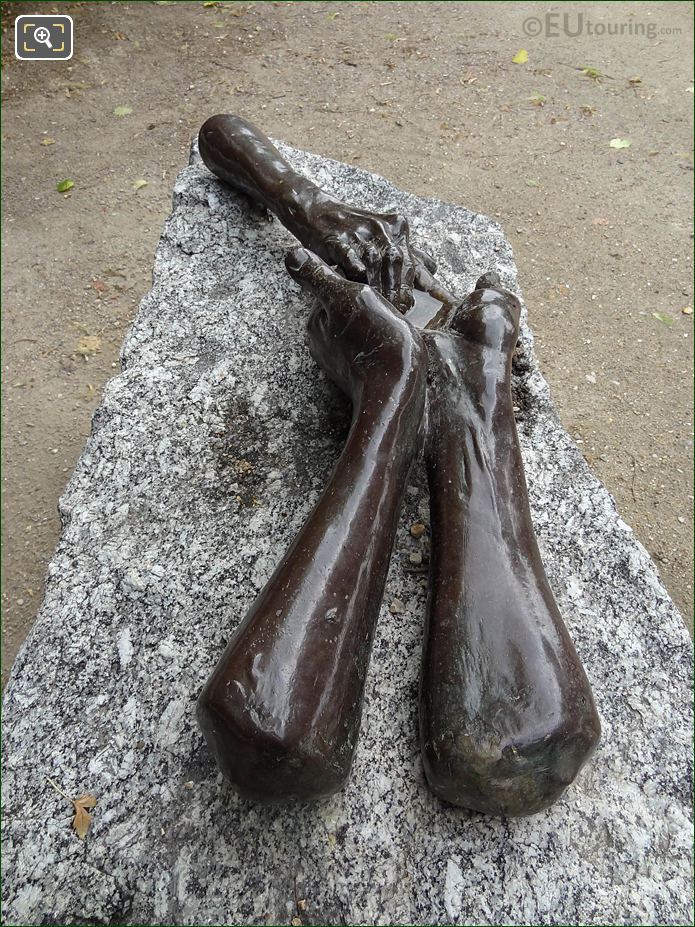 Now this photo shows another part of the composition with three hands and arms made of bronze on its granite base for the Welcoming Hands, and the entire composition has been designed in such a way as though the hands are gripping one another, as though not to let go, leave or get separated, showing a more tender side to the artist later in her life.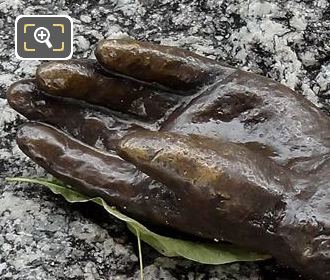 Yet this small child's hand, although larger than life size, but on its own, seems to portray a darker side, as though Louise Bourgeois is referring back to her childhood and her deep emotions she felt being isolated and not meeting up to the standards her father wanted, yet alone his philandering and the family issues that made a lasting impression on her and her works of art.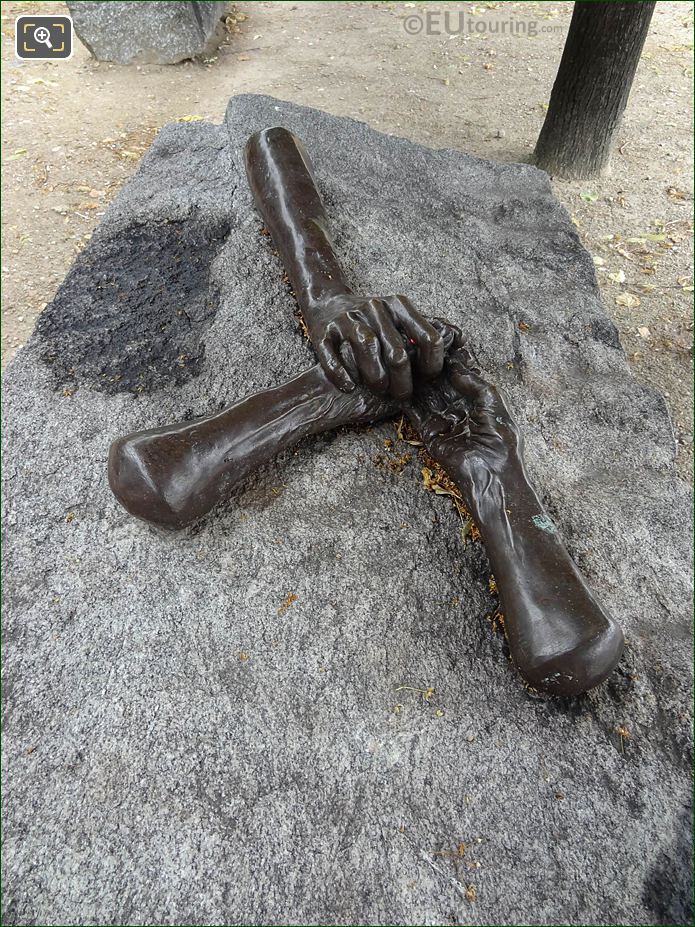 As we mentioned earlier, The Welcoming Hands was originally put on display in New York, which was by the harbour on two granite ledges where someone could also sit and look at the Statue of Liberty or hold the sculptures as a feeling of emotion, protection and affection as the artist wanted, yet they were moved along with works from two other contemporary artists.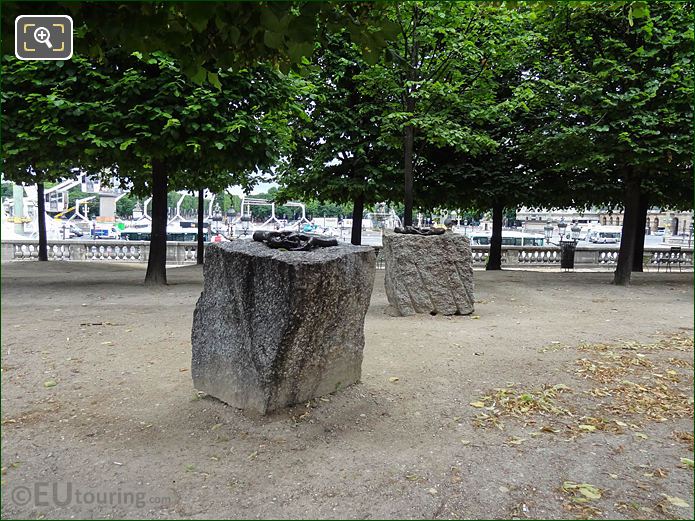 However, it was in the year 2000 that the French state acquired The Welcoming Hands as part of the renovation project for the Tuileries Gardens, where they wanted living artists to be represented, and although Louise Bourgeois lived in America, as you read earlier, she was born in Paris, so this was a fitting tribute to her work.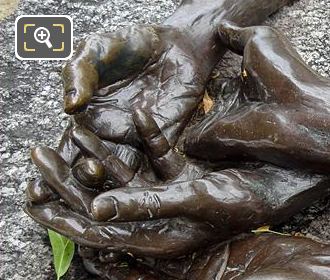 The Welcoming Hands contemporary art composition was installed within the Tuileries Gardens that very same year, that were acquired by the French state, which was the year 2000, but this time, all the different sets had their very own granite bases.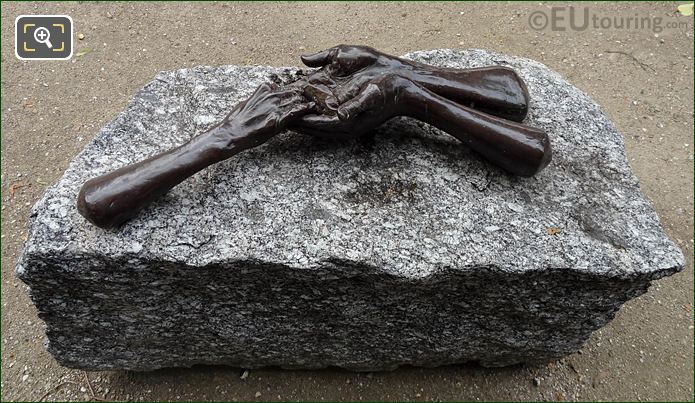 You will find that each of the elements portraying the hands has been positioned on an individual granite base, with each one being different in height and shape, with the one in this photograph being quite low to the ground, but this does mean that even children can touch the hands.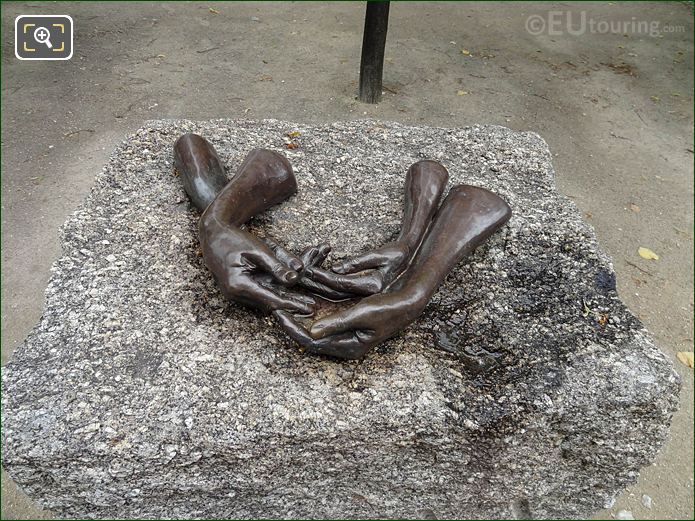 Everyone views art in a different way, and Louise Bourgeois has been classified as a contemporary artist, a feminist, a surrealist and much more during her long career, where not only did she continue producing works up until she passed away in 2010, but she also used to host artist meetings at her home.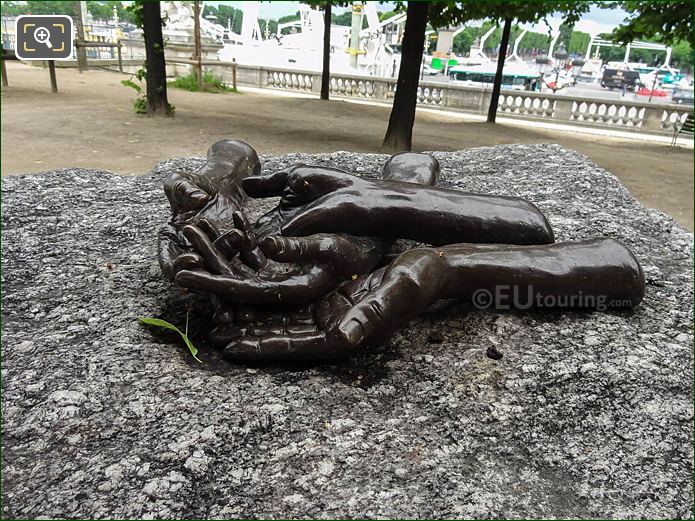 You will find that Louise Bourgeois utilised hands with many different forms of art work that she produced including drawings as well as sculptures, and they were often used as a symbol of support and dependence, especially during the last few decades after meeting someone called Jerry Gorovoy who became her friend, confidant and assistant for over 30 years.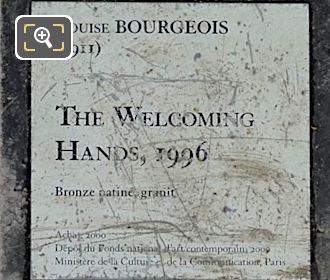 Yet this close up photograph shows the tourist information plaque located on a stone base on the ground by a part of The Welcoming Hands sculptures by Louise Bourgeois, which as you can see became a deposit of the French National Contemporary Art Funds in the year 2000.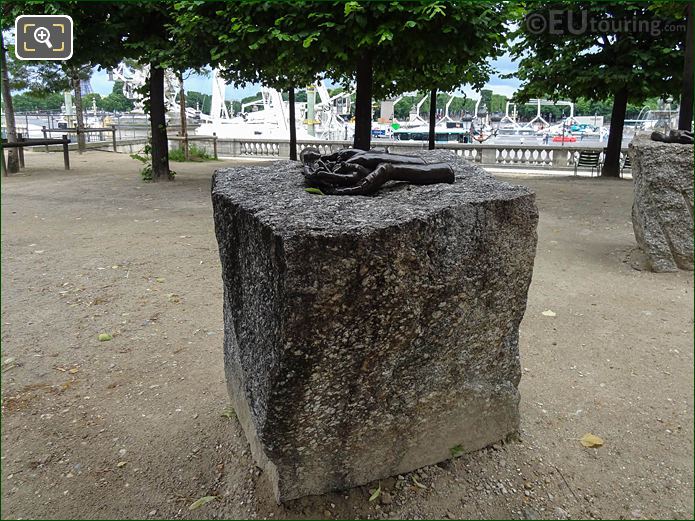 And in fact, Louise Bourgeois often used things that were very personal to her within her works of art, and when producing compositions of hands, whether it be as drawings or as sculptures, just like in The Welcoming Hands group, she utilised the hands and arms of herself and her friend Jerry Gorovoy.




Related information


- Photos of Tuileries Garden


Tourist attractions close by


- Musee du Louvre
- The l'Orangerie Museum
- Musee du Jeu de Paume
- Arc de Triomphe du Carrousel
- Place de la Concorde


If you would like to use any of these photos for non commercial use we only ask that you please do include recognition to ourselves "eutouring.com", but if you are not sure with regards to usage, please contact us.






Copyright © www.eutouring.com All Rights Reserved